Fujifilm Confirms X-Pro2 Lock Ups with Firmware 4.00. Bug Fix Coming Soon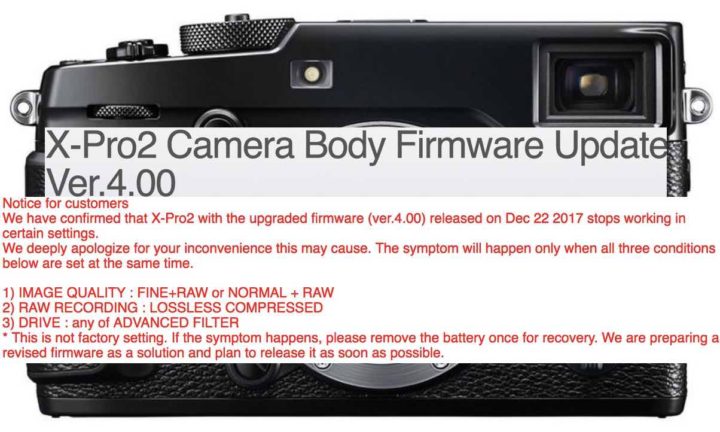 Firmware Bug
As we reported here on FujiRumors a few days ago, there is a little bug on the latest X-Pro2 firmware ver.4.00. The camera locks up when you shoot advanced filters at lossless compressed + JPEG.
Well, Fujifilm read about the bug you guys reported here on FujiRumors, checked the firmware, and now confirms here that firmware 4 has indeed this issue.
Notice for customers
We have confirmed that X-Pro2 with the upgraded firmware (ver.4.00) released on Dec 22 2017 stops working in certain settings.
We deeply apologize for your inconvenience this may cause. The symptom will happen only when all three conditions below are set at the same time.
1) IMAGE QUALITY : FINE+RAW or NORMAL + RAW
2) RAW RECORDING : LOSSLESS COMPRESSED
3) DRIVE : any of ADVANCED FILTER
* This is not factory setting. If the symptom happens, please remove the battery once for recovery. We are preparing a revised firmware as a solution and plan to release it as soon as possible.
Fujifilm will soon deliver a fix for the bug.
Thanks to the FR-reader for sharing this news with me via email.
Make sure to join our Fujifilm X-Pro facebook group.