FUJIFILM Announces GFX, X100F, X-T20, XF50/2 :: First Looks, Pre-orders ** LIVE BLOGGING **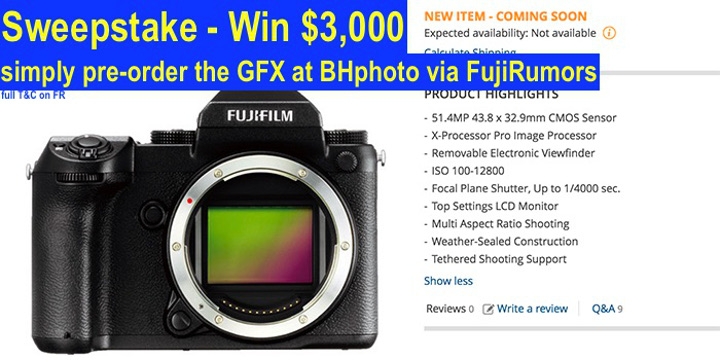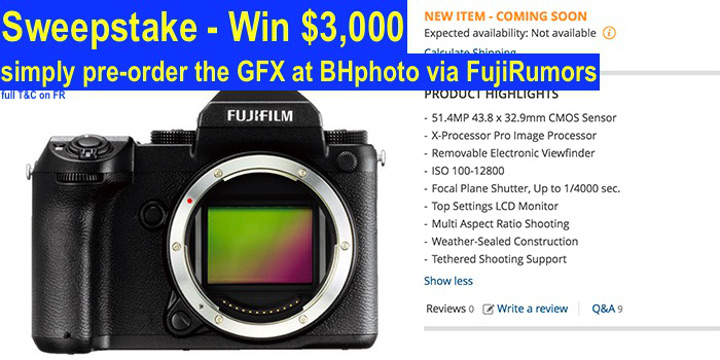 ↓ Pre-order Options ↓
A Coffee For FujiRumors?Pre-order your gear using the links above to support FR. 0% extra costs for you. Thanks :)

Fujifilm GFX: BHphoto – Win $3,000 by pre-ordering at BH via FR*, Adorama, AmazonUS
Fujinon GF63mmF2.8: BHphoto, Adorama, AmazonUS
Fujinon GF32-64mmF4: BHphoto, Adorama, AmazonUS
Fujinon GF120mmF4 Macro: BHphoto, Adorama, AmazonUS
Fujifilm GFX EVF-TL1 Tilt Adapter: BHphoto, Adorama, AmazonUS
Fujifilm H Mount Adapter G for GFX: BHphoto, Adorama, AmazonUS
*Pre-order the GFX at BHphoto using the FujiRumors B&H link to enter the contest. Price: $3,000. Sweepstake Overview & Rules can be found here. Full Terms & Conditions here.
Fujifilm X-T20: BHphoto, Adorama, AmazonUS
Fujifilm X100F: BHphoto, Adorama, AmazonUS
Fujifilm XF50mmF2 WR: BHphoto, Adorama, AmazonUS
Full Pre-order Page for GFX, X100F, X-T20, XF50/2 Here
Includes More Accessories + Links to EUROPEAN and AUSTRALIAN Stores
↓ PRESS RELEASE / FIRST LOOKS ↓
(LIVE BLOGGING – Refresh This Page for the Latest Updates)

Fujifilm GFX + GF Lenses:
First Looks / Reviews

Fujifilm X-T20:
First Looks
Fujifilm X100F:
First Looks
Fujifilm XF50mmF2 WR:
First Looks
VIDEOS

Massive Video Upload at FUJIFILM GLOBAL here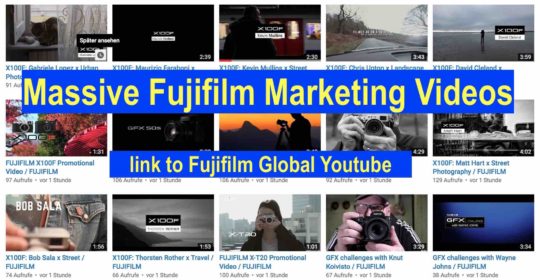 FULL FUJIFILM GFX PRESS RELEASE
Introducing the ultimate high-end mirrorless camera: a compact and lightweight body which overturns common perceptions of medium format digital cameras
Ultra-high image quality medium format mirrorless camera "FUJIFILM GFX 50S" and its exclusive interchangeable lens lineup "FUJINON GF Lenses"
January 19, 2017
FUJIFILM Corporation (President: Kenji Sukeno) has announced that, in late February 2017, it will release the FUJIFILM GFX 50S(GFX 50S) medium format mirrorless digital camera, adopting a 43.8x32.9mm medium format (FUJIFILM G Format) sensor with 51.4 MP. Featuring premium design and excellent operability stemming from the highly reputable digital camera "X Series" system and the accumulation of image design technology from over 80 years of experience, the GFX 50S achieves the highest ever image quality from Fujifilm.
It will also release the "FUJINON GF63mmF2.8 R WR", "FUJINON GF32-64mmF4 R LM WR" and "FUJINON GF120mmF4 R LM OIS WR Macro" interchangeable lenses, faithfully inheriting the design philosophy of FUJINON lenses, highly evaluated and trusted by photographers from all over the world for many years.
Released with the APS-C sensor in 2011, the X Series system has earned high praise from professional photographers and photography enthusiasts alike, due to its excellent image quality and mobility across a wide range of genres including landscapes, snaps, portraits and sports photos. On the other hand, there were also many photographers craving for the release of a camera equipped with a large-size sensor with an even higher number of effective pixels, which could be used mainly in the fields of commercial and studio portrait photography, while at the same time keeping the excellent color reproduction of the X Series intact. In response to those voices, Fujifilm developed the GFX 50S and the FUJINON GF Lenses series as a system for photographers that require even higher image quality than can be covered by the current X Series lineup.
<Highlight features of the GFX 50S and FUJINON GF Lenses>
(1) Equipped with a 43.8mm x 32.9mm, 51.4 MP CMOS sensor, boasting approx. 1.7x the area of full frame sensors
Both the shape of the light-gathering micro-lenses and the processing from the photodiodes have been customized to achieve a high level of sharpness and broad dynamic range. And thanks to the excellent light reception performance due to the large area of each pixel, room to spare is created in the camera's high sensitivity performance and tone reproduction, achieving high image quality exceeding that of cameras equipped with full size sensors with an equivalent number of pixels. Therefore, precise images can be reproduced down to the smallest detail, conveying the texture of the subject, a three-dimensional feeling, and even the atmosphere of the scene.
(2) Equipped with X-Processor Pro image processing engine
By using the highly rated X-Processor Pro, which is also used in the X-Pro2 and X-T2 cameras, it is possible to experience Fujifilm's acclaimed Film Simulation color reproduction with an ultra-high quality large size sensor. The Movie function also supports Full HD recording at 30p. Users can enjoy high quality video with no post-processing required by using Film Simulation modes just like they would with a still image.
(3) Compact and lightweight body with high rigidity due to the adoption of magnesium alloy
With a weight of approx. 1230g when paired with a standard lens (GF63mm F2.8 R WR), the camera weighs approx. 60% of a medium format DSLR camera equipped with a sensor of the same size. Even when compared to a DSLR camera with a slightly smaller full size sensor, the camera comes in at almost the same weight. Overall camera body height and width have also been minimized for maximum flexibility, overturning the common perceptions regarding the mobility of medium format digital cameras.
(4) 3.69M-dot organic EL electronic viewfinder and 2.36M-dot touchscreen LCD back panel
A detachable structure has been adopted which allows for flexible operation according to how the user wishes to use it. Also, by attaching the separately sold EVF-TL1 EVF tilt adapter, the angle can be changed to a maximum angle of 90° when shooting horizontal landscapes and ±45° when shooting in the portrait position. A 3.2-inch, 2.36M-dot touch panel has been adopted for the rear monitor, allowing the user to use touch operations for the selection of the menu, distance measuring points and viewing of images that have been taken. The inclusion of a three-directional tilting LCD screen improves operability and makes viewing images and checking focus even easier.
(5) Newly developed large diameter G Mount with excellent robustness and durability
Utilizing the merits of newly developing both a camera body and lenses simultaneously, the GFX 50S adopts a large diameter/short flange back mount with a diameter of 65mm and a flange back of 26.7mm. This construction improves the freedom of the optical design of the lens, greatly contributing to high image quality and miniaturization of the body.
(6) Newly developed ultra-high resolution FUJINON GF Lenses
In preparation for the future, the GF Lens series, newly designed specifically for the GFX 50S, possesses the resolving power capable of supporting a sensor with 100 MP. The lens barrel also features an aperture ring in the same manner as XF Lenses, supporting the intuitive operation of photographers. A C (=Command) Position has been newly added to the aperture ring as well, allowing users to change the aperture using the command dial on the camera's body. In order to prevent incorrect operation, the A (=Auto) Position and C Position feature a locking button installed on the aperture ring that must be disabled to implement changes.
The GFX 50S and FUJINON GF Lenses culminate to create a new camera system capable of creating the world's highest level of photographic expressions by combining the thorough incorporation of knowledge regarding exterior design, optical design, image quality design, and circuit design which Fujifilm has accumulated over many years of developing photographic film, medium/large format camera lenses, and the recent X Series, together with a large-size sensor capable of demonstrating that knowledge to the fullest capacity. This product is surely one that will satisfy the needs of photographers who are not satisfied with the image quality of existing cameras, or those who desire higher quality images. With the GFX 50S, the GF Lens group, and the X Series system, Fujifilm will continue to provide everyone with the splendor of photography and the joy of taking photos.
1. Product name, release date,
Product Name
FUJIFILM GFX 50S
FUJINON
GF63mmF2.8 R WR
FUJINON
GF32-64mmF4 R LM WR
FUJINON
GF120mmF4 R LM OIS WR Macro
Release Date
Late February 2017
Late February 2017
Late February 2017
Late February 2017
Product Image
2. Main Product Features
(1) The world's highest level of photographic image quality, produced by the integration of a large 43.8x32.9mm CMOS sensor (FUJIFILM G Format) and image design technology cultivated by Fujifilm's 80+ year history.
A medium format sensor with 51.4 MP and an area approx. 1.7x that of a full size sensor is adopted. This sensor exerts its true power when used for large format commercial prints and outdoor billboards, or for shooting majestic landscape photos or archives of historical documents. Also, when compared to a full size sensor with an equivalent number of pixels, both resolution and sensitivity are dramatically better due to the larger size of each individual pixel. As a result, the great textures created by the excellent tone reproduction unique to large size sensors combined with a three-dimensional effect enables extremely high quality photography.
In addition, in consideration of flash photography in an indoor studio and outdoors synchronous shooting during the day, the GFX 50S sensor also achieves a low normal sensitivity equivalent to ISO 100. Flash photography which takes advantage of a shallow depth of field is also possible by widening the selected aperture value.
The well-established X-Processor Pro, already in use for X Series double flagship models X-Pro2 and X-T2, has been adopted as the image engine. The best-known feature of the X Series, namely the "Film Simulation" features which use digital technology to reproduce the color reversal films from the past and professional color negative film, as well as to reproduce the tones of black and white film, can be experienced in ultra-high image quality thanks to the large size sensor.
In addition, a new Color Chrome Effect feature has been added to the GFX 50S. This feature can be used to reproduce the tones and deep colors more than ever before in highly saturated subjects, in situations often said to be difficult.
In order to respond to various professional needs, file formats include three different JPEG settings (SUPER FINE, FINE, NORMAL), as well as two different RAW settings (uncompressed, compressed). TIFF output is also possible using the in-camera RAW development.
The following Full HD settings are supported for Movie Mode: 1920×1080 29.97p/25p/24p/23.98p 36Mbps. Users can shoot high quality movies making use of the excellent color reproduction thanks to the shallow depth of field that is unique to large sensors and Film Simulation modes.
(2) Overturning common perceptions of traditional medium format digital cameras with a small, lightweight body made of magnesium alloy and equipped with an ultra-high definition detachable EVF adopting a 3.69M-dot organic EL panel. The GFX 50S is the world's first* mirrorless medium format digital camera with a focal plane shutter, combining the same mobility as full-size cameras with ultra-high image quality output achieved due to the large-size sensor with a high pixel count.
A highly robust body was developed with the purpose of ensuring operation for professional photographers even under harsh shooting conditions. Just like the X Series flagship cameras, we guarantee that the camera will be dust and weather resistant, and capable of operating in environments as cold as -10°C.
The body is extremely light at approx. 825g (including battery and memory card), allowing for easy handheld shooting despite being a medium format digital camera thanks to the moderate body size and excellent easy-to-handle grip shape.
A brand new 0.5-inch 3.69M-dot organic EL panel has been adopted for the EVF. Using 5 glass elements to increase finder magnification by 0.85x, the EVF achieves an extremely high definition finder image with a wide viewing angle (40° diagonal). Also, by attaching the separately sold EVF-TL1 EVF tilt adapter, the angle can be changed to a maximum angle of 90° when shooting horizontal landscapes and ±45° when shooting in the portrait position. This is extremely effective when shooting full-body portraits in the studio or flowers and landscapes from low angles.
A 3.2-inch, 2.36M-dot high-definition liquid crystal panel has been adopted for the rear monitor, allowing the user to confirm accurate focusing and color reproduction. As with the X-T2, the GFX 50S features a three-directional tilting LCD screen, capable of tilting in the vertical direction during horizontal landscape shooting or upward when shooting in portrait position. The panel also fully functions as a viewfinder and supports touch operation, allowing for various operations to be completed with a single fingertip, such as selection of menu and AF distance point, zooming in and out of images, advancing frames, and etc.
The focal plan shutter has been newly developed specifically for our mirrorless camera. While achieving a maximum shutter speed of 1/4000 sec. (1/16000 sec. when using electronic shutter

**

), a flash synchronization speed of 1/125 sec. or less, and high performance and durability with a shutter endurance supporting up to 150,000 shots

***

, the camera also achieves low vibration and a quiet shutter noise. In addition, users can choose between an electronic front curtain shutter and a complete electronic shutter, greatly helping with low shutter speed settings between 1/30 to 1/125 sec. in which minute vibrations due to shutter shock easily trigger resolution reduction.
Same as with the X Series, SD Cards (UHS-II recommended) have been adopted as the recording media. Equipped with dual slots, the camera supports three different types of recording methods, "Sequential," in which recording can be continued according to shooting order, "Backup," which records the same data on two cards simultaneously, and "Sorting," which records RAW and JPEG data on separate cards.
In order to support the increased power consumption due to the adoption of the large size sensor and large size focal plane shutter, a newly developed "NP-T125" high capacity battery has been adopted as the power supply. Approximately 400 photos can be taken with a single battery (with Auto Power Save ON).
*

Fujifilm research as of December 2016. Compared with other mirrorless digital cameras equipped with 43.8×32.9mm sensor or larger.

**

The Electronic Shutter may not be suitable for fast-moving objects or handheld shooting. Flash can not be used.

***

According to Fujifilm internal testing.
(3) Inheriting the philosophy of the X Series, an easy-to-use dial operation system which allows the user to intuitively change and view camera settings, and a "camera-like" design that brings a strong sense of joy to the user,
The exterior design of the GFX 50S basically follows the core concepts of the X Series system, refining the grip and upper control section to match the body which has been enlarged to fit the large size sensor. Thanks to that, the camera can be used comfortably and surely without hesitation, even when used in conjunction with the X Series.
Just as with the flagship X Series models, the GFX 50S features dedicated dials to independently set aperture, shutter speed, and ISO sensitivity, important factors in determining exposure. If just performing basic functions, users can start shooting easily with just the knowledge of basic camera operations.
Each dial features a C Position (Command Dial Position)

*

Indicated as T Position (Time Position) on the shutter speed dial. Setting the dial to this position allows the user to change exposure settings using the command dials equipped on the front and rear portions of the camera body grip. The user can choose between these two operation methods according to their preference, ease of use, and the shooting environment, allowing for comfortable and quick camera operation.
The camera is equipped with a 1.28-inch sub LCD monitor on the upper Command Dial section of the body. Important exposure data such as aperture values and shutter speed is visible from the top of the camera or even when viewed from the front side. This feature is extremely useful when shooting using a tripod or release, or when shooting while connected to a PC.
A 117-point (9 x 13/maximum of 425 points when miniaturized) contrast AF with distance measuring points has been adopted for the AF system. The high-precision AF that can be achieved precisely with a mirrorless camera, which measures distances and focusing directly using the imaging surface of the sensor, dramatically improves focusing accuracy in the medium format with a shallow depth of field. First adopted in the X-Pro2, focus point selection can be performed either by using the highly acclaimed Focus Lever, which allows intuitive movement of the focus point. Alternatively, users can select the focus point via touch operations using the rear LCD.
(4) Brand new development of the extremely robust and durable large diameter G Mount, made specifically for the 43.8 x32.9mm large size FUJIFILM G Format sensor, as well as the ultra-high image quality FUJINON GF Lens series, combining the resolution capabilities and tone reproduction capabilities of making full use of the power of the 51.4 MP CMOS sensor. Utilizing the strengths of simultaneous development of an exclusive design of camera body, mount, and lens lineup, this camera system was created in the pursuit of the world's best image quality.
With a diameter of 65mm and a flange back of 26.7mm, the G Mount is a dedicated mount designed to make full use of the performance of the G Format. By increasing the aperture portion of the lens, we were able to shorten the back focus of the lens to a minimal distance of 16.7mm, dramatically expanding the freedom of lens design. As a result, this construction greatly contributes to the performance of wide angle lenses in particular. In preparation for increased numbers of pixels in the future, all FUJINON GF Lenses have been designed to support resolutions of sensors up to 100 MP.
Stainless steel has been adopted for the body side of the mount, while the lens side incorporates high strength brass. Large aperture lenses that tend to be heavier can also be mounted securely.
Dedicated G Mount FUJINON GF Lenses inherit the design philosophy of reputable XF Lenses, achieving extremely high resolving power and rich tone reproduction. In addition to the A (Auto) Position setting that featured on the aperture ring in the X Series, a new C (Command Dial) Position has been added, allowing for the aperture value to be changed even from the camera body.
Also, a lock button has been added to the aperture ring as a measure to prevent incorrect operations when setting the lens in the A Position or C Position. This helps to eliminate the risk of unexpected aperture value changes as much as possible.
In order to withstand use in harsh professional photography environments, all FUJINON GF Lenses are dust and weather resistant, and feature a low temperature resistant structure for temperatures as low as -10°C.
Features of Each Interchangeable Lens
1. Standard Lens GF 63mm F 2.8 R WR
This lens features an angle of view of approximately 50mm in 35mm format equivalent. Adopting a compact and stylish design, the external form of this small and lightweight lens has a diameter of just 84.0×71.0mm with a weight of only 405g.
The optical system features a construction of 8 groups and 10 elements, including 1 ED lens element. This lens type was adopted due to being the most suitable for a compact size, with the utmost priority placed on resolution performance. By adopting a front group extension type for the focus method, aberration variations due to shooting distance are suppressed, achieving high resolution performance even when wide open, all the way from the center to the edges of the lens.
2. Standard Zoom Lens GF32-64mmF4 R LM WR
Standard zoom lens covering a range of 25-51mm in 35mm format equivalent.
The optical system features a construction of 11 groups and 14 elements, each using one of the three types of lens elements, aspheric lens, ED lens and super ED lens, including the large aperture high precision aperture lens, achieving high image quality equivalent to single-focus lenses from wide angles up to standard focal distances. As a result, the lens demonstrates extremely high performance from the center all the way to the edges.
The lens adopts an inner focusing method, reducing the weight of the focus lens and achieving fast and silent AF by driving focusing using a linear motor.
3. Medium Telephoto Macro Lens GF120mmF4 R LM OIS WR Macro
Medium telephoto macro lens with a maximum magnification of 0.5x, corresponding to 95mm in 35mm format equivalent.
The optical system features a construction of 9 groups and 14 elements, including 3 ED lens elements. By adopting a floating focus method using a linear motor, silent and high-speed autofocusing is achieved while aberrations from long distances to short distances are corrected in a satisfactory manner, dramatically increasing the resolution. Furthermore, by arranging the ED lenses in a well-balanced manner, chromatic aberrations are also properly corrected, contributing to a high quality image. Also, both front and back bokeh give off a beautiful bokeh effect.
This lens is equipped with an image stabilization mechanism correcting up to a maximum of 5.0-stop

*4

, greatly contributing to handheld shooting in low-light situations.
Also, a fluorine coating has been applied to the front most lens, acting as an excellent water repellent and stain-proofer.
*4

CIPA guidelines based.
(5) Offering various dedicated accessories to construct a system that can respond to the detailed requests of professionals, users can select the solution that is easiest to use according to their shooting scene and method.
1. VG-GFX1 vertical battery grip greatly improves convenience when shooting from the vertical position (sold separately)
This high-performance battery grip is created to unify operations, placing the release button, dials, and function buttons in a similar area to be used when shooting in the ultra-wide position. The battery grip can be loaded with one NP-T125 dedicated battery, lowering the frequency in which batteries need to be replaced during long shoots.
Also, by connecting the separately sold AC-15V accessory, it is possible to charge the battery within the grip in approx. 2 hours.
2. EVF-TL1 EVF tilt-adapter, capable of changing the EVF mounting angle (sold separately)
By mounting this accessory between the camera body and EVF unit, the mounting angle of the EVF can be changed to angles from 0°-90° when shooting horizontal landscapes and from -45°-+45° when shooting in the portrait position. Doing so will allow the user to shoot from various angles while using the viewfinder, greatly increasing freedom of camera positions and the range of expressions.
3. H MOUNT ADAPTER G (sold separately) for mounting SUPER EBC FUJINON HC interchangeable lenses developed for the FUJIFILM GX645AF (
*

discontinued product) medium format film camera
By attaching this adapter to the GFX 50S, a total of 9 SUPER EBC FUJINON HC interchangeable lenses and 1 teleconverter developed for the GX645AF can be used. While the focusing method will be limited to manual focusing, the lens aperture can be changed using the command dial on the camera body, and shooting with the lens shutter built in to the lenses is also possible. Using this lens shutter will allow high speed flash synchronization up to a maximum speed of 1/800 sec.
Also, the adapter is equipped with electrical contacts that can communicate with the camera body, independently creating, saving, and applying correctional data for each lens. The adapter supports Manual and Aperture Priority AE exposure modes.
A removable tripod seat is included in order to prevent blurring when using a massive zoom lens on a tripod and to secure a good weight balance.
4. VIEW CAMERA ADAPTER G, capable of using the GFX 50S as a digital back (sold separately)
The view camera adapter can be used when shooting with the GFX 50S when using older FUJINON large format camera lenses, such as the CM FUJINON, and etc. The adapter is mounted in the film camera loading position of the view camera which adopts the film format of the 4×5 size.
The shutter can be used from either the lens side or the body side, allowing the user to choose the optimum method depending on shooting conditions.
The large image circle of the large format lens and variable optical axis functions according to the unique bellows of the view camera can be used to perform tilt shooting photography, effective for product shooting and architectural photography.
*5

There may be instances in which the adapter cannot be mounted depending on the shape of the view camera.
5. HS-V5 for Windows
*6

tethered shooting software, indispensable for professional filming sites, and Tether Shooting Plug-in PRO for Adobe® Photoshop® Lightroom® (each sold separately)
By connecting the GFX 50S to a PC via USB cable and using this software, it is possible to transfer photographed images directly to the PC, as well as control the camera from the PC.
Also, by using the Control Panel Window newly added to Tether Shooting Plug-in PRO for Adobe® Photoshop® Lightroom®, various functions become available, such as increasing the speed while browsing images and setting and saving various shooting conditions.
*6

You need to download the latest version from the site to upgrade it.
6. RAW FILE CONVERTER EX2.0 powered by SILKYPIX (free of charge) RAW development software and Adobe® Photoshop® Lightroom® / Adobe® Photoshop® CC (sold separately)
RAW development software used for detailed corrections and advanced image processing that isn't supported by the in-camera RAW conversion. Both softwares support Fujifilm's "Film Simulation" modes, allowing the creation of image data that is extremely close to Fujifilm's advanced color reproduction.
Main Specifications of the GFX 50S
Model name
FUJIFILM GFX 50S
Number of effective pixels
51.4 million pixels
Image Sensor
43.8mm x 32.9mm Bayer array with primary color filter
Sensor Cleaning System
Ultra Sonic Vibration
Storage media
SD Card (-2G) / SDHC Card (-32G) / SDXC Card (-256G) UHS-I / UHS-II

*7

Lens Mount
FUJIFILM G mount
Sensitivity
Standard Output Sensitivity
AUTO1/AUTO2/AUTO3 (up to ISO12800)
ISO100 – 12800 (1/3 step)
Extended output Sensitivity
ISO50/25600/51200/102400
Viewfinder
0.5 inch Approx. 3.69 millions dots OLED Color Viewfinder Coverage of Viewing Area vs. Capturing Area : Approx. 100%
Eyepoint : Approx. 23mm (from the Rear End of the Camera's Eyepiece) , Diopter Adjustment: -4 – +2m-1
Magnification : 0.85x with 50mm Lens (35mm Equivalent) at infinity and Diopter set to -1.0m-1
Diagonal Angle of View: Approx. 40° (Horizontal Angle of View: Approx. 33° )
Built-In Eye Sensor
LCD Monitor
3.2 inch, Aspect Ratio 4:3, Approx. 2,360K-dot Tilt-Type,
Touch Screen Color LCD Monitor (Approx. 100% Coverage)
Movie Recording
[Full HD (1920×1080)] 29.97p / 25p / 24p / 23.98p 36Mbps up to Approx. 30 min.
[HD (1280×720)] 29.97p / 25p / 24p / 23.98p 18Mbps up to Approx. 30min.
* For recording movies, use a card with UHS Speed Class 1 or higher.
Power Supply
Rechargeable battery NP-T125 (Lithium ion type) (included)
Battery life for still images

*8

Approx. 400frames When GF63mmF2.8 R WR is set. (Auto power save ON)
Continuance battery life of movie capture

*8

Full HD : approx. 145 min.
*Face detection is set to OFF
Actual battery life of movie capture

*8

Full HD : approx. 70 min.
*Face detection is set to OFF
Dimension / Weight
147.5mm (W) x 94.2mm (H) x 91.4mm (D) (Minimum Depth : 41.6mm)
Approx. 825g (including battery and memory card), Approx 920g (including EVF)
Approx. 740g (excluding accessories, battery and memory card)
Accessories included
Li-ion battery NP-T125
Battery charger BC-T125
Plug adapter
Body cap
Shoulder strap
Metal strap clip
Metal strap clip lock
Cable protector
Interchangeable electronic view finder EVF-GFX1
Hot shoe cover(Body/EVF)
Connector cover(EVF)
Vertical Battery Grip connector cover
Sync terminal cover
Owner's manual
*7

Please see the Fujifilm website to check memory card compatibility.

*8

Measured according to the CIPA standards, using the included battery and an SD card. The number of frames that can be taken per charge varies depending on a battery's charge capacity. This figure is not a guarantee of battery's working capacity. At low temperatures, the number of frames per charge decreases.
List of Main Dedicated Accessories
| Product Name | Model No. | Manufacturer Suggested Retail Price (Tax Included) |
| --- | --- | --- |
| EVF Tilt Adapter | EVF-TL1 | Open |
| Vertical Battery Grip | VG−GFX1 | Open |
| Rechargeable Battery | NP-T125 | Open |
| Battery Charger | BC-T125 | Open |
| Mount Adapter | H MOUNT ADAPTER G | Open |
| View Camera Adapter | VIEW CAMERA ADAPTER G | Open |
| AC Adapter | AC-15V | Open |
| Shoe Mount Flash | EF-X500 | Open |
| Shoe Mount Flash | EF-X20 | Open |
| Shoe Mount Flash | EF-20 | Open |
| Shoe Mount Flash | EF-42 | Open |
| Stereo Microphone | MIC-ST1 | Open |
| Remote Release | RR-90 | Open |
List of Main FUJINON GF Lens Specifications
Type
FUJINON GF63mmF2.8 R WR
Lens configuration
8 groups 10 elements (ED Lens: 1 element)
Focal Length
f=63mm (35mm equivalent: 50mm)
Angle of View
46.9°
Maximum Aperture Ratio (Open Aperture)
F2.8
Minimum Aperture
F32
Aperture Format
No. of Blades
9 blades (rounded aperture opening)
No. of Steps
1/3 step (total 22 steps)
Shooting Distance Range
0.5m~∞
Maximum Shooting Magnification
0.17x
External Dimensions Maximum Diameter x Length
(Approx. / from tip to mount reference plane)
φ84.0mm x 71.0mm
Mass (Approx. / not including lens cap or hood)
405g
Filter Size
φ62mm
Accessories Included
Lens Front Cap FLCP-62II
Lens Rear Cap RLCP-002
Lens Hood
Lens Pouch
Type
FUJINON GF32-64mmF4 R LM WR
Lens Configuration
11 groups, 14 elements
(Aspheric lens: 3 elements, ED lens: 1, Super ED lens: 1)
Focal Length
f=32-64mm (35mm equivalent: 25-51mm)
Angle of View
81°-46.3°
Maximum Aperture Ratio (Open Aperture)
F4
Minimum Aperture
F32
Aperture Format
No. of Blades
9 blades (rounded aperture opening)
No. of Steps
1/3 step (total 19 steps)
Focus Range
Wide angle: 0.5m~∞
Telephoto: 0.6m~∞
Maximum Shooting Magnification
0.12x
External Dimensions Maximum
Diameter x Length (Approx. / from tip to mount reference plane)
φ92.6mm x 116.0mm (wide end) / 145.5mm (telephoto end)
Mass Approx. – not including lens cap or hood)
875g
Filter Size
φ77mm
Accessories Included
Lens Front Cap FLCP-77
Lens Rear Cap RLCP-002
Lens Hood
Lens Pouch
Type
FUJINON GF120mmF4 R LM OIS WR Macro
Lens Configuration
9 groups, 14 elements
(ED Lens: 3 elements)
Focal Length
f=120mm (35mm equivalent: 95mm)
Angle of View
25.7°
Maximum Aperture Ratio (Open Aperture)
F4
Minimum Aperture
F32
Aperture Format
No. of Blades
9 blades (rounded aperture opening)
No. of Steps
1/3 step (total 19 steps)
Shooting Distance Range
45cm~∞
Maximum Shooting Magnification
0.5x
External Dimensions Maximum
Diameter x Length (Approx. / from tip to mount reference plane)
φ89.2mm x 152.5mm
Mass (Approx. / not including lens cap or hood)
980g
Filter Size
φ72mm
Accessories Included
Lens Front Cap FLCP-72 II
Lens Rear Cap RLCP-002
Lens Hood
Lens Pouch