Fujifilm Announces Delivery Delay for GFX50S II with GF35-70mm Kit Due to Pre-Orders Exceeding Expectations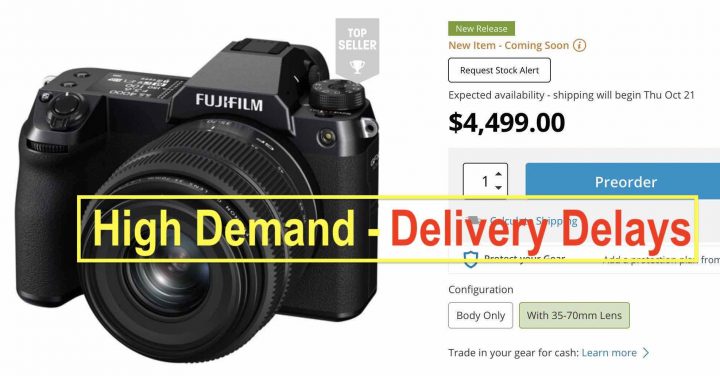 Fujifilm just announced that the pre-orders for the Fujifilm GFX50SII and GF35-70mmF4.5-5.6 kit are higher than expected, and that this could lead to delivery delays.
Now, some might say this is a standard marketing phrase, and I don't know, maybe it is for other brands.
But in the Fujifilm world, when Fujifilm announced delivery delays due to high demand, then you can be sure we will go though a delivery delay that might take months.
I will spare you with Fujifilm's delivery nightmares, like the the 1+ year it took them to regularly deliver the Fujifilm X100S or, to talk about the more recent times, the shipping struggles of the Fujifilm GFX100S, which got twice the pre-orders Fuji expected and 7/8 months after announcement is still a rare good to find in stock.
So here is my gentle advice to Fujifilm.
Dear Fujifilm, maybe you didn't notice, but people do buy your stuff. Don't be so pessimistic in your predictions anymore, and just start to announce stuff that you can actually produce in good numbers and deliver. Letting us wait for half a year or more is not fun.
Notice regarding supply of digital camera lens kit "FUJIFILM GFX50S II / GF35-70mmF4.5-5.6 WR"
Dear customers
We would like to express our sincere gratitude for your continued patronage of FUJIFILM products.
The digital camera lens kit "FUJIFILM GFX50S II / GF35-70mmF4.5-5.6 WR" released on September 29th (Wednesday) has received more reservations than expected, and it will take time to deliver the product. You may be asked.
We will do our best to deliver it as soon as possible, and we appreciate your understanding.