Fujifilm 2017 :: The Big Rumor Overview… and 2016 Rumor Check (91% Correct Rumors)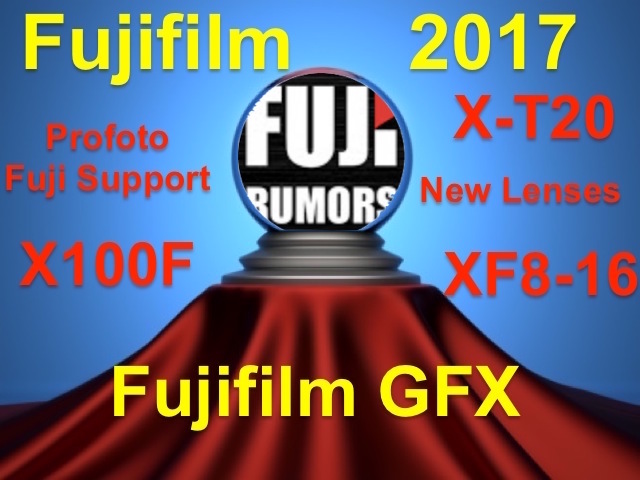 So, Photokina is over. The most important announcements have been done. So it's high time to put some order in the remaining rumors.
But first some facts:
650+ blog post published in 2016 so far
101 rumors shared in 2016
13 rumors still to be verified
81 correct rumors (+1 one more correct, but not in ranking. Read why at the bottom of this post)
8 wrong rumors (but actually at least 4 of them were right at the time of sharing. It's just Fuji that changed plans… that's the risk I pay for sharing early rumors, and I accept that)
91% correct rumors shared so far in 2016 (and it would be at least 95+%, if Fuji wouldn't have changed plans on some long term rumors)
And now… what to expect next!
I don't think Fujifilm will launch much more in 2016… but surprises are always possible. If I hear anything, I'll let you know.
In 2017 we should see the X100F and the X-T20. And of course the Medium Format Fujifilm GFX will hit the market. It's also rumored that Profoto will add flash support for X-series cameras. And maybe, so my hope (but not a rumor), after some small and compact weather sealed lenses (35, 23, 50, 80), Fujifilm will also work again on the long rumored 8-16, 33/1 and 200. NOTE: the 33/1 and 200 were rumored in 2015, so they are not included in the 2016 overview.
Sounds already now like a very interesting 2017… and I'm confident Fujifilm will surprise us with something more. Stay tuned on FujiRumors to find it out.
My deepest thanks goes to all sources, who helped me a lot and reached a level of accuracy that is almost scary for a rumor site… I really would like to hug you all :-)
Also, thanks to everybody, who spotted some interesting Fuji related news/rumor/deal/review on the web, and took his/her time to drop me an email with the link to it. Much appreciated… and feel free to keep it up. ;-)
HIGH RATING*
* 75% to 99% correct
– Fujifilm X100T Successor to be Released in 2017 (shared July 28)
– Profoto Will Add Support for Fujifilm X Cameras in 2017 (shared September 12)
– Fujifilm X-T20 Coming in 2017 (and not at Photokina) (shared Septmeber 17)
– Fujifilm X-Pro2 Firmware Coming October 6 (shared September 29)
– Fujifilm Will Release a Dark Grey Fujifilm X-Pro2, probably in 2017 (shared September 30)
MEDIUM HIGH RATING*
*50% to 74% correct

– Fujifilm will develop a XF 8-16mmF2.8 WR lens! (shared 26 May 2016)
– Fuji X100T Successor still with 23mm lens!
– No X-E3 in 2016 (shared February 2, 2016)
– Fujifilm working on a XF200mm… F2 (!) lens (shared Feb.5 2016)
– Fujifilm Global Shutter Camera coming in 2018 (at the earliest) – (shared Mar 14, 2016)
– Fujifilm X-T1 will get one more (and final?) Kaizen Firmware Update This Year! (shared 13 Mai 2016)
MEDIUM LOW RATING*
*25% to 49% correct
– Fuji X100T & Kaizen Love? High Chance of Firmware 2.00 for Fuji X100T (shared February 11)
– The Fujifilm X100T Successor Will Be Called Fujifilm X100F (shared August 31)
LOW RATING*
*1% to 24% correct

Push READ MORE for the 2016 Rumor Check
THE 2016 CHECK
CORRECT RUMORS IN 2016
EF-X500 Flash to be announced on January 15 :: HSS 1/8000 :: GN 50 :: Available in Spring (confirmed by Fuji Press Release in January)
DELAYED: No Fuji EF-X500 Flash in May… it will come in Summer! Confirmed by Fuji Press Release in May)
Fujifilm X-Pro2: EVF with amazing 85 fps refresh rate + 3 Power Managment modes
X-E2 Firmware 4.00 confirmed for January 15
Fujifilm X-Pro2 :: Slightly bigger & heavier than X-Pro1 :: AE bracketing up to ±2EV
See IMAGES of the Fujifilm X-Pro2 New Menu, NR with more range, 273 AF points & more
X-Pro2 price: around €1,699-1,799
Fujifilm X70: coming January 15 with external viewfinder option and 18.5mm F2.8 lens!
Fujifilm X-Pro2: Lossless RAW Compression :: 273 Focus Points :: Improved Noise Reduction :: Grain Effect + More Specs!
Shipping of X-Pro2 delayed to March. Probably firmware not yet ready [NOTE: After my post, Fujifilm confirmed the delay" Also, Kevin Mullins said here that only on February 13, Fujifilm released the final Firmware to selected X-photographers for testing]
Fujifilm will launch a 2.0 Teleconverter this year, too
Californian Company converting Zeiss Loxia E-mount Lenses to Fuji X Mount (shared 21 March 2016) – Confirmed, it's ducloslenses (see this screenshot I received from a FR-reader of the conversation he had with Ducos right after I published the rumor)
Fujifilm X-Pro2 to ship pretty quickly after its announcement (maybe already within January, or at latest first half of February) – [NOTE: A Fuji Manager confirmed that they orginally planed it for mid February here]
Firmware X-Pro2 Bug Fix coming soon (shared March 16)
X-Pro2 FW on March 24 [NOTE: the source said the right date, but said it will be version 1.1. Turns out it was ver. 1.01, but I consider it a correct rumor anyway, since the date was right.]
FULL LIST of FUJIFILM Firmware Updates Coming on JUNE 9 :: X-Pro2 "OFF/ON" Bug Fix & More! (shared June 6)
Coming Soon :: Firmware Updates for Several FUJIFILM X-series Cameras & Lenses! (shared June 5 2016)
– LEAKED :: First Image of the New FUJIFILM Instax Share SP-2 Smartphone Printer :: Price – $199 (shared June 25)
– FUJIFILM Instax SP-2 Printer to be Announced on June 27 (shared June 24)
– Instax Share SP-2 Instax coming soon: 320dpi, faster print and rechargeable battery (shared 21 May 2016)
– Instax Share SP-2 Printer :: Prints in 10 seconds, NP45 battery, slightly thinner and more colors! (shared June 3)
– New X-deals starting May 22 :: Save up to $400 (shared May 4)
– New Fujifilm X-Pro2 Firmware Update coming (or to be announced) along with X-T2 launch (shared July 6)
– X-T2 available in September (shared July 6)
– X-T2 with USB Charging (shared July 6)
– X-T2 images of open accessory door and SD-card slot (shared July 6)
– X-T2 annoucnement at 01:00 AM New York Time (shared July 6)
– The Fujifilm X-T2 Price? :: Cheaper than Fuji X-Pro2, but more expensive than X-T1 Launch Price (shared July 5) – NOTE: Not correct in UK, due to Brexit
– Only 3 of the 7 rumored Lenses will show up in New Fujifilm Lens Roadmap July 7, the 23mmF2, 50mmF2 and 80mm Macro (shared July 4)
– Fujifilm EF-X500 Flash Pricing to be Announced on July 7 (shared July 4)
– New Fujinon Lens Roadmap coming July 7 (shared July 3)
– Fuji X-T2 new dials locking mechanism (shared July 1)
– Fuji X-T2 no touch screen (shared July 1)
– New Fujifilm NP-W126 MK II Battery will Generate less (or dissipate better) Heat (shared June 27)
– Fujifilm X-T1 Vs. X-T2 Real life Size Comparison (shared June 21)
– Fujifilm X-T2 slightly bigger than X-T1 (shared June 20)
– Fujifilm X-T2 :: 11fps Continuous Shooting in Turbo Boost Mode! (shared June 15)
– Fujifilm X-T2 Turbo Boost :: EVF with Amazing 100 fps (!!!) Refresh Rate! (shared June 14)
– Big Fujifilm Event in New York on July 7… X-T2 Launch Party (shared June 9)
– First Real Life Images of the X-T2 Tilt Screen (shared June 9)
– New Fujifilm NP-W126 Mark2 Batteries Coming (shared June 2)
– Fujifilm X-T2 will Hit the Market Before Photokina… despite Kumamoto Earthquake (shared 31 May 2016) NOTE: The shipping is set to September 8 – so say the stores)
– Fuji X-T2 to be annouced first half of July
– Fujifilm working on a XF 50mmF2 lens (shared 24 May 2106)
– X-T2 with new tilt screen, but not Pentax K1 alike (shared 19 May 2016)
– First Real Life VIDEO of the X-T2 (shared 16 May 2016)
– 2.0x Teleconverter coming in May (shared 16 May 2016)
– Bug Fix Firmware for Fujifilm X-Pro2 coming (shared 14 Mai 2016)
– Fujinon XF80mm Macro Coming instead of XF120mm! (shared May 12, 2016)
– LEAKED :: Fujifilm X-T2 :: See HQ Images of the Dials + 8th Drive Dial Function is VIDEO (shared 5 May 2016)
– EXCLUSIVE IMAGES :: Detailed View of the Fujifilm X-T2 Vertical Battery Grip! :: 2 batteries + "Turbo Boost"!
– GAME OVER for the XF120mmF2.8 :: Fuji goes for a shorter focal length (below 100mm – between 60-85, more likely between 75-85) – (shared 20 April 2016)
– Fujifilm X-T2 REAL LIFE IMAGES LEAKED ! – Joystick + New Articulating Screen + more! (shared 15 April 2016)
– Fujinon XF23mmF2 will come this year – (shared 17 February 2016) NOTE: the roadmap released at the X-T2 launch shows the 23mmF2 release for 2016
– Instax Share SP-2 Printer To Be Announced in June (shared June 8)
– Fuji X-T2 approx. Announcement date is late June / early July. Subject to change depending on X-Pro2 sales – (shared 11 April 2016)
– Fuji X-Pro2 Firmware update coming soon! BUG FIX Reset Issue (shared March 15 2016)
– Fuji X-Pro2 Firmware coming before Easter, so before March 27
– Trusted Japanese Source says: "No Fujifilm X40 on the horizon". Is the Fuji X30 the last of the line? (shared 26 April 2016) – NOTE: Confirmed by a Top Fuji Manager on July 14 2016 here. Asked about smaller sensor cameras than APS-C, the Top Manager said that they will still make them, but only the waterproof shock resistant line, like XP90, because "smartphones haven't been able to replace them". It's clear that Fujifilm can, eventually, in future, change plans again. But the current status is: no more 2/3 sensor cameras, unless they are shock/waterproof
New Fuji X-Deals in USA Starting August 14 (shared August 12)
Fujifilm X-T2 will start shipping in Late August and not early/mid September as announced by Fujifilm – Confirmed by Fuji Manager here
FUJIFILM Medium Format Camera "Definitely More Affordable" than Hasselblad X1D – Fuji Managers said body + lens will cost "way under $10,000"
Medium Format Fuji :: To Be Launched along with 3 Lenses!
Fujifilm Will Launch a Medium Format Camera
Fujifilm X-A3 Announcement Within the Next Month, probably Already in Late August
XF23mmF2 and X-A3 to be announced on August 25
REAL LIFE IMAGE of XF23mmF2 WR (on X-T2) + Lens Hood (shared August 19)
Medium Format Fuji to be Unveiled September 19 (shared September 11)
MF Fuji will have an interchangeable Viewfinder (shared September 16)
New Square Instax Film to be Announced at Photokina! (shared September 17)
Medium Format Fujifilm Design "Inspired" by Fujifilm X-T2 (shared September 17)
XF23mmF2 to be announced in September + 1 more F2 lens coming (shared 17 May 2016) :: This is a very early rumor, and it was correct at the time of sharing. In fact, the very same source was spot on also with the "one more F2 lens" which turned out to be the 50mmF2.
Medium Format Fuji :: "50MP Sensor & Available 2017!" (shared March 2, 2016)
Fujifilm currently focusing on development of compact WR lenses instead of XF33mmF1.0! (shared 7 April 2016) – This rumor is correct, since Fujifilm even cancelled lenses from the official roadmap, in order to favor smaller ones (the 120mm was cancelled for the 80mm). They also put in the roadmap the 50mmF2, which was not there before.
No X-Trans sensor for the Medium Format Fuji (shared 5 September 2016)
MF LENSES: PRIME: Around 100-120mm Macro. PRIME: Around 50mm. ZOOM: Around 20-60
The Medium Format Fujifilm will be Weather Sealed (shared September 18)
Medium Format Fujifilm will have DSLR alike design (shared July 19)
Fujifilm MEDIUM FORMAT Camera Coming with 2 Primes and 1 Zoom Lens (shared August 29)
Medium Format Fuji: Body + Lens About the Price of the Hasselblad X1D Body Only (shared September 13) With a price of "way under $10,000" for body + lens, and the Hasselblad costing $9000, I consider this rumor correct… Fuji's plan is to offer a body/lens package that will cost about or even less then the Hasselblad body only.
First Image of the Fujifilm GFX
WRONG RUMORS IN 206
X-E2s more expensive than X-E2
X-Pro2 price between $1,799-1,899.
Fujifilm X-Pro2 Shipping Embargo is February 4 [Note: Initially the BHphoto website showed February 4th as shipping date. It has been changed to February 25 later on. A Fuji Manager confirmed here that the shipping has indeed been delayed for about 2 weeks. I know that Fuji originally planed it for early Feb., but I need stronger evidence than the X-Pro2 shipping estimate to consider it a correct rumor. Hence I'll move it to the wrong section]
– Fujifilm XF 80mm Macro Currently Planed without OIS (shared June 10) NOTE: This rumor was defintely right. Trust me. At the time of sharing it I also said that the design was not final, and OIS could still be implemented. A huge shitstorm on Fuji from FR-readers has convinced Fuji that making a Macro lens without OIS is not smart ;). Anyway, I keep it in the wrong rumors list, even though it was right. Maybe one day there will be an official statement that confirms the rumor. Since then….
– Fujifilm X-T2 will be announced in June (shared early January 2016). NOTE: Early rumors are always a risk. Fuji 100% surely planed it for June, but postponed the launch later on. Again a correct rumor turns out to be wrong at the end. But that's the risk of early rumors. I shared anyway, because I wanted you to know about it before the X-Pro2 launch, so that you can make better buying decisions, knowing the X-T2 announcement is around the corner.
"G-Factor": Medium Format Lenses to be Called "XG" – I've investigated this. It's clear that the letter "G" is the one that stands for the Medium Format System. And, so my sources, in an early stage, Fujifilm really wanted to call the lenses "XG". But at the end they went for "GF". I'm sure of that, but I let it in the wrong section, until, maybe, one day, a Fuji Guy will make any official statement that proofs it for all
RUMOR :: Super-Fast Fujinon XF 33mmF1.0 to be announced at Photokina – This happens when you share ultra long rumors ;)
Fujifilm X200 coming 2nd half 2016, with tilt screen, 28mm lens, 24MP, better EVF refresh rate, maybe touch screen (but not sure) – (shared 12 February 2016) – This rumor has been shared by an anonymous source. I corrected it just a few months later.
NOTE: Wrong rumors can be actually right rumors, but Fujifilm changed plans on it later on. This happens especially with Firmware updates, shipping dates and price, because it's very easy for Fujifilm to change them in any moment. But it can happen also with wrong rumors. 3 examples
1) FW 4.00 for X-T1 has been delayed for a few days (confirmed here)
2) Shipping Embargo on X-Pro2 changed from early Feb. to late Feb (read Fuji statement here)
3) X70 price changed even 3 days after the offical launch from $799 to $699 (more here)
4) Fuji plans X-Pro1s (confirmed, see Prototype here)
Not in Ranking
– Fujifilm XF120mmF2.8 Release Delayed to last quarter of 2016! (shared 8 March 2016) NOTE: I didn't rank this rumor, because it was right, but I have proof. The Fujfiilm XF120 was on the roadmap. First Fuji decided to push it back, because it was no longer a priority, and focussed on other lenses. Then I told you that they finally decided to scratch it alltogether and make a 80mm out of it. This is what happened.