Fuji X-T2 Vs. Sony A7SII Video Feature: "Fujifilm X-T2 in Same Class of Best Mirrorless Video Cameras"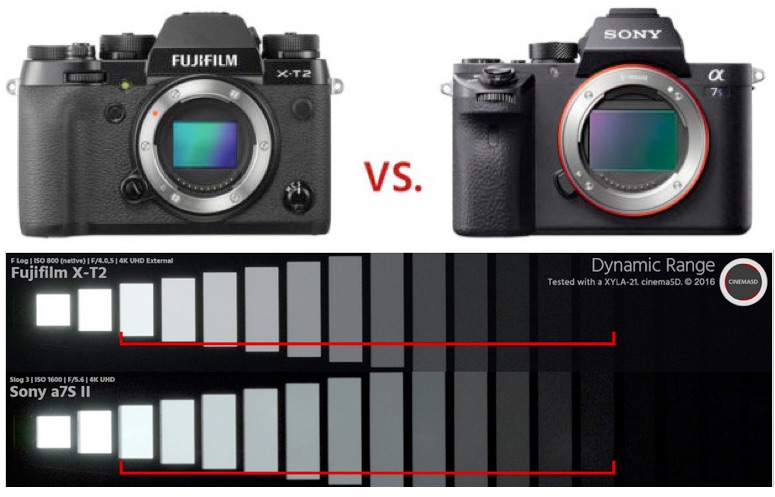 The Videographers over at Cinema5d compared the Video Function of the Fujifilm X-T2 with the Sony A7SII. In their comparison here they say:
Dynamic Range: 12 stops of usable dynamic range on the Fujifilm X-T2. This is very similar to the rating of the Sony a7S II and Canon C300 mark II. Many videographers today praise the Canon C300 mark II for its dynamic range qualities and when we take a closer look, the Fujifilm X-T2 isn't far behind.
Image Quality 4K: This is where the Fujifilm X-T2 blows away most other cameras we have tested. The image of the X-T2 is very homogenous, clean and has a high resolution that dissolves lots of detail with a nice filmic grain. […] it offers slightly more detail than the Sony a7S II and seems to have better aliasing properties than both the Canon C300 mark II and Panasonic VariCam 35
Image quality in HD is not as impressive as in 4K mode. It is comparable to the Sony a7S II, but unfortunately there is also a lot of aliasing which creates lots of moire artefacts in contrasty image areas
Rolling Shutter on the X-T2 is less pronounced than on the a7S II.
Low Light: The Sony a7S II is an absolute miracle when it comes to lowlight performance. In comparison, the Fujifilm can't reach the same high ISO's but holds up well until ISO 3200, which is not bad in comparison to other mirrorless video cameras.
Fujifilm X-T2 USA: BHphoto / AmazonUS / Adorama / CANADA: AmazonCA / EUROPE: AmazonDE / Calumentphoto DE / AmazonUK / AmazonITA / AmazonFR / AmazonESP / PCHstore / WexUK / AUSTRALIA: CameraPro