Fuji X-T2 :: No Internal F-log Recording, but Firmware Update Possible! (source: Fuji Guys) :: X-T2 Buffer Test!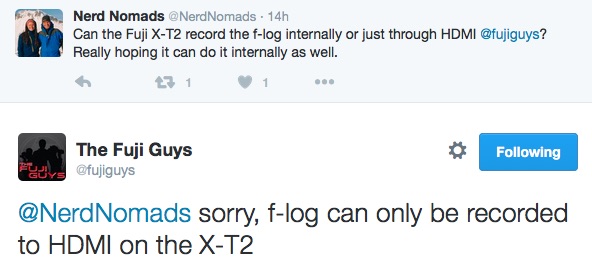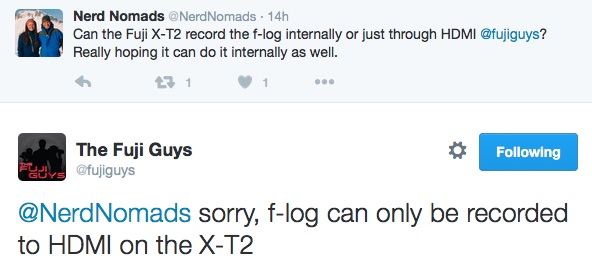 Fuji X-T2 F-log
You know it: the Fuji X-T2 shoots 4K and there's also an 'F-Log' flat profile.
The less known fact (almost never mentioned in first looks): the Fuji X-T2 can't record f-log internally, but only through HDMI. This is confirmed by the Fuji Guys in the tweet you can see above.
But…
… there is hope for a Fuji-Kaizen udpate. When FR-reader Nerd Nomads asked the Fuji Guys if internal f-log recording can be intruduced via firmware update, they said "I'm sure it's possible".
Ok… the comments are open… and remember, Fuji reads us!
Fujifilm X-T2: USA: BHphoto / AmazonUS / Adorama CANADA: AmazonCA EUROPE: AmazonDE / Calumentphoto DE / AmazonUK / AmazonITA / AmazonFR / AmazonESP / PCHstore / WexUK AUSTRALIA: CameraPro
Fujifilm's X-T2 Ups the Game at Petapixel Podcast / X-T2 First Impressions in Spanish at fuji-xperience (translation) / X-T2 in Iceland at waleedshah / The 10 Key Differences Between the Fujifilm X-T2 and Sony a6300 at mirrorlessons / Testing the X-T2 at veritymilliganphotography /
X-T2 Continuous Shooting- Buffer Test