CHANGED :: BHphoto now expects Fuji X-T2 to be Available in September :: Australian store says late August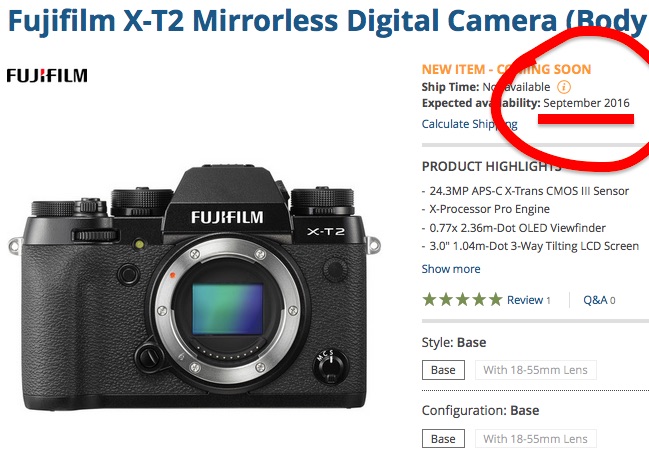 I recently told you in this post, that BHphoto and Adorama expected to ship the first Fujifilm X-T2 cameras in the second week of August.
But something changed now: BHphoto expected availability moved to "September".
So what happened?
As you might or might not know, Fujifilm now sets an "embargo" not only on product announcement, but also on their shipping. So even if stores get the camera earlier, they have to wait for the "shipping-embargo" to end, before they can deliver the goods to their customers.
So maybe BHphoto and Adorama will indeed get a limited number of X-T2 cameras already in August, but they might not be allowed to ship them until September.
FYI, also Australian store CameraPro says they they will get the first X-T2 batch in "Late August".
Fujifilm X-T2: USA: BHphoto / AmazonUS / Adorama / CANADA: AmazonCA / EUROPE: AmazonDE / Calumentphoto DE / AmazonUK / AmazonITA / AmazonFR / AmazonESP / PCHstore / WexUK / AUSTRALIA: CameraPro