Fuji X "Magic": T. Northrup Compares Sharpness of Canon 5DS-R (FF 50MP) Vs. X-T2 (Scaled to 50MP), and he's "Blown Away"!


Fuji X-T2 (24MP APS-C X-TransIII) Vs. Canon 5DS-R (Full Frame 50MP)
_ _ _
Tony Northrup is working on his X-T2 Review and he's sharing some tidbits now and then on Twitter. And here are some that will make you happy :)
SHARPNESS
He compared the APS-C 24MP X-TransIII Fujifilm X-T2 with the Full Frame 50MP Canon 5DS-R. You can see the results in this tweet. Tony's comment:
Fuji X-T2 (scaled to 50MP)+50-140 vs Canon 5DS-R+70-200. Not a lab test, but blown away by the sharpness
Must be the result of Fuji's magic trinity: Awesome Glass + X-Trans sensor + X-Processor!
EYE DETECTION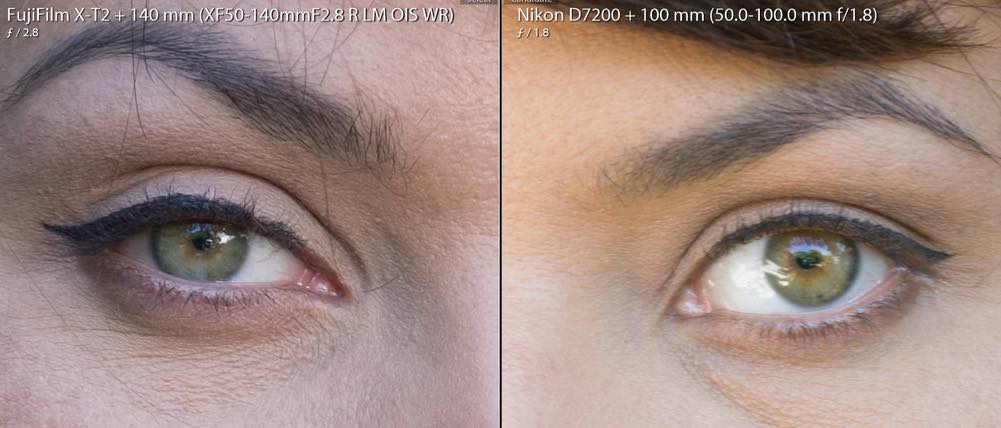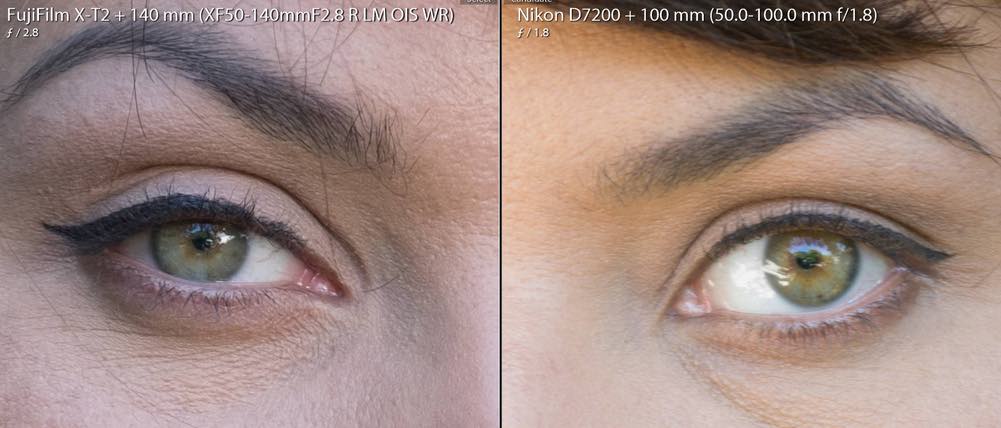 Here is Tony Northrup's comment on Twitter regarding Eye Detection:
Fuji X-T2 & 50-140 vs Nikon D7200 & Sigma 50-100 f/1.8. Fuji wins again. Eye detection only works ~60%
AF-SPEED
And how does the AF perform? Here is Tony's comment on Twitter:
Shot a soccer game with the @FujifilmUS XT-2 + 50-140 f/2.8. LOVED it! Slower focus than a D500, but silent, higher frame rate, EVF.
Please Note that Tony didn't test the X-T2 with Vertical Grip attached. So I allowed myself to make a comment on Twitter, reminding Tony that the Vertical Grip not only gives more juice to the X-T2, but also improves it's performance.
Some numbers:
Without vertical grip, the EVF of the X-T2 is in black-out for 65% of the time (at 5fps). However, with the vertical grip set to boost mode, the EVF of the X-T2 is in black-out for 57% of the time.
That's a difference of 8%.
During black-out, the camera is busy with the creation of the digital image, and can not make any AF-tracking measurments. This means that, with the Grip attached, the camera has 8% more time to calculate data and track the subject… and 8% in sports photography can make the difference between a keeper and an out of focus image.
I know Tony Northrup puts all his effort and a lot of time in his reviews. I just allow myself this little note, so that his test can be even more accurate… and the AF of the X-T2 that he already loves, will eventually make him even happier :-).
And thanks to Ken (twitter) for the links he send me via Twitter
Fujifilm X-T2 USA: BHphoto / AmazonUS / Adorama / CANADA: AmazonCA / EUROPE: AmazonDE / Calumentphoto DE / AmazonUK / AmazonITA / AmazonFR / AmazonESP / PCHstore / WexUK / AUSTRALIA: CameraPro
Vertical Battery Grip: USA: BHphoto / AmazonUS / Adorama / CANADA: AmazonCA / EUROPE: AmazonDE / AmazonUK / AmazonITA / AmazonFR / AmazonESP / PCHstore / WexUK / AUSTRALIA: CameraPro