Fuji Patent: X-Trans evolution? Sensor with enlarged green pixels!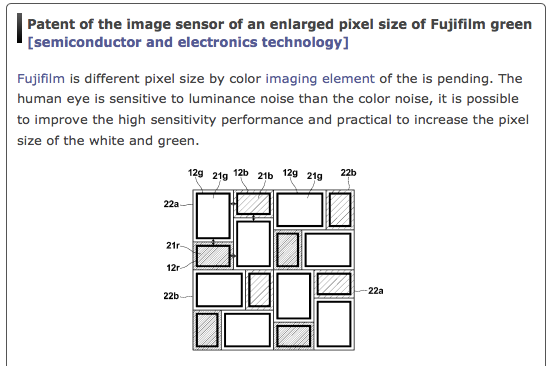 Fujifilm has been at the "forefront of sensor innovation" thanks to the X-Trans sensor (technology of the year award 2012 at imaging-resource here). The company is also working with Panasonic on the organic sensor (press release). And if I remember well, a Fuji manager said that Fujifilm wants to have the best sensor on the market, focussing more and more on the pixel quality rather than simply on pixel quantity.
And indeed, Fujifilm is not resting on its laurels: egami spotted one more Fuji sensor patent here (translation).
"Fujifilm is different pixel size by color imaging element of the is pending. The human eye is sensitive to luminance noise than the color noise, it is possible to improve the high sensitivity performance and practical to increase the pixel size of the white and green."
Looks like an X-Trans evolution to me.
Fuji's birthday tomorrow
NOTE: Tomorrow it's Fuji's brithday! According to the information I have, the X-T1 should be announced on the 28th. But I wouldn't be surprised to see other products coming on the 20th in order to celebrate Fuji's birthday. So stay tuned, I'll keep you updated with the latest news.
enjoy your Sunday,
Patrick
.