Fuji Guys Tease Firmware 1.20 for Fujifilm X-T4 with New Heat Management and Introduce Latest GFX100, X-T3, GFX50S/R Firmware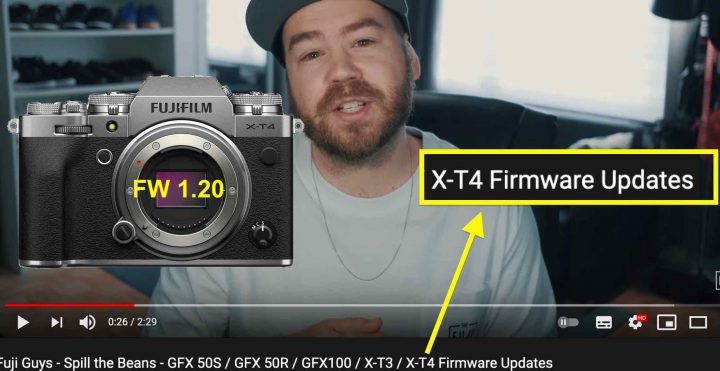 As FujiRumors reported, Fujifilm has released several firmware updates over the last two days:
Now the Fuji Guys posted a video overview on the new firmware.
What's curious, is that they also talk about a new firmware 1.20 for Fujifilm X-T4, which in fact has not been released. So I guess we will see it coming very soon.
And what does the X-T4 firmware bring? Well, the Fuji Guys tell us the following:
Display of IP ADDRESS in Setup Menus > CONNECTION SETTING > INFORMATION is added.
New Auto Power OFF tab setting. It will turn off the camera when the camera gets too hot. You can also set it to "high" to let the camera run until the maximum allowed temperature
minor bug fixes
You can see the video below.
UPDATE: Video removed, but FujiRumors is able to provide screenshots
The Fastest Growing Fujifilm Group
Follow FujiRumors on Patreon, Facebook, Instagram, RSS-feed, Youtube, Flipboard and Twitter
Join Our Owners Groups
Join Our Facebook Pages