Sigma shows Art Lenses with Fuji Mount on their Website… but for FinePix S series!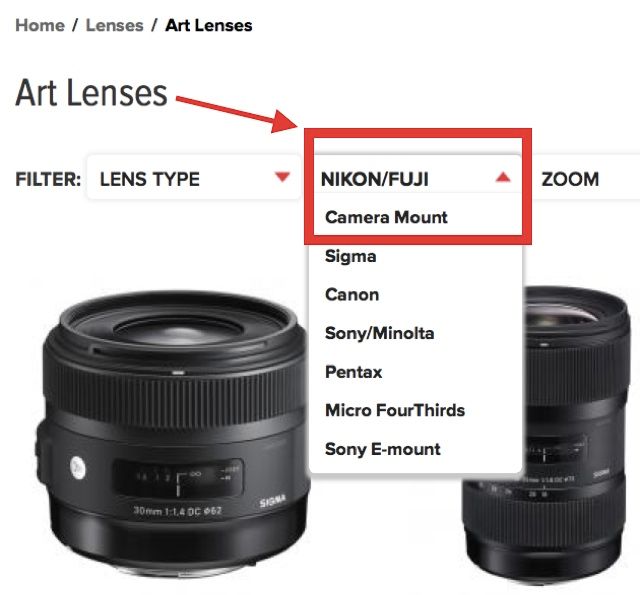 If you check out Sigma's Art lenses series, you can get a little confused, because, if you click on the drop down menu where it says "Camera Mount", there is an option saying "Nikon/Fuji".
An error? A Freudian Slip? No, as Victor said in the comments, it's about the older Fujifilm FinePix S-series, which is fully compatible with Nikon's Nikkor F-series lenses.
But will Sigma ever make Fuji X-mount lenses?
Back in December 2014, Sigma said that they plan to expand their mirrorless lens line-up. But they never said they will produce lenses for the Fuji X-system. And, a part from a new source, I haven't heard anything reliable about Sigma launching an X-mount line of their lenses.
The problem? For a long time, the very limited market share of the X-series cameras made the Fuji World unattractive for third-party lens manufacturers.
Now the Fuji X-cameras fell into the hands of more photographers, but at the same time the high quality Fujinon lens line-up expanded quickly and will be almost complete in near future… and it's not easy for Sigma&Co to compete with the Fujinon's (remember the X-mount Zeiss Touit 32mm and 12mm Flop)
Third party lenses that might have a better chance to sell, are more specialized lenses (like tilt-shift lenses, still missing in the Fuji lens line-up) or those covering focal lenghts not yet offered by Fujifilm, like the Samyang 8mm fisheye lens. On the other hand, the market for those kind of lenses is fairly contained.
The more lens option we X-shooter have, the better. So I hope Sigma will offer an X-mount version of their lenses, like the amazing Sigma 50mm f/1.4, which has almost the IQ of the Zeiss Otus 55mm f/1.4 for ¼ of the price!

Loading ...