FR-readers zone: long exposures, speed booster, X100S High Sync Speed + Craig's biggest shoot since switching to the X
Time to take a (very short) break from the rumors and to share your images and stories of your eXperience with the Fuji X-series.
Keep it up! You can contact me via email at fujirumor@gmail.com, facebook and twitter.
cheers
Patrick
.

Lawrence
Hey Patrick – I saw your featured Jeff's work a few days ago [admin: see it here]. I've known Jeff for years and he's an amazing photographer. He was the person who helped push me over the line when it came to Fuji and I've not looked back !
I just wanted to drop you a line and share some images from my trip up to Banff a couple of weeks ago. This was the first time I did any extended travel with the system and it's been amazing. I bought a [shoplink 12888 ebay]14mm f2.8[/shoplink] for the trip and used it probably 80% of the time. Aside from the size advantages of the system on hikes, the X sensor has such amazing resolving power and image quality (especially when processed in in a good RAW converter like Capture One). That and the quality of the glass has convinced me that this is not only the system for a balance of weight and IQ, but is one of the best landscape systems period.
Anyway, there's a few of my favorite shots in the link below. A lot of long exposures – I used a B+W ND 110 filter and a [shoplink 16456 ebay]Gitzo 1542T tripod[/shoplink] (when Fuji fixes the placement of the tripod mount in the next version I'll be a lot happier). All shots with the Fuji X-E1, 18-55 kit lens, 35mm f1.4 or 14mm f2.8.
http://lawrenceripsher.com/post/60729936323/over-this-past-week-ive-been-posting-photos-from
Feel free to feature this online and embed any images / text.
Cheers!
Lawrence
_ _ _
Rob
Hello, I just wantd to pass along a few of my findings using my loved Fuji X-E1, if fuji would fix the video exposure issue I would even leave my d800 home on my current trip. Anyways in one of your recent posts it was mentioned that you cant make photos with extreme bokeh and small DOF. I currently only have the 18-55 (waiting on the [shoplink 16128]23mm 1.4[/shoplink]) but I have lots of nice Fmount lenses so I have been using the metabones [shoplink 16275 ebay]speedbooster[/shoplink] and wow Ive been getting really nice results. Some of the photos in the links to follow show the ridiculous nikon 85mm 1.4G with the speedbooster making it closer to a 90mm F1.0 and then the other is a [shoplink 15642 ebay]kowa 2X anamorphic lens[/shoplink].
– Shots of setup: http://www.robbannister.com/download_files/fuji/xe1_kowa.jpg / http://www.robbannister.com/download_files/fuji/xe1_85.jpg
– Fuji X-E1 and [shoplink 15642 ebay]Kowa 2X Anamorphic[/shoplink]: http://www.flickr.com/photos/robbannister/9457550567/sizes/l/
–  Fuji X-E1 and Icorama 1.5X Anamorphic: http://www.flickr.com/photos/robbannister/9457469698/sizes/l/
a
– Fuji X-E1 18-55: http://www.flickr.com/photos/robbannister/9458628227/
– Fuji X100: http://www.flickr.com/photos/robbannister/9461410328/sizes/l/
– Fuji X-E1 and Speed booster – DSO Lens with low contrast (nikon Fmount / Helios): http://www.flickr.com/photos/robbannister/9461406326/
– NIkon 85mm 1.4G: 1 / 2 / 3 / 4 / 5 / 6 / 7 / 8 – – – Nikon 50mm 1.4D: 1 / 2 /
I just wanted to show the speed booster with the 85mm 1.4. I did find the speed booster amplified the color fringing on the 50 1.4d quite a bit.
Regards,
Rob Bannister
Lead Compositor / Head of 2D
www.robbannister.com / 500px.com
Rob
_ _ _
Morten
Hi Patrick. I did a high sync test with the X100s last night. I am pretty stoked about shooting these at 1/1000 of a sec. My 5D III should handle 1/200 but usually works best at 1/160. Can't wait to use this feature more. For your Mixed Zone if interested:
http://mfoto.ca/blog/fabrice-soccer-portrait-x100s-high-sync-speed
Morten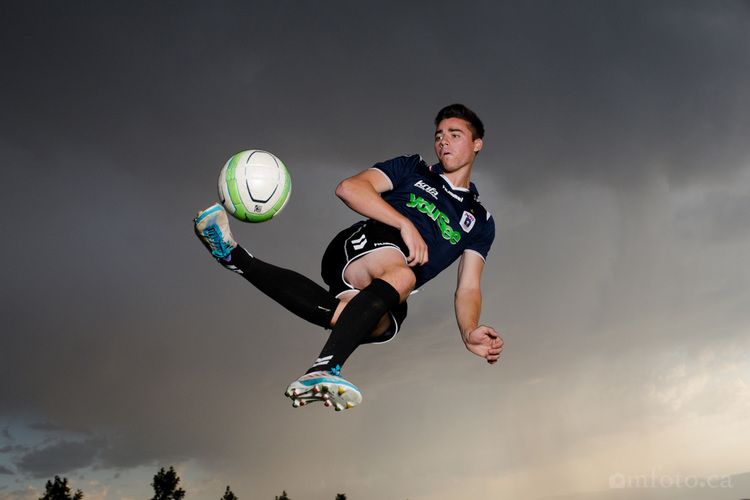 _ _ _
Craig Litten
Hi Patrick,
I wanted to share a recent shoot with you all taken with the Fuji X-Pro 1, [shoplink 12891 ebay]18mm[/shoplink], [shoplink 12889 ebay]35mm[/shoplink] and [shoplink 12887 ebay]18-55mm[/shoplink] lenses. The shoot was for a company called Sun Bum for their 2014 catalog. It was shot over two days on Cocoa Beach, Florida (Sun Bum's HQ). I shot more than 3,000 photos in the hot sun, surf and sand with the two X-Pro 1 bodies and they performed nearly flawlessly (except for a few freeze-ups–didn't freeze before the last firmware update).
Lenses, even the 18-55mm, are tack sharp and amazing. I didn't plan on using the 18-55mm, but found myself using it more and more as the shoot progressed because of the super fast and silent autofocus, as well as the flexibility of the zoom. I shot without the hood, which I hate (Fuji please, get rid of these cheap petal-type hoods, they do NOT fit the styling of the X cameras!). I shoot with the OVF mostly on the X-Pro 1 except when shooting up close then I switch to the EVF. But when using the zoom, I only shoot with the EVF.
This was my biggest shoot since switching to the X, and after two days of shooting, I didn't even notice the weight of the cameras. Wondrous!
Craig Litten (website)