** FIRST Fuji X-T10 IMAGE LEAKED ** SEE NOW the Worldwide FIRST IMAGE of the Fujifilm X-T10!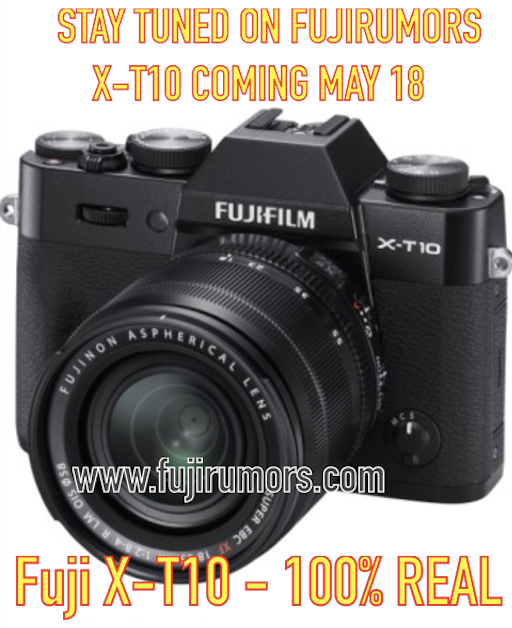 A long rumor story, started here on FujiRumors back in January, is going to end soon. On May 18, Fujifilm will launch the Fuji X-T10 (probably early in the morning London time – around midnight in New York). Stay tuned… I'm ready for the live blogging session.
Now we can finally enjoy the first image of Fuji's new X-series cameras, shared for us by one of our trusted sources (thanks). On this image we can see the X-T10 with XF18-55 lens (the other kit option is with XC 16-50 lens). The flash is inside of the "pentaprism".
[
UDPATE
: Nathan from
ohm-image.net
shared his (mostly positive) feedback about the X-T10 design
here
.]
The pretty comprehensive rumored specs list, shared over the last 5 months, will probably be 100% correct, and, once again, I'd like to thank all FR sources for their amazing help!
And to the X-shooters out there, I hope you had a good time reading all the X-T10 rumors in these months (and the other 220 articles in 2015)…and if you want, you can support my daily work on FujiRumors, by pre-ordering the X-T10 using the affiliate links to BHphoto, AmazonUS, Adorama & Co I'll share here on FR. It's the only way that really helps to cover the costs of this blog and keep it open, updated daily with exclusive rumors and fresh news… for Free.
And thanks to every X-shooter, who grabbed a 100% Fair Trade Chartiy X-shirt and supported FREE EDUCATION for Cambodian kids so far. You Are Simply Great! Keep it up and get it here in USA and here in Europe & CO. Learn more about the X-shirts here

facebook, google+, RSS-feed and twitter