DPReview Fujinon XF70-300mmF4-5.6 Field Review and Silver Award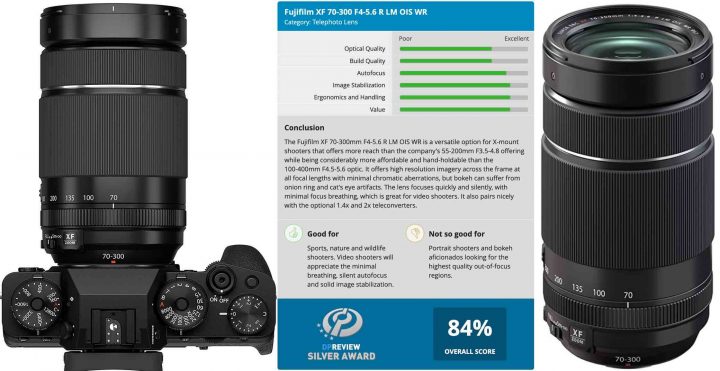 DPReview published its field review of the Fujifilm XF 70-300 F4-5.6 R LM OIS WR. The lens gets the silver award.
I am a bit confused, like when they complain about autofocus speed and chromatic aberration, but only if used with the XF 2x TC WR teleconverter. So they put it in the negative list, even though it's not about the performance of the lens itself.
It's also a bit confusing how they complain about the lens feeling plasticky, but at the same time they say it is well build and also light. So a Pro (well build and lightweight) turns into a Con (but it's plastic!!!)
Maybe they just needed to make the Cons list longer and to find a way to complaint about Fuji AF again. I mean, it's a 2x TC, what did they except?
Anyway, here are their Pros and Cons are:
What we like
What we don't

Great versatility and good build quality
Weather-sealed and well-stabilized
Compact and light for its type
Aperture ring is nice to have
Zoom lock disables automatically
Good, consistent sharpness
Ghosting isn't an issue, and pretty nice sunstars too
Swift, silent autofocus and minimal breathing
Surprisingly good macro performance
Pairs nicely with optional 1.4x and 2x teleconverters

Feels quite plasticky
Focus and zoom rings are a bit 'loosey-goosey'
Strong onion rings can make bokeh rather busy
Significant cat's eye near the corners if shooting wide-open
AF and tracking slow down noticeably when using optional 2x teleconverter
Significant chromatic aberrations when using optional 2x teleconverter
They also say:
In most respects, the Fujifilm XF 70-300mm F4-5.6 turns in a great performance given its compact, lightweight design and quite affordable pricetag.

Although it does feel a bit plasticky in-hand, it's nevertheless quite well-constructed, and it's easy to overlook the use of plastic given the significant weight saving it allows. Fujifilm has also done quite well on the control front, save for the overly-loose focus and zoom rings.

In most respects, image quality also satisfies, especially for subjects like sports and wildlife. And thanks to its swift autofocus drive, it should handle both with aplomb. It's also a surprisingly capable macro lens.

Our biggest concerns with the 70-300mm are its bokeh issues, both with onion ring and cat's eye. These will be most troubling for portraits shot against a backdrop of strong specular highlights, but could lead to unnecessarily distracting bokeh in a variety of situations. They shouldn't pose much problem for sports and nature shooters, however.

Aside from critical bokeh assessment, its optical and autofocus performance are excellent, so if you're an X-mount shooter looking for a lot of reach, you have little reason to look elsewhere.
You can read the full review at dpreview here.