Dear Fujifilm, We Love Kaizen… but the New Wireless Tethering is "a JOKE"!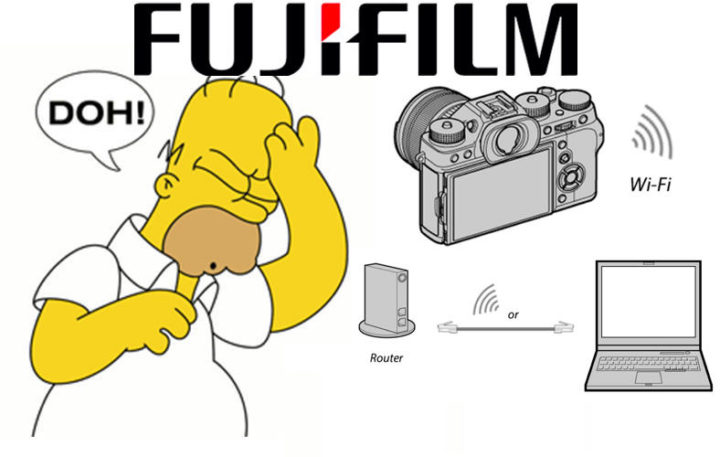 We have praised Fujifilm Kaizen Philosophy countless times, and just recently Fujifilm delivered again several updates for a bunch of Fujifilm cameras. So thanks Fujifilm for you ongoing support :)
But you know, FujiRumors is a free and independent space (thanks to your support, guys), and when something is wrong or does not work as expected, I will share it here on FujiRumors…. and today I would like to talk about the Wireless tethering introduced with the recent update.
I got some emails of Fujifilm shooters, telling me the WiFi Tethering is disappointing, because you have to make it run via router, so useless on location (you can go for the Transcend WiFi SD-card and this WiFiImport Lightroom Plugin if you need Wireless tethering on location – read all the instructions at danielzihlmann).
UPDATE: You can connect directly camera + computer as this video by FR-reader Paul shows
Anyway, still good for your own studio, right? Not really.
The problem? The data transmission is extremely slow. It is in fact so slow, that Fujifilm itself, at the very bottom of their (rather long) wireless tethering setup guide here says:
"Wi‑Fi connections conform to IEEE 802.11b/g/n standard and are slower than USB. Given the extremely long times required, we recommended that you do not attempt to upload RAW images or other large files via Wi‑Fi."
So you got it. The connection is basically too slow to transfer RAW files (about 1.5 MB/s transmission rate only!), which is quite a bummer. How many of you guys shoot JPEG in studio? And btw, considering that the JPEG files on the GFX are quite large (especially super-fine JPEGs), it will be a pain even to transfer GFX JPEG files.
Fujifilm also says:
"Place the camera as close as possible to the router. Distances of no more than a few meters are recommended."
Be aware of this. As etomcat said on the fuji-x-forum here
"the camera (X-T2) has less wireless sensitivity than my iPhone. I need to be literally close to the router to make it work."
Last but not least, as Rico said at our forum, "live view works with a data rate of only 700 KB/s"
At the Forum, some call the WiFi tethering "a joke".
With all that said, I know that the Kaizen Love we Fuji Shooters get is something extraordinary… I'm basically complaining at a level 99% of other camera brand owners actually envy us.
It's just, this WiFi tethering is not really a practical and usable solution, and my job here on FujiRumors is first of all to keep you guys informed about what's good, but also about what's not so good in the Fuji world.
Hey Fuji… want to do something nice? Give X-Pro2 shooters the same ability of X-T2 shooters, to control ISO via command dial ;) … and some people out there also bought a Fujifilm X100S/T, that could get a bit of Kaizen Love too.
So guys, did you test it? You know Fujifilm reads us (and Top Manager Toshihisa Iida even "loves" us), so feel free to leave your feedback in the comments.
Tethered (Wireless) Shooting for X-Pro2 (and X-T2) is Possible… with WiFi SD and a Free Plug-in!