Comparing ETERNA to Other Fujifilm Film Simulations + ETERNA Profile for CaptureOne + What the F-Log Is ETERNA?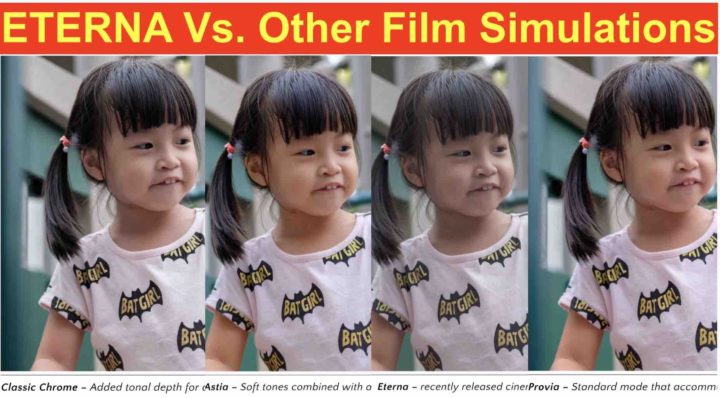 ETERNA Vs. Other Film Simulation
One of the questions X shooters have at the moment, is how the ETERNA compares to other film simulations.
Keith did a quick comparison on his blog here. He says:
"what I see doesn't surprise me coming to Eterna as it is a film simulation designed for videographers, aka – designed for further color grading and as such is characterized by subdued color presentations and rich shadow tones."
Also, as Dan said at our Fujifilm X-H1 group here, "Eterna is muted for a reason. In video, you want the eye's attention focused on the action/actors not drawn to the entire frame's vista."
And in today's Cinema5D interview, Fujifilm Manager Jun Watanabe-san said: "Current film simulations, even Pro Neg, are too brilliant and not suitable for long time viewing. Hence we developed ETERNA."
Fujifilm X-H1 – $150 Bundle Savings: BHphoto, AmazonUS, Adorama, Focuscamera
ETERNA on Lightroom with X-T2 & More
Just recently we told you about a hack, that allows you to apply the ETERNA film simulation to any of your X-Trans III cameras in Lightroom. Make sure to check out this article at fujirumors.com.
What the F-Log is ETERNA?
Neale James Youtube – What the F-Log is Eterna?! Video review Fujifilm X-H1
ETERNA Profile for CaptureOne
The community is also working on homebrews, to make the ETERNA profile come to CaptureOne. The first one is already out and has been shared at dpreview by ateriksen to download here.