Cactus Fujifilm X-T2 Beta-Support… and You Can Be Their Beta-Tester!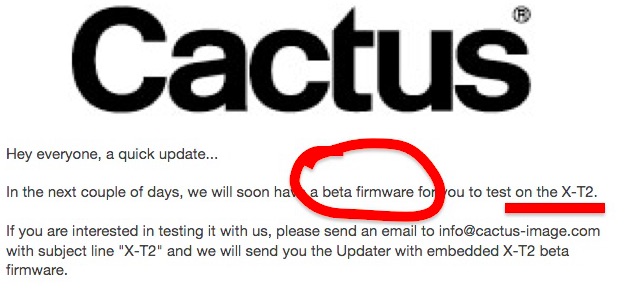 Cactus Fujifilm Support
Cactus announced that a Beta Firmware for Fujifilm X-T2 support is almost ready. They are looking for Beta Testers. Here is what they said in their forum.
Hey everyone, a quick update…
In the next couple of days, we will soon have a beta firmware for you to test on the X-T2.
If you are interested in testing it with us, please send an email to info@cactus-image.com with subject line "X-T2" and we will send you the Updater with embedded X-T2 beta firmware.
I would greatly appreciate if you can share your findngs here on the fourm (under this post) so we can see if others experience the same kind of bugs and issues.
For those who needs to use the V6 II for commercial work, please wait a little bit more as the beta version is likely not ready.
Thank you in advance to those who are participating.