** BREAKING ** FULL LIST of FUJIFILM Firmware Updates Coming on JUNE 9 :: X-Pro2 "OFF/ON" Bug Fix & More!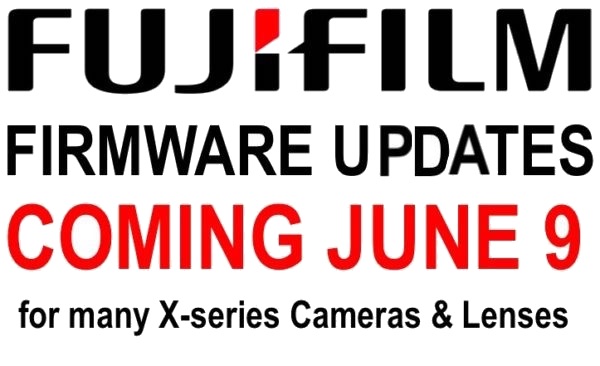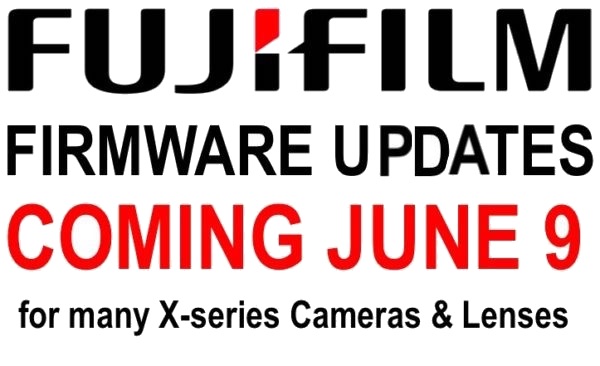 I just told you about the imminet Firmware updates.
Thanks to a kind FujiRumors source, we now have the details of the updates, that should be released on June 9 (but you know how quickly things can change, when it comes to Firmware updates).
CAMERAS
New Firmware for X-E1, X-E2, X-E2S, X-Pro1, X-Pro2, X-T1, X-T10
X-Pro2 bug fix: Fuji will fix a bug with the framelines and… drum roll…. the annoying "turn camera off and back on" error will be fixed!!!
For all the cameras mentioned above, Fujifilm will improve the Focus Accuracy in Manaul Focus Mode when used with the following lenses: XF35mmF2 WR, XF90mm, XF10-24, XF 16-55, XF18-55, XF18-135, XF50-140, XF55-200, XF100-400 , XC16-50MK2, XC50-230mmMK2
LENSES
New Firmware for XF35mmF2 R WR, XF90mmF2, XF10-24mm, XF16-55mm, XF18-55mm, XF18-135mm, XF50-140mm, XF55-200mm, XF100-400mm, XC16-50mmMKII, XC50-230mmMKII
Improved Focus Accuracy in Manual Focus Mode for XF35mmF2 WR, XF90mm, XF10-24, XF 16-55, XF18-55, XF18-135, XF50-140, XF55-200, XF100-400 , XC16-50 ver.2, XC50-230mm ver.2
Improved OIS for XF10-24 + XF18-55 + XF18-135 + XF55-200 + XC16-50MKII + XC 50-230MKII
Improved AF-Tracking while zooming for XF10-24 + XF18-55 + XF18-135 + XF55-200 + XC16-50MKII + XC 50-230MKII
2.0x Teleconverter Support for XF50-140 + XF100-400
 SAVE UP TO $500
Lenses
XF 14mm (save $400): BHphoto / AmazonUS / FocusCamera / Adorama / Pictureline
XF 16mm (save $300): BHphoto / AmazonUS / Adorama
XF 18mm (save $150): BHphoto / AmazonUS / FocusCamera / Adorama / Pictureline
XF 23mm (save $200): BHphoto / AmazonUS / FocusCamera / Adorama / Pictureline
XF 27mm (save $150): BHphoto / AmazonUS / FocusCamera / Adorama / Pictureline
XF 35mmF1.4 (save $150): BHphoto / AmazonUS / FocusCamera / Adorama / Pictureline
XF 35mmF2 (save $100): BHphoto / AmazonUS / FocusCamera / Adorama
XF 56mmF1.2 APD (save $400): BHphoto / AmazonUS / FocusCamera / Adorama / Pictureline
XF 56mmF1.2 (save $200): BHphoto / AmazonUS / FocusCamera / Adorama / Pictureline
XF 60mm (save $200): BHphoto / AmazonUS / FocusCamera / Adorama / Pictureline
XF 90mm (save $200): BHphoto / AmazonUS / FocusCamera / Adorama
XF 10-24mm (save $200): BHphoto / AmazonUS / FocusCamera / Adorama / Pictureline
XF 16-55mm (save $200): BHphoto / AmazonUS / FocusCamera / Adorama / Pictureline
XF 50-140mm (save $200): BHphoto / AmazonUS / FocusCamera / Adorama
XF 50-140mmm + 1.4xTC (save $349): BHphoto / AmazonUS
XF 18-135mm (save $200): BHphoto / AmazonUS / FocusCamera / Adorama / Pictureline
XF 100-400mm + 1.4xTC (save $349): BHphoto / AmazonUS / Adorama
XF 55-200mm (save $200): BHphoto / AmazonUS / FocusCamera / Adorama / Pictureline
XC 50-230mm (save $200): BHphoto / AmazonUS / FocusCamera / Adorama
XC 50-230mm verII (save $200): BHphoto / AmazonUS / FocusCamera / Adorama
Camera

Fuji X-T1 Black or Graphite Silver (save $300) + Free VG-XT1* (save $200) : BHphoto / AmazonUS / FocusCamera / Adorama
Fuji X-T1 + XF18-55 (save $300) + Free VG-XT1* (save $200) : BHphoto / AmazonUS / FocusCamera / Adorama
Fuji X-T1 + XF18-135 (save $300) + Free VG-XT1* (save $200) : BHphoto / AmazonUS / FocusCamera / Adorama
*Free X-T1 Vertical Hand Grip while supplies last
Fuji X-T10 body (save $200): BHphoto / AmazonUS / FocusCamera / Adorama
Fuji X-T10 – XF18-55 (save $200): BHphoto / AmazonUS / FocusCamera / Adorama
Fuji X-T10 – XC16-50 (save $200): BHphoto / AmazonUS / FocusCamera / Adorama
Fuji X-T10 + double kit (save $200): BHphoto / Adorama
Fuji X100T (save $200): BHphoto / AmazonUS / Adorama / FocusCamera / Pictureline