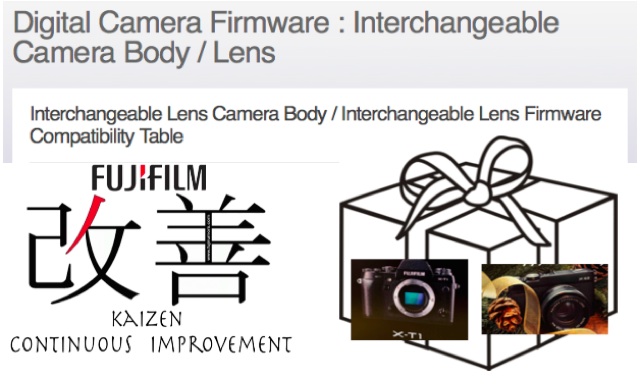 BIG KAIZEN FIRMWARE UPDATE available for X-T1, X-E2, X-E1 & X-PRO1 … download your new X-T1 / X-E2 :)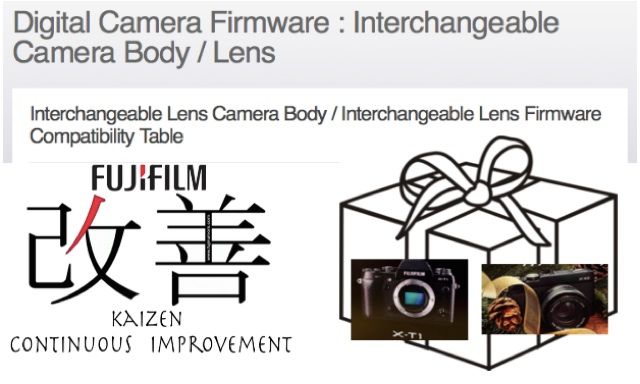 The big Fuji X-series firmware updates are now ready to be downloaded at the Fujifilm Support Page here.
The biggest update is definitely the one for the Fujfilm X-T1… X-T1 owners can bascially download, for free, a complete new camera. X-E2 owners will get Classic Chrome, Interval timer shooting, WiFi remote control and a new (and very useful) AF+MF function. The latter update is available also for X-E1 and X-PRO1.
And now, dear X-shooters, download the new firmware and get acquainted quickly with the new features of your camera… X-mas is near, and you should be ready to take advantage of the new potential of your X-series camera.
And to Fujifilm just this: thank you. It's an amazing X-mas present :)
– FUJIFILM X-T1 : Version 3.00
– FUJIFILM X-E2 : Version 3.00
– FUJIFILM X-Pro1 : Version 3.40
– FUJIFILM X-E1 : Version 2.40
To learn more about the new features coming with this big firmware update, read Rico's trilogy, Using AF+MF,  Using Camera Remote and X-T1 Firmware Version 3.00.
NOTE: If you have problems to see the new firmware versions, then you probably have to clean the cache! The easiest way is described in Rico's X-pert corner post "Tips for Updating your Firmware": "just delete your browser cache or force your browser to reload and refresh the page by, for example, holding the Alt or Option key while clicking on Reload."