The Big Fujifilm GFX Recap :: Everything We Know is Here… RGB Color Histogram, Base ISO 100, AF-Points + Much More!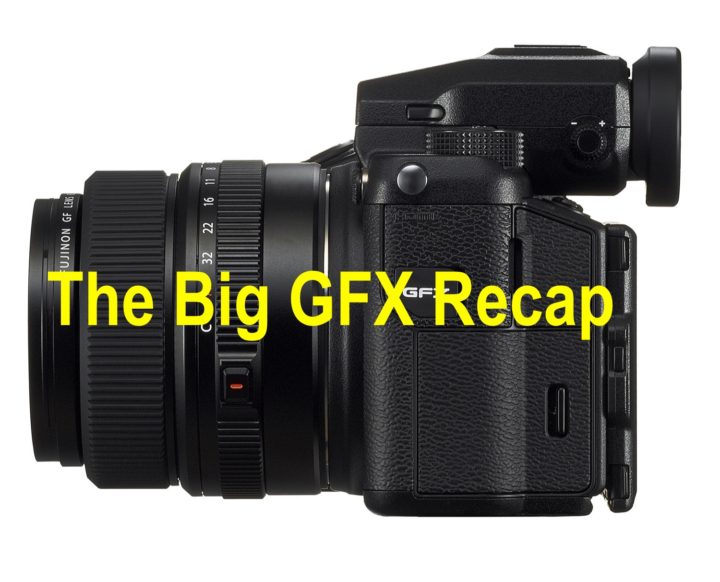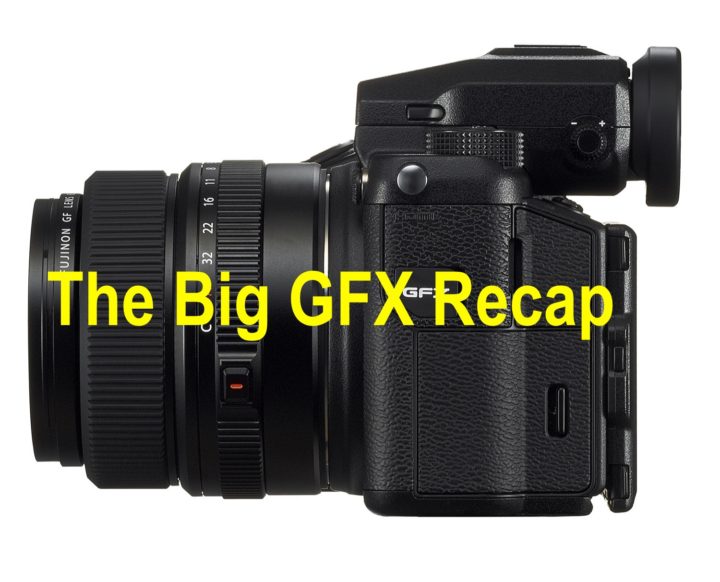 Here is a big GFX Overview, based on information Fujifilm shared at the Photokina 2016 and later, and also based on Rumors you could find here on FujiRumors. I'll mark with "R" the rumors and with "F" the facts, although keep in mind that even the facts revealed earlier by Fujifilm could have changed in the meantime.
Everything you can read below has already been published on FR starting from September 2016, but I thought a Recap could be useful, since I keep getting emails with questions, that have already been answered in the past, but given the huge amount of information are easy to miss.
I strongly recommend you to allow push notifications and follow us on Facebook, RSS-feed and Twitter in order not to miss anything.
FUJIFILM GFX CAMERA
Fujifilm GFX 50S –

F

Announcement Janaury 19 –

R

Release February 23 –

R

Body Price €6999/$6499 –

R

G-Mount –

F

Mirrorless –

F

Weather Sealed body/lenses –

F

X-Processor Pro (used in X-T2/X-Pro2) –

F

No Low-Pass Filter –

F

Contrast Detection AF only with 117 AF points –

F

RGB color histograms in the live view –

F

51.4MP 44 x 33mm Medium Format Bayer Sensor (No X-Trans, because not needed with this huge 50MP sensor) –

F

Aspect Ratio: 4:3 (default), 3:2, 1:1, 4:5, 6:7 and 6:17 –

F

MF Sensor made by Sony but customized by Fujifilm. The challenge is how to get the light hit the sensor evenly – in the center and also at the corners. In order to achieve that, Fujifilm customized the microlenses in front of the sensor and optimized the silicon process. –

F

MF sensor is 1.7 (70%) times bigger than Full Frame. Crop factor 0.79x. –

F

Weight about 800g –

F

12 pins on the lens mount (useful when it comes to adapting third-party lenses) –

F

Flange Distance of only 26.7 to shorten the back focus distance as much as possible. This prevents vignetting to achieve edge-to-edge sharpness of the world's highest level – source Fujifilm Press release via dpreview. –

F

ISO: base-ISO 100 :: Max ISO 51200 –

F

minimum back focus 16.7mm –

F

Focal Plane shutter max 1/4000 –

F

Flash Sync Speed 1/125 –

F

EF-X500 with HSS Supported –

F

Bigger Battery compared to X-T2/X-Pro2 –

F

Electronic shutter –

F

Full-HD with 30 fps –

F

Dual SD Cards UHS-II –

F

EVF: 3.69 megadots with a magnification of 0.85x (X-T1/2: 0.77x) with frame rate of around 60 fps –

F

EVF: Detachable and fully tiltable if used with an adapter –

F

EVF has a hot shoe on the top –

F

All Film Simulations of X-T2/X-Pro2 available (including ACROS) –

F

Adapter for Leaf Shutter Lenses in the works –

F

Tethering support at launch –

F

Joystick –

F

E-ink LCD display on the top of the camera (always visible, even if camera is switched off) –

F

WiFi –

F

dynamic range settings of DR800% and maybe even DR1600%. – Source fujixsecrets
USB 3 data transfer and charging –

F

HDMI –

F

Mic, headphone and remote control outputs –

F

Tilt LCD like X-T2 (3 way tilting) –

F

Touch LCD screen –

F

 diopter adjustment –

F

11 Fn buttons – Source fujixsecrets
shooting intervals of 700 ms –

F

quick start up time –

F

Fujifilm Will Launch Professional Support Service Along with the GFX Camera –

R
FUJIFILM GF LENSES
GF63mmF2.8 R WR (50mm equiv.) available at launch. Price €1,599/$1,499 –

R

GF32-64mmF4 R LM WR (25-51mm equiv.) available at launch. Price $2,299 –

R

GF120mmF4 Macro R LM OIS WR (95mm equiv.). Magnification of 1:0.5. available at launch. $2,599  –

R

minimum focus distance 45cm – max. magnification of 0.5x, 1:2 Macro –

F

GF110mmF2 R LM WR (87mm equiv.) available mid 2017 –

F

GF23mmF4 R LM WR (18mm equiv.) available mid 2017 –

F

GF45mmF2.8 R WR (35mm equiv.) available late 2017 –

F

Dedicated C positions on the aperture ring (The C position can be locked to avoid accidental changes) –

F

The lenses are ready for sensors with a resolution of 100MP –

F

Only the GF32-64mmF4 R LM WR zoom lens has inner focussing –

F

The prime lenses are optically corrected for distortion –

F
Fujifilm GFX Facebook Group ** Join 4,400 GFX Fans
stay tuned…

Fuji X Forum, Facebook, RSS-feed and Twitter