AmazonUS Tells People the Sony A6500 is an Upgrade to the Fujifilm X-T3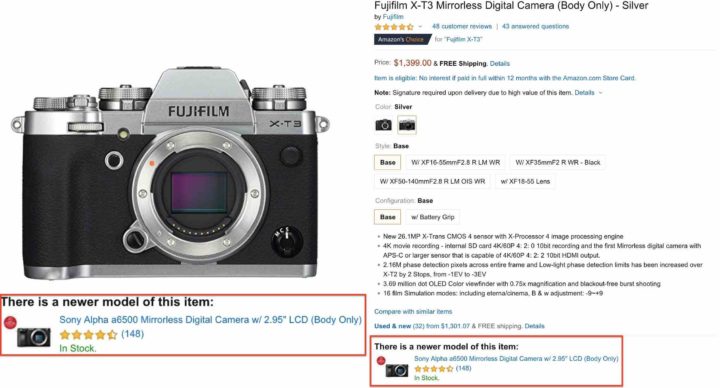 AmazonUS is telling people, that the Sony A6500 is an upgrade to the Fujifilm X-T3.
That's a nice Sony advertising :).
If I was Fujifilm USA, I'd contact AmazonUS and ask to correct this as soon as possible… or at least to add to the recommended items for the Sony A6500 some professional heat resistant gloves.
Just kidding guys, both great cameras in their own way. We will have enough "heavy" topics to discuss in the next few weeks, that starting this week with some lightness can't hurt.
Follow FujiRumors on Facebook, Instagram, RSS-feed and Twitter
Our X-T3 Group and Page

At least they should recommend to purchase the Sony A6500 along with some professional heat protecting gloves :) → → https://t.co/lHeahFXRLY pic.twitter.com/dQlh6iST2c

— Fujirumors (@Fujirumors) February 4, 2019