ADOBE says: "We will improve X-TRANS detail rendering and overall edge definition." – PS CC, LR CC and LR6 Updated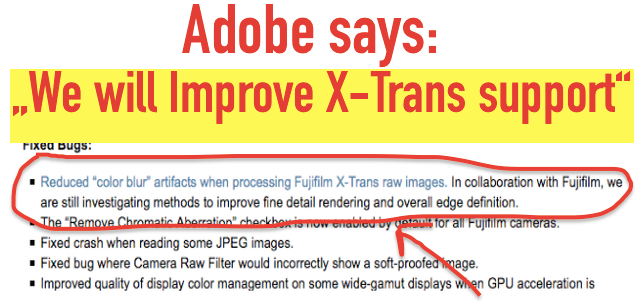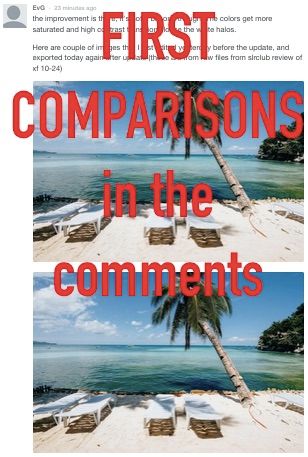 By FR-reader EvG (Files in the Comments): "The improvement is there, it's not a big one though. The colors get more saturated and high contrast transitions loose the white halos. Here are couple of images that I just edited yesterday before the update, and exported today again after update (those are from raw files from slrclub review of xf 10-24)"
_ _ _
For the first time, there is an official statement of Adobe to what belongs their X-Trans demosaicing:
"We have reduced "color blur" artifacts when processing Fujifilm X-Trans raw images. In collaboration with Fujifilm, we are still investigating methods to improve fine detail rendering and overall edge definition."
So we have already one improvement, and more will come. I guess we now also have the answer to the question FXF Member FabX, who asked: "is there any sign or news of improvements in LR6 regardnig X-trans treatment?" Yes, finally :) .

Adobe also updated PhotoShop CC, Lightroom CC and Lightroom 6.1 with new features (but not for LR6 – no new features for the standalone version), and adds support for the Fujifilm X-T10.
Check out the lightroomjournal (CameraRaw 9.1 / Lightroomm CC and 6.1)
stay tuned,

Fuji X Forum, Facebook, Google+, RSS-feed and Twitter
NEWSLETTER