A Tale of my Photographic Journey and Back to the Roots with These Inspiring Fujifilm APS-C Images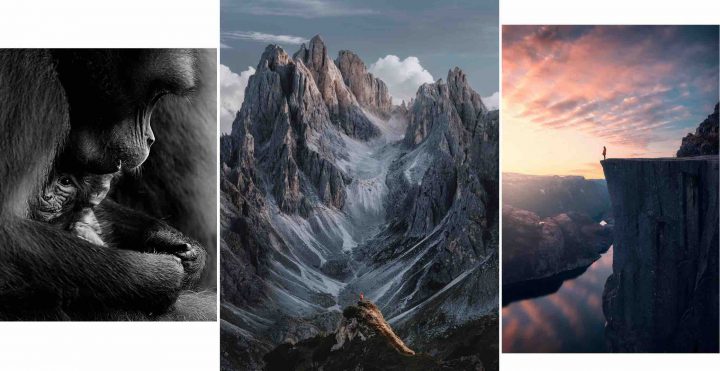 Photography Reset
Yesterday, while desperately searching for some school material and turning upside down my little rented apartment, I stumbled on my old Canon Powershot SD850 IS, a powerhouse sporting a staggering 8 megapixel 1/2.5 " CCD sensor… and… hold on tight… an impressive (and useless) ISO sensibility of 1600!
And, oh boy, how much I missed it. And I don't mean the camera itself, but the time, before my photographic fall took place.
This is (quickly) what happened.
I took my little Canon with me to Brazil when volunteering in the slums of Salvador de Bahia (anything bigger in the slums is not really recommended).
One day I visited the so called "city of plastic", a place, where misery seems to win over dignity and beauty.
It's a place hard to digest and to accept, but I remember thinking "there must be beauty also here".
Inspired by this thought, I grabbed my little Canon and decided not to leave this place, until I haven't captured "beauty".
So I walked around, knocked on different "houses", met people… and you bet I found it!
I found beauty in young girls taking care of each other, in kids running barefoot after a ball, in old people offering me fresh water and a rest in the shadow. I ended up making magics and singing songs for all of them. We were laughing.
Then, at sunset, when I walked up the hill to leave the city of plastic, I turned around one last time.
Plastic bags were flying in the dusty wind, dogs were barking, and I remember thinking: "if my life would end now, I would not die unhappy".
I took the bus back to the hostel, reviewed the images on the back of my little Canon, and I saw what would become some of my most precious images ever.
And yet, my photographic fall was just around the corner.
Life had me again. The job, the meetings, the stress.
Time for photography became less, the inspiration was dissipating, the images I took did not satisfy me anymore.
Frustrated and insecure, I spent more times in forums and pixel peeping, and I began to delude myself that more specs are the shortcut to create better images.
So I found myself needing new gear, bigger sensors, more megapixel, faster lenses and what not.
But none of that could fuel my passion, my creativity and my inspiration again.
None… until I stumbled on a camera brand, that didn't shine for its specs, but for its feel: Fujifilm!
I don't know which magic happened, but Fujifilm cameras just invited me to go out and shoot, to leave my comfort zone again, to hike a mountain in the night and grab a sunrise shot, to freeze to capture the milky way, to approach strangers and ask for a portrait image.
I found passion again… and I wanted to share it… and I share it now on FujiRumors.
And sure, we talk a lot specs here on FR, and that's ok.
But we should always remember what's the final purpose of it all: enjoy the process of taking pictures just as much as the images themselves.
That's why I share these little image roundups now and then.
May they help us to find inspiration and motivation, and serve us as a reminder, that all that matters is "where you stand, and when you press the button", as David Hurn would say.
So, let's celebrate photography by sharing this image roundup.
All images taken with Fujifilm X-T cameras by people who had no time to worry about APS-C or Full Frame, as they were out doing something better ;).
Ready to be Amazed?
Andrea Livieri
shared here
"THE NEST" – Dolomites Natural Park, 2019
ANDREA LIVIERI PHOTOGRAPHY
Cadini di Misurina are something unique. This group of mountain peaks is absolutely fabulous from whatever angle you view it. I shot this image last September during one of my Dolomites Photography Workshops and, especially in this location, the use of the telephoto lens is more than recommended.
The combination of long lens and camera-to-subject distance gives the viewer the impression that distant objects are larger than they actually are. As a result, it gives the appearance that the background has pulled in closer to the subject. The guy in the orange jacket standing on the ridge in front of the peaks works perfectly to emphasize the idea of scale.
TECH STUFF:
FUJIFILM X-T30 + FUJINON XF50-140MM F/2.8
ISO 160 – F/11 – 1/50SEC. – 75MM
#FUJIFILM #DOLOMITES
_ _ _
Alberto Bellini
shared here
Sunset at Golden Gate Bridge.
X-T3 & 18-55
IG: albertobellini10
Edit: birds are real! It's a one shot edit
_ _ _
Furkan Tozlu
shared  here
Fuji X-T3
Fujinon 10-24f4 at f8
Norway 🇳🇴 Preikestolen
I hiked there alone and managed to reach the top before sunrise. Set the camera on tripod to shoot triple bkt every 15 seconds
_ _ _
Albert Lim
shared here
XT3 + 16-80 jpeg edited slightly with snapseed.
_ _ _
Anton Bosman
shared here
Taken with my beloved 10-24
ISO 200
f 20
211 seconds
Haida 4 stops on variable ND filter
_ _ _
Ian Gray
shared here
mother and child
xt2+ 50 to 140mm
_ _ _
Anton Bosman
shared here
Industrial Cubism 😅
X-T3
10-24
ISO 160
15 seconds at f11
_ _ _
Tobias Kiemle
shared here
Hohenzollern Castle in Hechingen, Germany. Near perfect conditions this week, I was very happy!
X-T1 + 55-200 (SOOC)
_ _ _
Duncan Scott Tfl
shared here
XT3 + 16-55
Santiago de Chile 29-10-19
_ _ _
Josh Ganzermiller
shared here
So, i accidentally caught a rocket launching next to the Milky Way. I realize this isn't the most technical image, but I didn't even know there was a launch planned at Wallops Island for the night I was out shooting.
X-t3, Rokinon 12mm.
https://www.instagram.com/p/B4In-bZp-9a/?igshid=11eallns8wx2b&fbclid=IwAR2gxqFj9EDe5Q0ntgVoa3qDZJWBeNUuJ8O01lOCTV6T10nb9eHRsgEZ7Zg
_ _ _
Anton Bosman
shared here
This is where I live.
Johannesburg South Africa.
Where do y'all reside ?
X-T3
10-24
ISO-160
SS 1/25
_ _ _
Dean Whitehead
shared here 
First time shooting with the X-T3. What a remarkable camera! all shots were taken with the kit lens, what a good bit of glass!
_ _ _
Mattia Kers Chersicola
shared here
Martino, il re pescatore…
Mattia Chersicola Photo
xt2+100-400
_ _ _
Massimo Alloi
shared here
Diving
Fuji XT3 – Fuji 18-55
_ _ _
Francesca Mandara
shared here
X-T2, 50-140mm
_ _ _
Antti Karppinen
shared here
XT3 with 16-55 F2.8 (55mm f9)