Fujifilm patents Fujinon 20mmF1.8 lens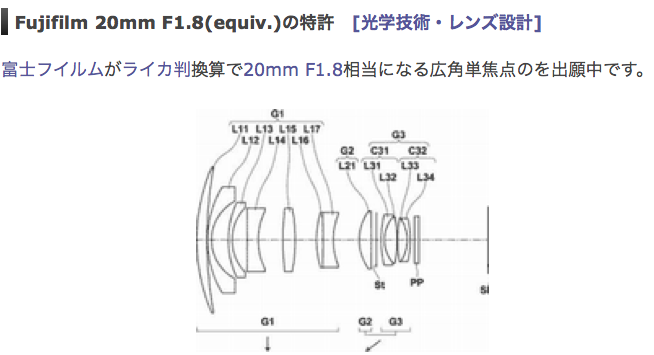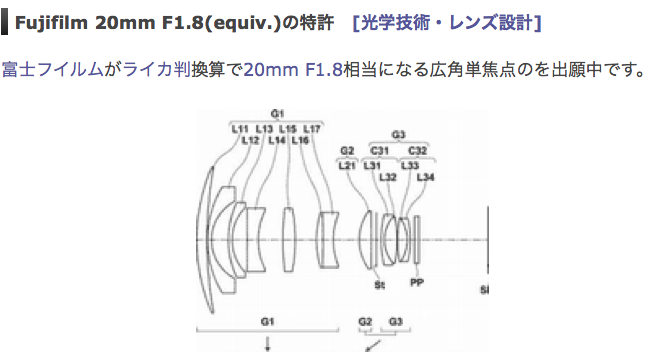 It's a few days now that this patent is circulating on the web. I don't think that's necessarily about a future XF lens, and in any case, these patents can hardly be considered a reliable rumor. But since I'm getting tons of emails about it, I'm going to share it now.
Egami spotted a Fujifilm patent of a Fujinon 20mmF1.8 (eqiv) lens. Any Japanese FR-reader, who can provide a more accurate tranlsation???
Google translated
Fujifilm full size mirror-less
Fujifilm patent application of 1mm F1.8 is an optical system.
The focal length of the entire system seems to scale down the optical design values to be 1mm. By doing this, it will benefit not then understand the product under development in the same industry manufacturers.
So all the angle of view is 95.2 °, Will is considering the 20mm of 14mm (13mm) or for full-size for the APS-C. Back focus is so about 2mm, about 28mm of BF and to scale up to the APS-C, it will be BF of about 40mm and to scale up to full-size. Product will become a short BF, but for now does not mean must shorten the BF because mirrorless Fujifilm will result that the pursuit of optimization that can be considered.
Fujifilm 's'll try, but is to go unusual considering the future because it does not use a non-spherical surface is overlaid, Fujifilm you do not miss the new products.
Description, self-interpretation of the patent literature
Patent Publication No. 2016-95461

Published 2016.5.26

Filing date 2014.11.17

Example 1

Focal length 1mm

Bf 2.08 – 2.05 – 1.94

FNo 1.90 -. 1.92 – 2.00

Full angle of view 2ω 95.2 – 94.4 – 91.2