"100% market share growth, focus on high end & new pro camera in 2015"! (Fuji Middle East Manager Kawamura)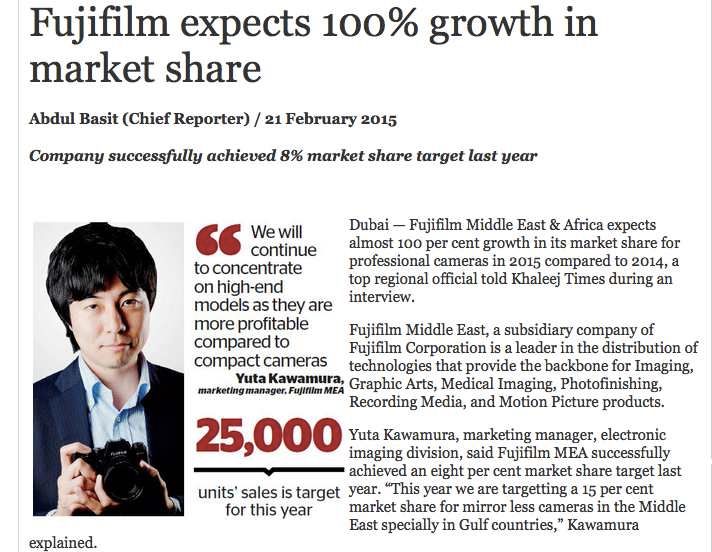 Full article at khaleejtimes
_ _ _
It seems that, after the big success of the Fujifilm X-T1, the company is starting to look very optimistic into the future. At least if we listen at Yuta Kawamura (Marketing Boss at Fujifilm Middle East).
In fact, this year he expects a 100% grow of market share in Middle East (from 8% in 2014 up to 15% in 2015).
Fuji ME-Marketing-Boss Yuta Kawamura also says that the biggest market for Fujifilm is Japan, followed by USA, China and Europe. Middle East and Africa close the ranking. The goal of Fujifilm Middle East is to sell 25,000 cameras in 2015!
He also says that, in the ME-region, Fujifilm is ranked 3rd after Sony and Samsung (in the Pro-camera segment).
So how will they achieve this 100% growth in just one year? Kawamura says:
"We will continue to concentrate on high-end models as they are more profitable compared to compact cameras. […] Fujifilm will soon launch another good quality professional camera in 2015"
In other words: Fujifilm X-PRO2 ;)
Thanks to the anonymous reader for the link he spotted at fujifilmME facebook via khaleejtimes
X-T1 BOOK DOWNLOAD … it works now

Just released: Rico's new X-T1 book. There is a 40% discount on it. Just use the code "FUJI40" and you'll pay the book just $12! (Kindle, ePub, PDF version included… all DRM-FREE!). You can buy it also at AmazonUS, but just for Kindle and with DRM.