XF35mmF2 Review at admiringlight + Capture One 9 Released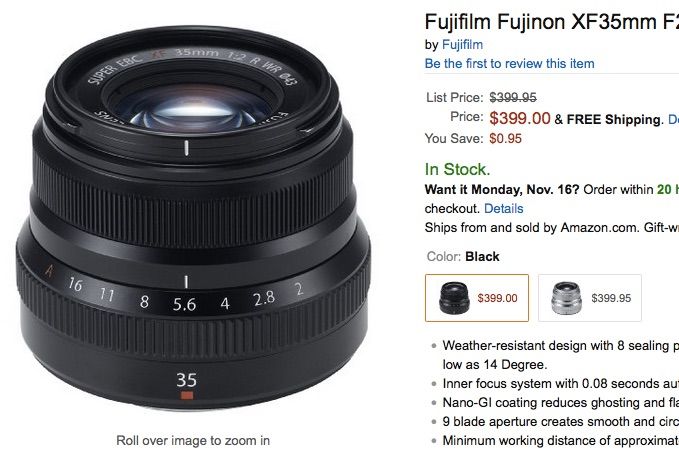 XF35mmF2 Review
USA: AmazonUS / BHphoto / Adorama / EU: AmazonDE / PCHstore / AmazonUK / AmazonITA /
Admiringhlight posted its full XF35mmF2 review. From the conclusions:
"The 35mm f/2 R WR is a very good lens. It doesn't quite measure up to Fuji's top optics such as the 90mm f/2, 16mm f/1.4 or 14mm f/2.8, but it does a nice job balancing small size with very good performance.  It's sharp across almost the whole frame right from f/2, has very pleasing bokeh, good chromatic aberration control, a very fast and dead silent focus motor and has the added benefit of weather sealing as well.
On the down side, the high native distortion requires digital correction that by default is actually too strong, resulting in some pincushion distortion in the JPEGs and RAWs for converters that support the correction metadata.  This leads to some loss of resolution in the corners, preventing truly tack sharp images across the entire frame."
More Reviews: Review at patricemichellon / Dutch Review at pixelmania (translation) / Real World samples at dpreview / Japanese review at dc.watch (translation) / Theoria Apophasis Impressions at youtube /
Capture One 9 Released
Capture One 9 has been released. See all new features here.
BIG US X SALE
XF Lenses
XF90mm (save $150): AmazonUS / BHphoto / Adorama /
XF10-24mm (save $150): AmazonUS / BHphoto / Adorama / Pictureline /
XF14mm (save $150): AmazonUS / BHphoto / Adorama / Pictureline /
XF27mm (save $150): AmazonUS / BHphoto / Adorama / Pictureline /
XF35mmF1.4 (save $150): AmazonUS / BHphoto / Adorama / Pictureline /
XF60mm (save $150): AmazonUS / BHphoto / Adorama / Pictureline /
XF16mm (save $200): AmazonUS / BHphoto / Adorama / Pictureline /
XF18mm (save $200): AmazonUS / BHphoto / Adorama / Pictureline /
XF23mm (save $200): AmazonUS / BHphoto / Adorama / Pictureline /
XF56mm (save $200): AmazonUS / BHphoto / Adorama / Pictureline /
XF16-55mm (save $200): AmazonUS / BHphoto / Adorama / Pictureline /
XF50-140mm (save $200): AmazonUS / BHphoto / Adorama /
XF18-55mm (save $200): AmazonUS / BHphoto / Adorama / Pictureline /
XF18-135mm (save $200): AmazonUS / BHphoto / Adorama / Pictureline /
XF55-200mm (save $200): AmazonUS / BHphoto / Adorama / Pictureline /
XF 56mm APD (save $400): AmazonUS / BHphoto / Adorama / Pictureline /
X series Cameras
X-Pro1 + 23mm + 27mm (save $900): Adorama / BHphoto/ AmazonUS /
X-T1 (save $300): AmazonUS / BHphoto / Adorama / Pictureline /
X-T1 GS (save $300): AmazonUS / BHphoto / Adorama / Pictureline /
X-T1 + 18-55 (save $300): AmazonUS / BHphoto / Adorama
X-T1 + 18-135 (save $300): AmazonUS / BHphoto / Adorama / Pictureline
X100T (save $200): AmazonUS / BHphoto / Adorama / Pictureline /
X-T10 (save $100): AmazonUS / BHphoto / Adorama
X-T10 + 18-55 (save $100): AmazonUS / BHphoto / Adorama
X-T10 + 16-50 (save $100): AmazonUS / BHphoto / Adorama
X-T10 + 18-55 + 55-200 (save $400): AmazonUS / BHphoto / Adorama
X-T10 + 16-50 + 50-230 (save $300): AmazonUS / BHphoto / Adorama
X-E2 (save $100): AmazonUS / BHphoto / Adorama / Pictureline /
X-E2 + 18-55 (save $100): AmazonUS / BHphoto / Adorama / Pictureline
X30 (save $100): AmazonUS / BHphoto / Adorama / Pictureline /
X-A2 body or kit (save $50): AmazonUS