X-T1 field test at thecamerastoreTV!
Does the X-T1 meet your needs?
 Then feel free to purchase it using one of the links below. You will at the same time support this blog and my daily work on it with no extra costs for you… with your support, we could have an exciting rumor year in 2014.
 X-T1 body only ($1,299): USA: AmazonUS / BHphoto / Adorama / Pictureline / EU: wexDE / wexUK / PCHstore /
X-T1 with 18-55 ($1,699): USA: AmazonUS / BHphoto / Adorama / Pictureline / EU: wexDE / wexUK / PCHstore /
[Vote the ultimate Kaizen firmware poll
here
]
_ _ _
– The X-T1 Field Test is online at thecamerastoreTV here. For those who are right now at work and don't have 13 minutes of time to look at it, here is quick summary:
a damn sexy looking camera […] really esay to use in the field […] gorgeous and huge EVF, the first EVF I really can work with […] great refresh rate […] 8fps shooting tracking with predictive AF really works […] "Fuji really looks at what users wants in improvements, and then they just do it! I don't know why other companies don't do it!" […] WiFi: works quick and nice. […] What's not so great? Video! […] It is one of the best, if not the best, APS-C sensor on the market […] the menu order could be better […] Autofocus: "I was blown away about how the camera focuses, especially continuously, and it's fast!"
– Hands on video of PhotoNewsReviews on youtube here.
– Interview with Kevin Mullins: first impressions of the XF10-24 and XF56 lenses and the X-T1 camera of Kevin Mullins at fujifilmblog here: " [56mm] I'm really impressed with the handling of the lens, especially the speed of focus. The depth of field at f/1.2 is remarkable for an APS-C sized sensor CSC. I'm really looking forward to using it at a wedding where I'm sure it will become a permanent fixture in my camera bag". [10-24mm] Not being a regular user of a zoom lens, I was really keen to get my hands on the 10-24 and the ability to shoot as a the wide end of the zoom really introduces a new dynamic into the way we can use the X series cameras. The lens handles really well at both ends of the zoom, is very fast and the weight of it doesn't unbalance the camera. [X-T1] I've been waiting to get my hands on the X-T1 for a while and I'm certainly not disappointed. Although I've only used it for a few hours, the viewfinder is simply amazing and the manual controls are well positioned – the camera feels really good in my hands. Well thought out features like the tilting screen, the side loading card and the vertical battery grip really make this a camera that's going to enhance my everyday shooting."
– Ω image: "Many Japanese customers are picking up our X-T1 cameras. I have taken a few product-style images for review, which show the X-T1 with a Nik-FX Speedbooster and the ultra-sharp Nikkor 50/2 Ai. You may find them interesting or helpful for reference. Here they are."
– Write up on the Fuji Camera Remote App with X-T1 at f-sunny here: "I can see this being useful in the studio, for tethered shooting with live image preview and also image retrieval over WiFi. I could see in really harsh conditions that remote tethering would due a huge bonus, keeping the shooter warm and dry. Also in the field for nature photography, where the camera is remote controlled from a hide in order to get the camera closer to the subject without direct human presence. Also in sports, where you could put the camera in 'harms way', perhaps trackside, or behind a soccer goal, and not only trigger it, but remote control it's settings, and retrieve files for upload to the media – before the event has even ended." More X-T1 shots, including a covert street test here.
[UDPDATE: X-T1 Full Size Sample Images at danbaileyphoto here]
X-T1
X-T1 body only ($1,299): USA: AmazonUS / BHphoto / Adorama / Pictureline / EU: wexDE / wexUK / PCHstore /
X-T1 with 18-55 ($1,699): USA: AmazonUS / BHphoto / Adorama / Pictureline / EU: wexDE / wexUK / PCHstore /
X-T1 Vertical Battery Grip ($ 249,99): USA: AmazonUS / BHphoto / EU: wexDE / wexUK /
X-T1 Hand Grip ($129.95): USA: AmazonUS / Bhphoto / EU: wexUk / wexDE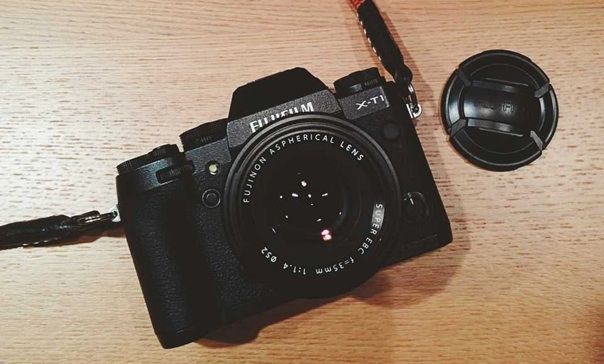 XF deals
XF 14mm: $200 off (price $700) at BHphoto / Adorama / AmazonUS / Pictureline
XF 18mm: $200 off (price $400) at BHphoto / Adorama / AmazonUS / Pictureline
XF 23mm: $150 off (price $750) at BHphoto / Adorama / AmazonUS / Pictureline
XF 27mm: $250 off (price $200) at BHphoto / Adorama / AmazonUS / Pictureline
XF 35mm: $150 off (price $450) at BHphoto / Adorama / AmazonUS / Pictureline
XF 60mm: $250 off (price $400) at BHphoto / Adorama / AmazonUS / Pictureline
XF 55-200: $200 off (price $500) at BHphoto / Adorama / AmazonUS / Pictureline