WILD RUMORS RELOADED: Organic Sensor in late 2015/early 2016 (for Panasonic), New Hybrid AF, 24MP X-PRO2, pancake lens NO aperture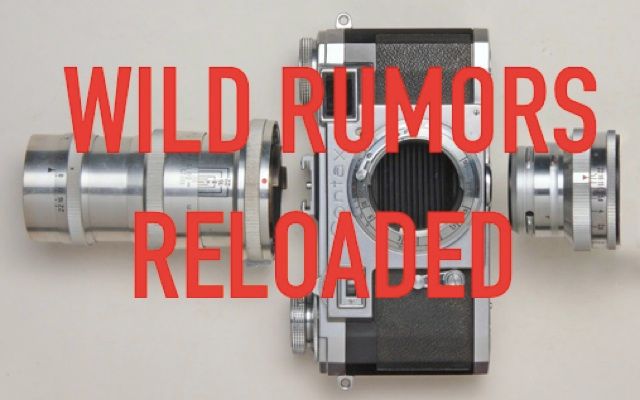 The Contax Hybrid Mount Camera with a combination of two bayonets (courtesy of fotocommunity)
_ _ _
WILD RUMORS UDPATE
Yesterday I've shared a bunch of rumors that appeared on the Chinese forum dchome. Today it's already time for an update
A Chinese FR-reader send me another translation and additional information shared by Forum member joofie. (and thanks also to those, who posted their translations and additions in the comments)
1. XF 35 1.4 version 2 focus speed will be faster than XF23 a little, and selling over USD500
2. New pancake lens XF20 or 18 probably will come with NO aperture ring and smaller than current XF18 a little bit
3. Fuji is performing a final evaluation of "Pay for parts upgrade" , as they decided Hi ended user can using their owned fuji machine in a longer period of time. 2014 already slow down their schedule to release new machine.
4. one of the spec of X-pro 2 is 24M pixel.
5. Organic sensor: Panasonic provide the production line and Fuji provide the patent and technology. [ADMIN: joofie says also (google translated) "differing only available time (P recorded in 2015 DEC / 2016 JAN)". I think he is talking about the availability. I've dropped an email to the Chinese reader and asked if that's correct. I will post an update as soon as I he replies]
6. Fuji already register their new hybrid focus.
7. New machine with no classic outlook had been developed, not target at Pro users.
8. There is a X-M2 developed but it will be replaced by another product. And, it will not coded as M2.
FYI, here is yesterday's list (check out the whole post here)
1) X-Pro2 will not be launched on first quarter of 2015, but there are 2 SPEC… [FUJIRUMORS: It's probably correct that the X-PRO2 won't come in the first quarter. I'm not sure what "but there are 2 SPEC" means. Probably 2 versions ("species").]
2) XF20 F2.8 (equal = 30MM / pancake) or XF18 F2.8(equal = 27MM / pancake), will be launching soon.
3) XF35 F1.4(II) , better IQ & bokeh & focus speed a bit faster than XF23, price over HK$ 4000 [FUJIRUMORS: there were rumors in 2014 about it. Apparently Fuji tested an APD version of it, but then dismissed it – source Fuji Manager]
4) OCT-DEC will be a big cannon show up (4XX) (*Forum ppl believe is 140 -400mm)
5) DUAL MOUNT PRODUCT may launch in mid of the year [FUJIRUMORS: My comment about this down below]
6) New phase auto focus system (can compete with DSLR), will come out in X-Mount. [FUJIRUMORS: why not? Sony's bestseller, the A6000, shows the way]
7) High Speed Pro Flash light, synchronize rate improve to pro standard [FUJIRUMORS: New flash coming in spring]
8) Body will back light prevention setting system (2015 mid / year-end)
9) New fix lens camera will launching before March (" X " 1 – 2 model) [FUJIRUMORS: He could mean the XQ2, since it was shared on the dchome forum before the official announcement of the XQ2]
10) X-M1 successor already develop, just do not know will launch or not
11) Fuji Japan still analyses a program that user by pay some amount of $$ and can upgrade the part (item (5)- (8) ). They hope user can use the model for longer time without refresh model too fast.
12) XF16 1.4 – Hot summer launching
13) google translated: "X-E3 has a row you wait for" [FUJIRUMORS: sounds like Fuji is debating (has a row) regarding the X-E2 successor, which eventually is expected to come in 2016, since, according to joofei… (see Nr.14)
14) X-E3 => 2016
stay tuned,

facebook, google+, RSS-feed and twitter
X-SERIES CAMERAS DEALS

X-T1 + 18-135 WR (save $200 – price $1699): BHphoto / AmazonUS / Adorama /
X-T1 + 18-55 (save $100 – price $1599): BHphoto / AmazonUS / Adorama /
X-T1 Black Body (save $100 – price $1199): BHphoto / AmazonUS / Adorama /
X-T1 Graphite Body (save $100 – price $1399): BHphoto / AmazonUS / Adorama /
X-E2 Body (save $100 – price $699): BHphoto / AmazonUS / Adorama /
X-E2 + 18-55 (save $100 – price $999): BHphoto / AmazonUS / Adorama /
X30 (save $100 – price $499): BHphoto / AmazonUS / Adorama /
XQ1 (save $100 – price $299): BHphoto / AmazonUS / Adorama
XF LENSES DEALS

XF 18-135mm (save $200 – price $699): BHphoto / AmazonUS / Adorama /
XF 18mm (save $200 – price $399): BHphoto / AmazonUS / Adorama /
XF 60mm (save $200 – price $449): BHphoto / AmazonUS / Adorama /
XF 23mm (save $150 – price $749): BHphoto / AmazonUS / Adorama /
XF 56mm (save $150 – price $849): BHphoto / AmazonUS / Adorama /
XF 14mm (save $150 – price $749): BHphoto / AmazonUS / Adorama /
XF 10-24mm (save $150 – price $849): BHphoto / AmazonUS / Adorama /
XF 27mm (save $150 – price $299): BHphoto / AmazonUS / Adorama /
XF 35mm (save $100 – price $499): BHphoto / AmazonUS / Adorama /
XF 18-55mm (save $100 – price $599): BHphoto / AmazonUS / Adorama /
XF 55-200mm (save $100 – price $599): BHphoto / AmazonUS / Adorama /