What should be Fuji's next X-mount lenses to complete the lineup? Tell Fujifilm your dream lenses!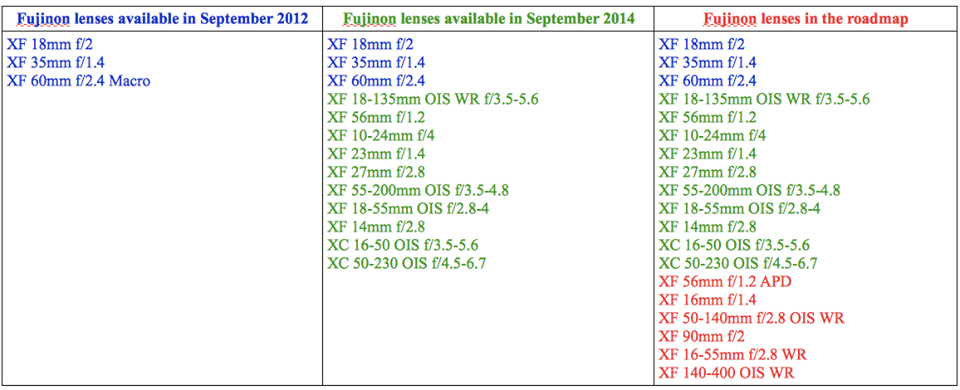 A couple of weeks ago I posted on facebook here and on twitter here a simple table (posted above), showing the X-mount lenses that Fuji has rolled out in the last 2/3 years… and looking back, it's really impressive how many high quality lenses Fuji gave us in such a short time.
Add to the XF/XC lenses also the Zeiss 12. 32 and 50 lenses + the various Fuji X Samyang lenses and a few more brands that offer Fuji-X mount lenses and I'd say that, after just three years, X-shooters have a pretty decent lens-option (but where are Sigma & Tamron?)
But X-shooters are hungry for more. In fact, over at the FR- facebook page, many of them expressed their "lens wish-list" in order to complete the lineup: an XF 16mm f2.8 tilt-shift, an XF 135mm f/2.8, an XF 56mm f/1.2 with OIS, an XF 8-16mm f/4 ultra wide angle zoom, a fish-eye lens… or what about an XF 105mm f2.8 1:1 macro lens?
Whatever you are still missing, today you can let Fujifilm know which lenses you would like to see coming in 2015/2016.
THE RULE IS: please express just 2 preferences of future X-mount lenses… I know, it's hard, but I want you to suffer a bit ;).
So, the comments are open… later on I'll sum them up into a lens-master-poll! And feel free to continue to vote the "favorite lens" poll.

Loading ...