Weather sealing: just a sales gimmick? Lost Fujifilm X20 survives 3 months of rain, dust and bear attacks in the wild!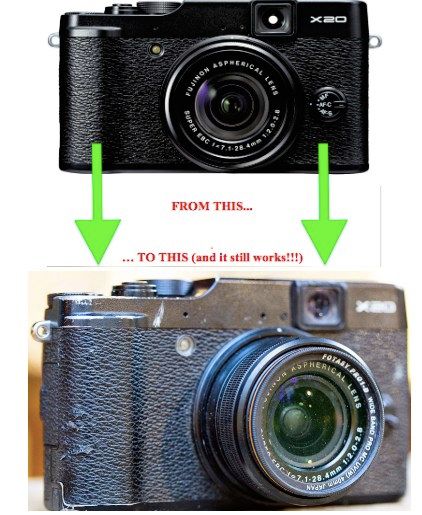 If I understood correctly, in democracy you can have & express in public whatever opinion you want… but nobody forces you to have one ;-) . And, since I live in a democratic country I'll now admit in public: I still don't have a final opinion about the following subject: Weather Sealing!
Personally, I don't worry to shoot with my Fujifilm X-E2 under light rain (see my wet X-E2 here). Sure, I didn't test it under heavy tropical rain or in sand storms of the Sahara, and I probably would be afraid to use it in such extreme conditions. But I'm pretty confident that my Fujifilm X-E2 can handle any normal adverse weather condition.
Well, some say that weather sealing is just a sales gimmick… and here is a story that made me think about it.
It's the story of Claire's Fujifilm X20 (read her whole story here) that was shared and sent to me by Dan Bailey (thanks danbaileyphoto)… and it's quickly summarized in the following 3 sentences:
1) Claire lost her Fujifilm X20 in the wild, in an area with many bears.
2) The Fujifilm X20 remained 3 months exposed to rain, dust, wind, sun, animals (bear bites).
3) After three months Claire found her X20 again, put a battery into it… and it still worked perfectly!
Ok, we know that Fujifilm cameras are very well made, but that the X20 would still perfectly work after being completely exposed to the brute force of nature for 3 months, now that comes really surprising for me.
So, let us know in the comments what you think about it. And for all those (like me) who don't have a final opinion about it, keep in mind what my favorite author, Montaigne, would have said: I know that I know nothing, and I'm not even sure of that ;).
You can buy the indestructible Fujifilm X20 here
or its successor, the Fujifilm X30 here
my Fuji X-E2 in the rain… and a shot taken the day after with it