Voigtländer MACRO APO-ULTRON 35mm f/2 for Fujifilm X Announced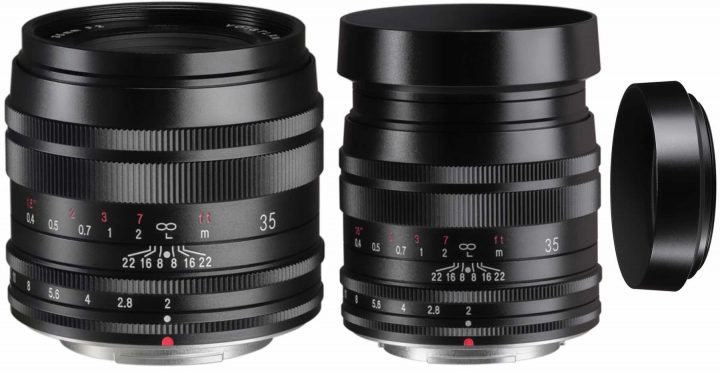 Cosina just announced the Voigtländer MACRO APO-ULTRON 35mm f/2 for Fujifilm X.
Just like the Voigtländer NOKTON 23mm F1.2 X and the Voigtländer NOKTON 35mm F1.2 X it is a manual focus lens, but with electronic contacts so it can communicate with the camera.
Press Release
The MACRO APO-ULTRON 35mm F2 X-mount is a large-aperture standard macro lens designed exclusively for Fujifilm X-mount. The lens configuration adopts the latest optical system that uses three abnormally dispersion glass out of the 9 elements in 6 groups. In addition to natural color development without color blurring due to the apochromat design, it is finished in a compact style with an unusual large aperture as a macro lens with an open F value of F2.
Key Features
Dedicated design for Fujifilm X-mount
Implemented an optical system optimized for image sensors of Fujifilm X system cameras. Without relying on the optical correction function of the camera, phenomena such as distortion, dimming, and color covering around the image are suppressed.
Information and communication with the body by electronic contact
Equipped with electronic contacts, reliable telecommunications between the lens and the body are realized. In addition to Exif information, focus check, and shooting distance interlocking display due to the combination of telecommunication compatible body and the latest firmware (*1), certain models also support in-body image stabilization and parallax correction.
Manual focus for reliable focus operation
The adoption of a total metal helicoid unit processed and adjusted with high accuracy and high-quality grease that produces moderate torque enables smooth focusing. It enables subtle focus adjustment.
Beautiful bokeh with 10 squeezed blades
In order to bring the hole shaped by the aperture blade closer to a circle, a 10-piece aperture is adopted. The outfocus part is a natural depiction, and the point light source is not a polygon, but a round and soft blur.
Mechanical direct connection operation aperture ring
The aperture mechanism adopts a mechanism in which the aperture ring is directly connected to the opening and closing of the aperture blade, just like Voigtländer's VM mount and mirrorless mount lenses. With a 1/3-step click, you can enjoy the response of directly operating the mechanism.
Maximum magnification 1:2
The shortest shooting distance is 0.163m. For focusing adjustment, a front focus method is adopted, which moves back and forth 6 sheets in the front 4 groups. While it is possible to shorten the elongation compared to the method of carrying out the entire optical system, it ensures high image quality in all areas from long distance to proximity.
Apochromat design
In order to support the current high-pixel digital sensor, we thoroughly suppress chromatic aberration and magnification chromatic aberration on the axial.
*1 Notes on telecommunication compatible bodies
This product is equipped with electronic contacts, but there are restrictions on the body that can communicate. Please check the body list below. ( According to February 2022)
Telecommunications compatible models and firmware *2*3
X-H1 – v2.13 or higher
X-T4 – v1.25 or higher
X-T3 – v4.12 or higher
X-T2 *4 – v4.40 or higher
X-PRO3 – v1.23 or higher
X-S10 – v2.10 or higher
X-E4 – v1.04 or higher
X-T30 – v1.41 or higher
X-T30 II – v1.00 or higher
Non-communications models*5
X-T: X-T1, X-T20, X-T10, X-T200, X-T100
X-Pro: X-Pro2, X-Pro1
X-E: X-E3, X-E2, X-E1
X-M: X-M1
X-A: X-A7, X-A5, X-A3, X-A2, X-A1
*2 In the body settings, it is recommended to change the depth of field display to the film standard (same value as the depth scale engraved on the product).
*3 If it is less than the stated firmware, the performance may not be demonstrated, or some of the functions may be limited, so please use the latest firmware. Please check the body instruction manual to check the firmware of your body and obtain the latest firmware.
*4 When using X-T2, it is possible to display it with Fno by changing the aperture display setting from TNo to FNo in the body setting.
*5 When using a model that does not support telecommunications, please change the setting of [Release without lens] to "Allow" in the body setting.