UK price (ukdigital-store): XF 56mm f/1.2 £999 (spring 2014) + 10-24mm £799 (NOV-DEC)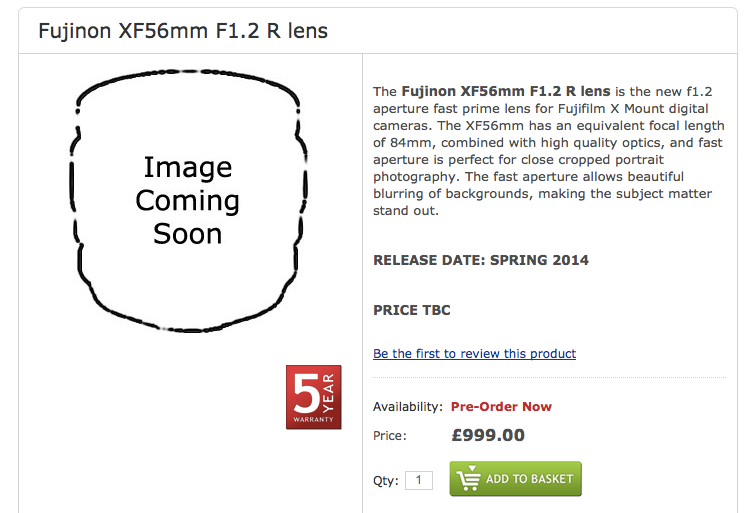 An anonymous FR-reader told me that UK-store "ukdigital" is already taking pre-orders on the XF10-24 and XF 56 lenses. The first will be sold for £799 and be available in NOV-DEC while the portrait lens will be the most expensive Fujinon lens with a price tag of £999 and it will be shipped in spring 2014!
Here is the product description for both lenses:
P.S.: I've been told by an anonymous FR-reader that Adorama is shipping the XF23mm lens.
cheers

  (google+, facebook and twitter)

The Fujinon XF56mm F1.2 R lens is the new f1.2 aperture fast prime lens for Fujifilm X Mount digital cameras. The XF56mm has an equivalent focal length of 84mm, combined with high quality optics, and fast aperture is perfect for close cropped portrait photography. The fast aperture allows beautiful blurring of backgrounds, making the subject matter stand out.
RELEASE DATE: SPRING 2014
The Fujinon XF10-24mm f4 R OIS lens is the new FUJINON ultra-wide short zoom lens for Fujifilm X Mount digital cameras. The 10-24mm focal length is equivalent to 15-36mm to give super wide angle, perfect for sweeping landscapes, interior shots, or any other ultra wide application.
RELEASE DATE: NOV – DEC 2013.
XF 56mm £999
XF 23mm (£849 at AmazonUK)… ($899 at AmazonUS)
XF 10-24mm £799
XF 14mm (£696 at AmazonUK) … ($899 at AmazonUS)
XF 55-200 (£649 at AmazonUK) … ($699 at AmazonUS)
XF 18-55 (£479 at AmazonUK) …. ($699 at AmazonUS)
XF 60mm £465 …………..…….. ($649 at AmazonUS)
XF 18mm £429 …………..…….. ($599 at AmazonUS)
XF 35mm £429 …………..…….. ($599 at AmazonUS)
XF 27mm £379 ………..……….. ($449 at AmazonUS)