Trusted Sources Says Ultimate X-series APS-C Camera will Cost Around $2,000 – $3,000 (POLL)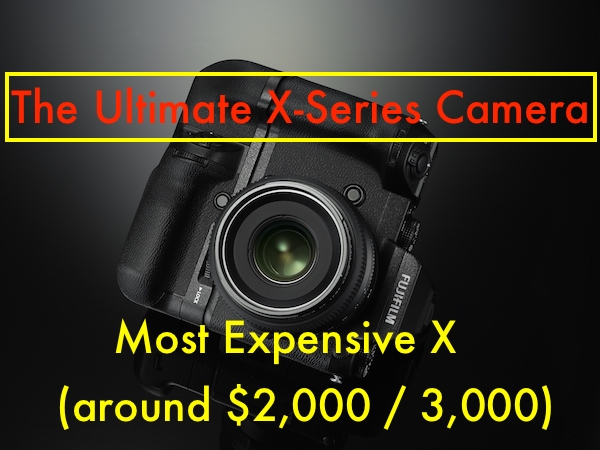 The Ultimate X
Hey guys,
today I have an update for you regarding the ultimate Fujifilm X-series APS-C camera.
A trusted source told me that previous rumors about this camera were correct. So it confirmed that:
Fujifilm is working on the ultimate X-series camera
It will indeed be Fujifilm's most expensive camera in the APS-C line-up
X-Trans sensor
It will be Fujifilm's best APS-C camera for video work
The camera is still under development, so the final price has not yet been set
It will be based on the X-T design
But here is the thing:
The very first rumor I got (and shared) about the "Ultimate X" camera came from a new source here. And after confirmations from trusted source, we can say it was very accurate and gave us many correct hints, except one: the price.
The new source said it would cost $5,000, but the trusted source today said, that the current estimated price for the "Ultimate X" is between $2,000 and $3,000 (depending on which features Fujifilm decides to implement or not).
Do you know what this means?
Since….
and since…
we are in an early development stage of the Ultimate X
… we all should do our homework now, and let Fujifilm know, how we would like the Ultimate X to be.
This is why I will launch a poll, which I will keep quite general for now. I will only ask you if you would like Fujifilm to put simply everything they can into the camera and charge us $3,000 for it, or maybe take out a some features and charge $2,000 for it.
And of course, feel free to elaborate in the comments, which specs exactly this camera should have for the price you would pay.
Needless to say, take such long term rumors always with a grain of salt and stay tuned for the latest updates with FujiRumors on Facebook, RSS-feed and Twitter
X-T1 Wooden Grip and Leather Strap
CHARITY AUCTION
get cool products, support cool projects :) – 3 days left
Discover more here – Access the auction here

Loading ...