The X-Pan Rebirth of Fujifilm X-Pro1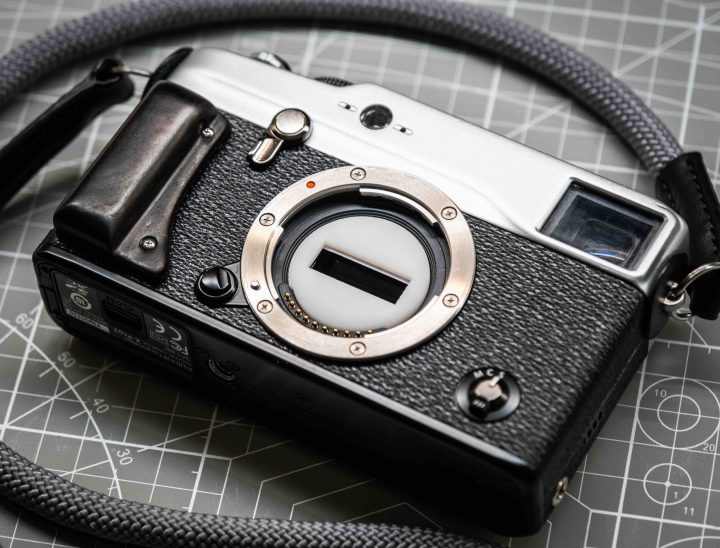 guest post by Aperture Value – instagram
Hello fellow Fuji shooters, my name is Sergio and I've been honored a great opportunity to write a guest article here, for which I can't be thankful enough!
Recently I made a project camera, so I decided to share my work with the community and hopefully inspire others!
So what's the deal?
I've been wanting to try an X-Pan for a while now, but due to higher and higher cost and less "reparability" over the time, purchase of one for the sake of trying is far from being reasonable.
I decided to make my own X-Pan and after diving a bit into history I proudly found out that X-Pan was actually fully manufactured (and probably designed) by Fujifilm, including all three lenses. So I couldn't find a better choice than a Fuji X-Pro1. It esthetically resembles X-Pan and with it's great first gen sensor and viewfinder it was just a perfect candidate. I bought a used scratched Fuji X-Pro1 (did some custom body work myself) and started to work on making it shoot panos.
Now what many people miss about X-Pan is that the big deal about it wasn't shooting panoramas: there where great panoramic cameras before X-Pan. What was really pushed is the concept of Dual Format and compactness of the system. That's why the decision was to go digital, since making a film "faux pan" normally means big size, complexity and the panoramic frame is irreversible while established. What was needed is an easy solution with ability to switch between formats. That's why I 3D modeled a mask that goes between the lens and sensor to create an X-Pan crop. I will attach the photos of the camera and photo samples below.
The result is quite nice and combined with 24 grid on your Fuji (hint: middle two rows make a perfect X-Pan frame!) and some film simulation recipes (I've made Kodak Ektachrome and Cinestill 800T) the experience is unusual and pleasant! In addition, the mask should work with any Fuji X mount camera and is easily removable. But even besides the 3D mask it's great to see how awesome you can make an old X-Pro1 look like, don't you think?
If you want to get a deeper insight into my work, I have three episodes on my YouTube channel:
There, I tell in more detail about X-Pan history, creation, making of and review. And recently I was contacted by a curious viewer from Seattle who's working on improving my design, so probably there will be a follow up!
Now of course, I'm pretty aware of the fact that it's far from being an absolute perfect solution and there are some drawbacks to it (like you better shoot manual lenses at f8), but my little DIY project by no means is a replacement for original X-Pan. It's just a way for me as an amateur photographer to get a tiny piece of unaffordable otherwise experience. And I am happy to share it with you all! Down below you can find a link to my 3D model, so everyone can go ahead, find the nearest 3D printer and try for yourself!
If you have any questions or suggestions about the 3D model or re-worked X-Pro1 body, you can reach out to me on Instagram: https://www.instagram.com/aperture.value/ 
In conclusion, I really hope this little project of mine will motivate others to create more, try new things and let us rest from GAS (gear acquisition syndrome) since even older cams like X-Pro1 are still gems and with a little bit of work they can be given a new fresh start in your photography life!
Here's the google drive link to the 3D model.