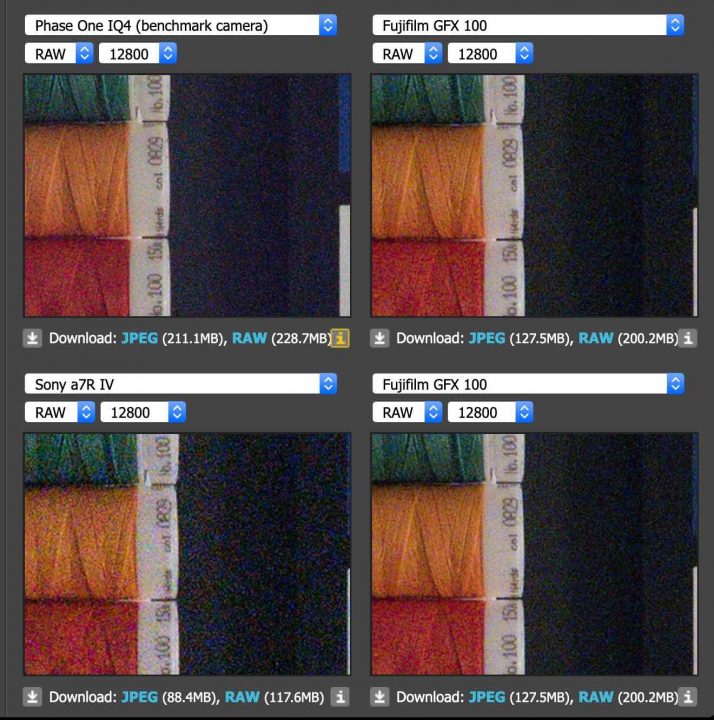 A few days ago, DPReview has added the Phase One XF IQ4 150 Megapixel camera to their studio test scene database.
So how does this $50,000 monster compare to our humble Fujifilm GFX100 (and hence also to the brand new $6,000 Fujifilm GFX100S)?
Well, I don't know you, but I frankly can't see any noticeable difference, in some cases I even think the GFX100 looks better.
At high ISO on the other hand, the GFX100 clearly performs better than the Phase One XF IQ4, even though the sensor is the same (just cut bigger on the Phase One).
This might be in part merit of the excellent Fujinon GF lenses, which have no issue to take advantage of all 100 megapixels offered by the GFX100(S). On the other hand, it might also be that both cameras just resolve basically everything possible out of the DPR studio scene.
I did also add the two current highest resolution mirrorless full frame cameras to the comparison, the 61MP Sony A7RIV and the 47MP Panasonic S1R to the chart.
Where both medium format cameras simply have no issues to resolve everything out of the chart, we can see that the full frame cameras definitely show up with more false colors, moiré and artifacts in the fine details.
Just for fun I added one comparison with the Fujifilm X-T4 vs Sony A7RIV and Panasonic S1R.
Of course the Sony and Panasonic have more resolution power, but when details become really fine, and hence when all those megapixel would be really needed, in some areas the Sony A7rIV as well as the Panasonic S1R have the tendency to show more moiré, partially ruining the megapixel advantage they have, where the X-T4 shows no moiré.
As an X-Trans lover, I do hope Fujifilm will stick with it in their APS-C cameras and offer us something around 32+MP or so in the future, maybe with the Fujifilm X-H2. I am sure it would give great results.
Down below you can see some of the screenshots I took. You can head over to the DRP studio comparison tool and make your own comparisons.
Save $500 via mail-in rebate
The GFX Community
Follow FujiRumors: Facebook, Flipboard, Instagram, RSS-feed, Youtube and Twitter