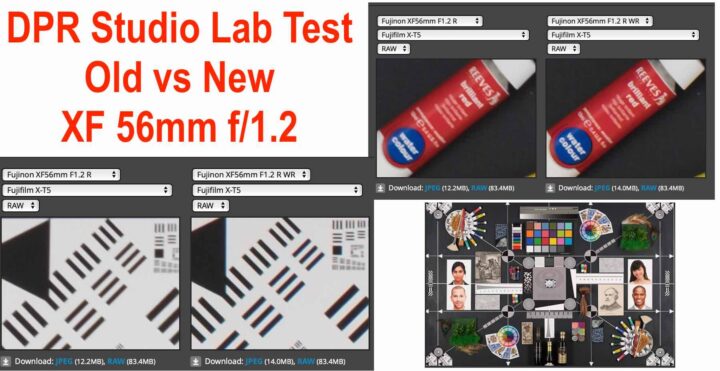 When DPReview published their studio lab test of the Fujifilm X-H2, they used the old Fujinon XF56mm f/1.2 R for their test.
But as Fujifilm has openly said, the Fujinon XF56mm f/1.2 R is not capable of taking full advantage of all the 40MP edge to edge also at maximum aperture. Fujifilm writes:
The list specifies our selection of lenses that have high resolution performance from edge to edge at maximum aperture, allowing you to fully experience all that the 40MP sensor has to offer. Lenses not listed will also allow you to experience the improved resolution performance of the 40MP sensor."
To be clear: all Fujinon lenses will experience a sharpness boost. But not all will be able to resolve all the 40MP even wide open across the entire frame.
Many rightfully asked DPR to re-test the studio lab scene using the new Fujinon XF56mm f/1.2 R WR, and so they did. Their conclusion:
Our interpretation is that there is a slight contrast benefit to the use of the new 56mm F1.2R WR vs. the non-WR lens; in the widget above we've tried to highlight the area of greatest difference. In our judgment the difference is not sufficient, at the aperture value the test scene is shot at, to justify breaking consistency with previous Fujifilm models tested in our setup.

This isn't a comment on the new lens: we'd expect to see greater differences at wider apertures, and we've found the autofocus performance to be improved over the older version. But neither of these are pertinent to the selection of our standard Fujifilm test lens, so we'll stick with the original 56mm F1.2R for now, to maintain perfect continuity in the studio comparison feature our site provides.
It shall be noted at this point that DPR used the lenses at f/5.6 on Fujifilm X-T5 and Fujifilm X-H2.
I find it a pity that they won't change the lens. At f/5.6 the performance might be similar in the center, but as you can see from the screenshots I have shared above (or here and here), in RAW I see an sensible advantage for the new Fujinon XF56mm f/1.2 R WR. I think they could just simply use the new lens for testing going forward.
But we appreciate DPR going the extra mile and testing it on the new XF56mmF1.2 R WR. If you don't shoot wide open a lot and don't mind slightly softer corners, then the original Fujinon XF56mmF1.2 R is still a great option (especially now that it is super discounted).
You can access the DPR comparison studio lab test here.