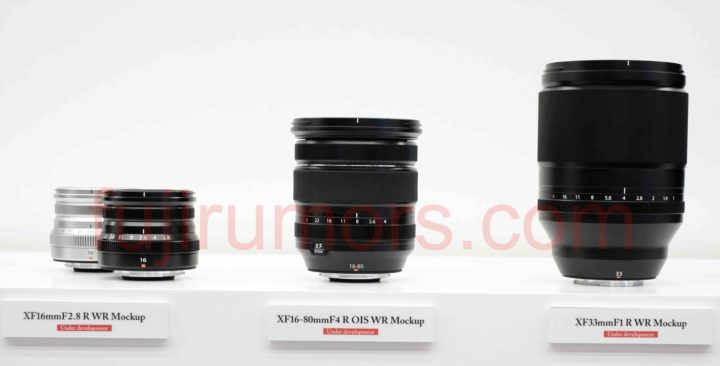 Fujinon Roadmap Lenses
For the second time today (first time here), I had to find a way through the security check and get into the Photokina halls. Stealthy like a ninja, I made it again.
This time I was armed with my wonderful Fujifilm X-E3 and I snapped some pictures of the upcoming Fujinon lenses.
I apologize for the quality, since I tried to make my way through a couple of Fujifilm managers and an angry lady, who told me "can I help you" in a tone that clearly ment "p*** off from here".
So time was limited, the conditions difficult, I could not touch the lenses, but I made it… somehow.
And when nobody was watching, I quickly grabbed a Fujifilm GFX 50R and made a super quick hands on video.
Back to the lenses:
XF33mmF1.0: Yes, it's rather big, especially compared to the Mitakon 35mm F0.95 (manual focus only). I guess Fujifilm wants to make this the ultimate lens in terms of image quality, and still offer a fast AF motor. Filter size 77
XF16mmF2.8: Very small. Fits perfect in the Fujicron lineup with the XF23mmF2, XF35mmF2 and XF50mmF2. Filter size 49
XF16-80mmF4: This lens, my friends, will fall into the hands of many fellow X-shooters for travels. Filter size 72
And do not miss our huge GFX live blogging, which will never stop ;).
Fujifilm GFX 50R – pre-orders Wed at 9am EST: BHphoto, Adorama, AmazonUS, PCHstore
XF 33/1, 16-80/4, 16/2.8 images