Silver Fujifilm X-T2 Removed from Australian Store :: POLL: Silver or Black X-T2?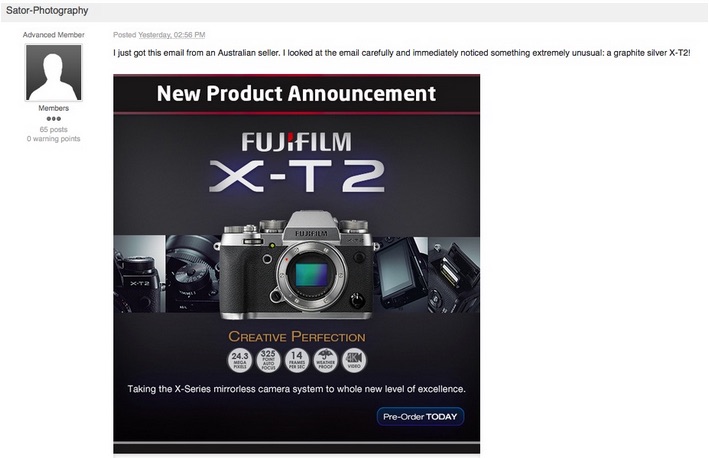 Amazon PRIME Deals started
New Deals every hour at
AmazonUS, AmazonCA, AmazonDE, AmazonUK, AmazonITA, AmazonFRA, AmazonESP.
Silver Fujifilm X-T2
A few days ago, I've linked to an Australian store, that listed a silver Fujifilm X-T2 for sale along with the black version. Well, the silver X-T2 has now been removed from the page.
So what did happen with the silver Fujifilm X-T2?
When we clicked on the images the Australian store shared, they really didn't look like a quickly self-made silver X-T2 mock-up. It seemed to be more some kind of internal material Fujifilm distributed to stores.
I believe that, at a certain stage, Fujifilm really planed to release the black and silver X-T2 together. This is why some of the X-T2 material send confidentially to stores could have included the silver X-T2. But (once again and as so often) Fujifilm changed plans and decided to release the silver X-T2 at a later moment.
If my speculation is correct, then it could be that the Australian Store was confused, missed the "strategy-change" at Fujifilm and therefore shared the silver X-T2 at their site.
End of the story – or fairy tale
X-T2 :: Black Vs. Silver – VOTE NOW
According to insiders, the Silver graphite X-T1 didn't sell as well as Fuji hoped. But what if the silver X-T2 and the black X-T2 where priced the same? Which one would you buy? Here is the Poll
Fujifilm X-T2: USA: BHphoto / AmazonUS / Adorama / CANADA: AmazonCA / EUROPE: AmazonDE / Calumentphoto DE / AmazonUK / AmazonITA / AmazonFR / AmazonESP / PCHstore / WexUK / AUSTRALIA: CameraPro

Loading ...