SILKYPIX Developer Studio Pro 9 for FUJIFILM Announced with Dehaze Function and More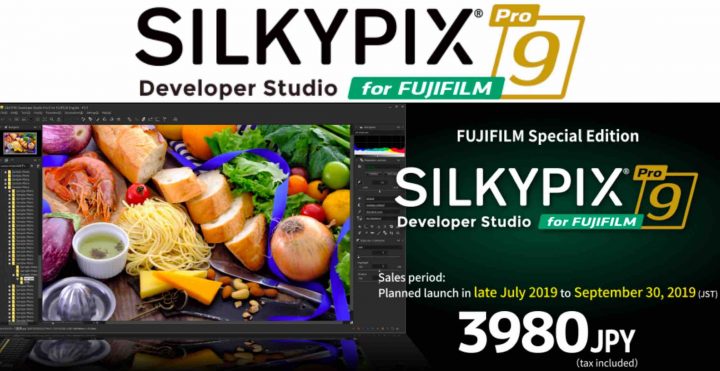 Silkypix Pro 9 for Fujifilm
Silkypix has announced Silkypix Pro 9 for Fujifilm, to be released between late July 2019 to September 30, 2019.
It will cost 3,980 yen (converted to $37).
Products name
SILKYPIX Developer Studio Pro9 for FUJIFILM downloaded version (Windows/macOS)
Sales period
Planned launch in late July 2019 to September 30, 2019 (JST)
Price
3980 JPY (including tax)
Sale
ISL Online Store https://shop.isl.co.jp/?lang=en
URL
https://silkypix.isl.co.jp/en/ext/special/dsp9fuji/
Other

Only FUJIFILM cameras sold as of the date of release will be available.


[Important] The camera will not be added or updated.

The files that can be developed with this product can only be handled as RAW/JPEG files shot with FUJIFILM cameras supported by this product and JPEG/TIFF files from RAW images shot with FUJIFILM digital cameras.
Please note that you cannot use RAW images shot with digital cameras other than the compatible models or JPEG/TIFF files that do not have appropriate data.
You cannot upgrade to the SILKYPIX normal series from this product.
Features of SILKYPIX Developer Studio Pro9 for FUJIFILM
Dehaze function
Adjusting the hazy image with the "Dehaze" slider removes cloud-like distortions in your image caused by water vapor in the air and leaves the image with just as much clarity as if it were taken on a bright sunny day.
Individual adjustment of brightness of highlight/shadow area of photograph
The Highlight/Shadow sliders in the exposure adjustments allows you to manually adjust the brightness of the bright (highlight) and intensity of dark (shadow) portions of the image. Even when shooting subjects with intense contrast while using exposure compensation, it is sometimes still difficult to control the exposure. Here, simply adjust the "highlight/shadow" individually during RAW development to achieve a result suitable for the image of the Photographer.
Partial correction tool
Partial tone correction can be applied to specified area of the image. For example, brightness and White balance can be partially adjusted. The selection methods of the correction area include "circular correction filter", "gradual correction filter", "brush", etc., and can be corrected by carefully specifying the area.
Blurred / Sharp periphery functions
You can blur or sharpen the periphery of the specified range. Blurred periphery produces a close-up effect by blurring the periphery of your subject. In addition, if the image is shot with the aperture opening value of the lens and the resolution of the peripheral area drops, the "Sharp periphery" can be used to make a good correction.
Auto adjustment button
The Auto adjustment buttons for Auto exposure bias, Auto White Balance Setting, and Automatic Level Correction, which are suitable for the respective images, have been recently added. The Auto adjustment button is recommended for those who are "having a first try at RAW Development" or say "RAW Development has so many adjustment options and don't know what to do." In addition, when making adjustments to a large number of images at a time, you can improve the efficiency of editing workflow by using the Auto adjustment button.
Search in thumbnails
Search in thumbnails is a function for searching and displaying images by specifying a condition such as "shooting info" such as File name or Date, comments, or ratings from specified folders. You can also specify multiple folders at the same time, which is a very useful feature for locating the desired image within a larger collection.
Other
These include the independent placement of initialization buttons for instantaneously returning images to their pre-adjusted states, the addition of user-mark colors for image selection, and the easy transfer of images from the SILKYPIX to retouching software.
SILKYPIX Developer Studio Pro9 for Panasonic / for FUJIFILM System requirements
Windows
macOS
64-bit version of Microsoft® Windows® 10 / 8.1 / 7 (Service Pack 1 and later)
* The tablet mode is not supported for Microsoft® Windows® 10 tablet mode.
* It does not support the 32-bit OS.
macOS® v10.9 – v10.14
Intel® Core™ 2 Duo or more, or AMD Athlon™ 64 X2 or more processor
Intel® Core™ 2 Duo or more processors (required for 64 bits)
RAM of 4 GB or more (recommended for 8 GB or more)
RAM of 4 GB or more (recommended for 8 GB or more)
Hard disk with a free space of 10 GB or more
Hard disk with a free space of 10 GB or more
1,024×768 Displays that support the above screen resolutions
1,024×768 Displays that support the above screen resolutions