RUMOR :: Fujinon XF23mmF2 will come this year (even before the 120mmF2.8)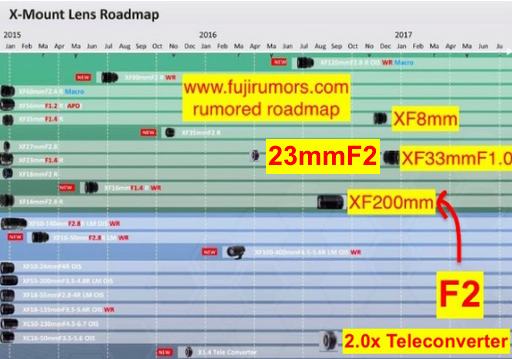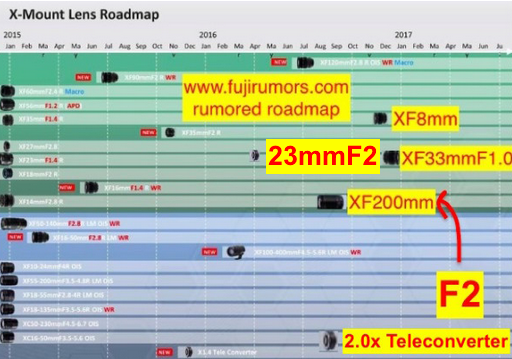 Fuji Managers said it here: "Customers are requesting more compact lenses. Our 35mm F2 is one example. So we may need to supplement this lens [with others of this kind]."
And tell me… over the last few years, which has been the most requested compact lens by the FujiRumors community in different Polls we have launched on this blog? You got it… it's the Fujinon XF23mmF2! Now guess what? It seems Fujifilm listened (and you know they read FujiRumors).
According to our reliable sources, the XF23mmF2 (which is still not in the roadmap), will be launched this year… and probably even before the XF120mm (which is in the roadmap)!
So it's time for me to update again the rumored-lens-roadmap.
more is coming… so stay tuned... ;)

Fuji X Forum, Facebook, RSS-feed and Twitter
SAVE UP TO $400
X-SERIES CAMERAS
X-T1 + 18-135 (save $300): BHphoto / AmazonUS /  Adorama
X-T1 + 18-55 (save $300) BHphoto / AmazonUS / Adorama
X-T1 Black Body (save $300): BHphoto / AmazonUS / Adorama
X-T1 Graphite (save $300): BHphoto / AmazonUS / Adorama

X-T10 body (save $150): BHphoto / AmazonUS / Adorama
X-T10 + XF 18-55 (save $150): BHphoto / AmazonUS / Adorama
X-T10 + XC 16-50 (save $150): BHphoto / AmazonUS / Adorama
X-T10 + XC16-50 + XC50-230 (save $350): BHphoto / AmazonUS / Adorama
X-T10 + 35mmF2 (save $250): BHphoto / AmazonUS / Adorama
X-T10 + 35mmF2 + 18-55 (save $250): BHphoto / AmazonUS / Adorama
X-T10 + 35mmF2 + 16-50 (save $250): BHphoto / AmazonUS / Adorama
X100T (save $200):  BHphoto / AmazonUS / Adorama / Pictureline
X30 (save $100): BHphoto / AmazonUS / Adorama / Pictureline

XF LENSES
XF 56mm APD (save $400): BHphoto / AmazonUS / Adorama
XF 90mmF2 WR (save $200): BHphoto / AmazonUS / Adorama
XF 10-24mm (save $200): BHphoto / AmazonUS / Adorama
XF 16mmF1.4 WR (save $200): BHphoto / AmazonUS / Adorama
XF 23mm (save $200): BHphoto / AmazonUS / Adorama
XF 56mm (save $200): BHphoto / AmazonUS / Adorama
XF 50-140mmF2.8 WR (save $200): BHphoto / AmazonUS / Adorama
XF 18-135mm (save $200): BHphoto / AmazonUS / Adorama
XF 60mm (save $200): BHphoto / AmazonUS / Adorama
XF 14mm (save $200): BHphoto / AmazonUS / Adorama
XF 18-55mm (save $200): BHphoto / AmazonUS / Adorama
XF 16-55mmF2.8 WR (save $200): BHphoto / AmazonUS / Adorama

XF 18mm (save $100): BHphoto / AmazonUS / Adorama
XF 27mm (save $100): BHphoto / AmazonUS / Adorama
XF 35mmF1.4 (save $100):  BHphoto / AmazonUS /Adorama
XF100-400 + 1.4x TC (save $350): BHphoto / AmazonUS / Adorama
XF50-140 + 1.4x TC (save $350): BHphoto / AmazonUS /