RUMOR :: Fujifilm XF120mmF2.8 Release Delayed to last quarter of 2016!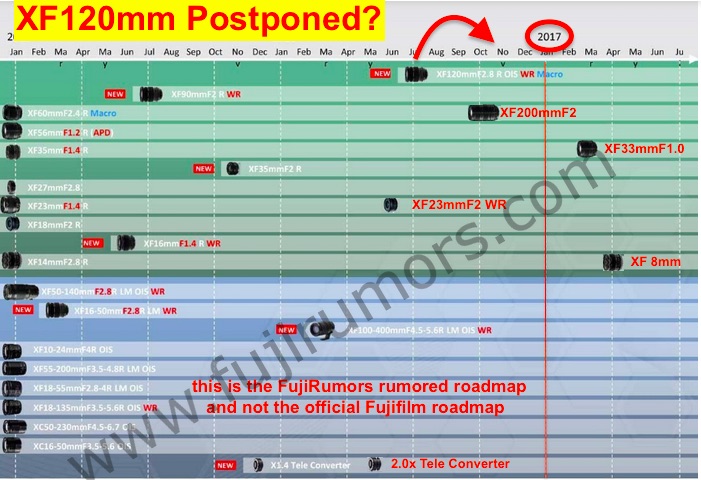 Whenever it comes to announcement dates, shipping estimates, Firmware release dates and so forth I'm scared to share rumors. Because, as you know, Fujifilm can change plans in any moment, and actually most of the 16% wrong rumors I've shared in 2015 were just wrong, because Fuji changed plans.
And this is another case where I got information from reliable source, but since it's something Fuji can change again in any moment, I invite you to be careful with this information anyway.
That said, I absolutely trust this source, and I'm confident that what I'm going to share with all of you now, is the current plan of Fujifilm.
According to this source, the XF120mmF2.8 WR OIS, originally scheduled for July release according to the roadmap you can see above, has now been postponed to the last quarter of 2016.
Maybe (but this is NOT part of the rumor) a reason for the delay could be that Fujifilm is currently focussing on the XF23mmF2 WR lens, which, although not in the official roadmap, is rumored to be released even before the XF120mm. Fujifilm might consider this lens a priority over the 120mm. A good choice? Say it in the Poll:

Loading ...
stay tuned for more,

Fuji X Forum, Facebook, RSS-feed and Twitter
HUGE Fuji US-X Sale now also at BHphoto & Adorama (save up to $400)