POLL: Which X-mount Lenses do You Use the Most (max. 2 selections)?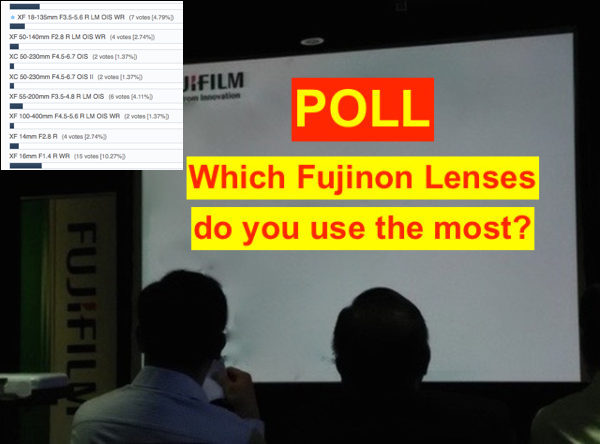 *Fujifilm Reads You!
See the original FujiRumors Poll, that Fujfiilm used in an official presentation to the Press
MOST SOLD LENS Vs. FAVORITE LENS Vs. MOST USED LENS
I recently told you in the "FR-birthday Quiz", that the [shoplink 13829 ebay]XF 27mmF2.8[/shoplink] is Fuji's 2nd most sold X-mount lens of all times (until December 2015).
So, many will own the XF27mm, but is it also the 2nd  most used one? That's what we could discover today thanks to the Poll launched here by FXF Admin Andreas.
Keep In Mind: it's not about your favorite lens, not even about the lenses you own… this is all about the 2 lenses you use the most overall.
Feel free to drop your vote here.
happy voting :) ,

Fuji X Forum, Facebook, RSS-feed and Twitter