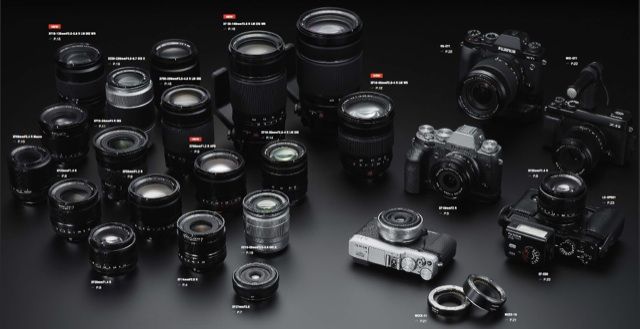 Fujifilm updated its lens catalogue (download here). It now includes the new XC 16-50 and 50-230 OIS II lenses and shows also the 16mmF1.4, 90mmF2 and 140-400mmF4-5.6 lenses.
Fuji has shown mock-ups of the 16, 90 and 140-400 in the past, and in this catalogue we can't really see more specs about them than already known. You can get an idea of the size of these lenses compared to other Fujinons (size can change until their release, though).
FR-reader Jonavin made a list (published after the poll) with all his findings after looking at the catalogue. And I agree with Markus, who wrote an email saying: "Fuji is bringing all the right stuff. " :-)
But tell us, of the three lenses, which is the one you are waiting for more than any other?

Loading ...
XF 16mm f/1.4
– has push-pull clutch focus
– size looks to be around XF10-24 but not as "thick"
– filter size looks like 67mm?
XF 90mm f/2
– can't tell if it has push-pull.
– size looks to be just under the size of the XF18-135; closer to XC50-230 OIS II
– filter size looks like 62mm
XF 140-400mm
– looks like f/4-5.6
– size, it's as tall as the XF50-140 but a lot beefier/thicker; and no doubt heavier
– filter size?  probably 82mm [86 according to FR-reader The Green Balbo] – Nano GI coating
[
UDPATE
: MJr posted in the comments an image of the 16mm mock-ups at Photokina (
shared on Fujirumors here
) compared to other lenses.]