No IBIS for the Fujifilm X-Pro2… and why CaNikon say it's better so, but… (OIS Vs. IBIS) – Trusted Source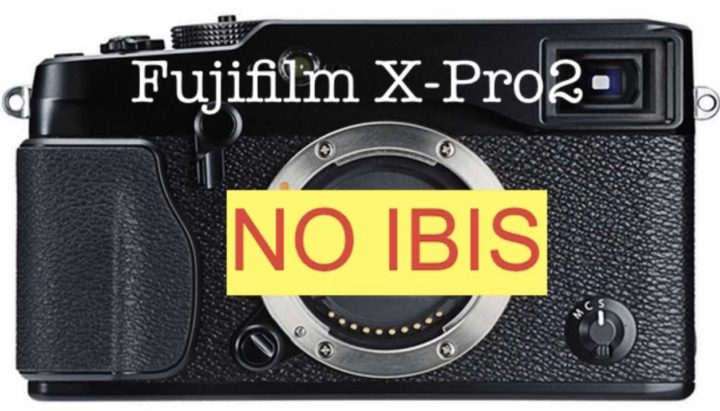 THE RUMOR
According to a trusted source, the Fujifilm X-Pro2 will not feature IBIS. For some this will be a bummer, for others not.
So let's talk about it.
OIS Vs. IBIS
Canon & Nikon say that OIS is more effective than IBIS and delivers better images for several reasons.
1) Each lens is optimally tuned to achieve reliable correction.
2) OIS allows faster and more accurate AF & exposure metering, because the image comes already stabilized to the camera sensor (and advantage you'll notice especially in low light).
3) OIS is more effective with long telephoto lenses
But also IBIS has some strong PROs
if you often use slower non-stabilized lenses, IBIS is indeed a very useful feature. I'm thinking especially at old glass users, like the X-shooters from the "Old lenses for dummies" thread. They would suddenly have all their lenses stabilized.
You pay for IBIS just one time, while you have to pay the OIS for each lens you get
Some say that IBIS also adds size and weight to the camera body… but well, OIS adds this size and weight to the lens.
These are just some Pros and Cons. A more in-depth comparison can be read at photographylife.
Oh…. and always keep in mind: both, OIS and IBIS, will only compensate the shakiness of your hands and NOT for the movements of your subject. For the latter, in bad light, you simply need fast lenses, and luckily Fuji has many nice ones to offer.
FINAL THOUGHTS
Over these years Fuji has built up a terrific OIS system (see this Canon Vs. Fuji OIS Video), arguably the best one you can get on the market. And if I had to choose between OIS and IBIS, I'd go for OIS. But, as always, there are several aspects to consider, and everybody will have a different answer according to the different needs. There is, as so often, no right or wrong answer.
That said… it seems that the market likes/needs cameras with the label "IBIS" (just like the label "weather sealing" is a strong selling point) and we all want Fuji to sell more cameras, right? So would it be time for Fuji to put that feature into their future X-cameras? What do you think?
stay tuned,

Fuji X Forum, Facebook, RSS-feed and Twitter
Fujifilm X-Pro2 Rumored Specs
TRUSTED
– APS-C sensor (TS + AS + AS)
– 1/8000 of a second mechanical shutter speed (TS + AS)
– Joystick for quick AF-point slection (TS)
– Exposure Compensation Dial with "C" function for exp.comp from +5 to -5) – (TS)
– Combined ISO/Shutter dial, with little window on shutter dial to show ISO value (TS + SRP)
– coming late 2015 (TS + AS)
– delayed to 2016 (TS)
– Coming after CES (TS)
– Announcement on 15th Janaury 2016 (TS)
– weather sealed (TS)
– 4K video (TS + NeS)
– No 4K for the X-Pro2 in Jan. 15 (TS)
– Faster Processor EXR III (TS)
– No Tilt Screen (TS + AS)
– No IBIS (TS)
SOURCE RIGHT IN THE PAST
– Sync Speed faster than 1/180th (SRP)
– coming in January 2016 (SRP)
NEW / ANONYMOUS SOURCE
– ISO200-12800 (AS)
– 1/250 flash sync speed (AS)
– more than 200 AF points (2/3 are PDAF) – (AS)
– Hybrid EVF as X100T (AS)
– 24MP sensor (AS + AS) – More than 16MP (AS)
– about the same size of current X-PRO1 (NeS)
– dual SD card slot (NeS + AS + AS)
– tilt screen (AS)
– WiFi (AS)
– Price about 20% to 30% more expensive than the X-T1 (AS)
– Two X-PRO2 version, one 24MP APS-C and one 25-27 MP APS-X, compatible with XF/XC lenses (NeS + OS)
OTHER SITES
– coming September / October (OS + OS)
– Non organic APS-C X-Trans sensor (OS)
– smaller than X-PRO1 (OS)