Nissin i60A Flash Announced… also for Fujifilm!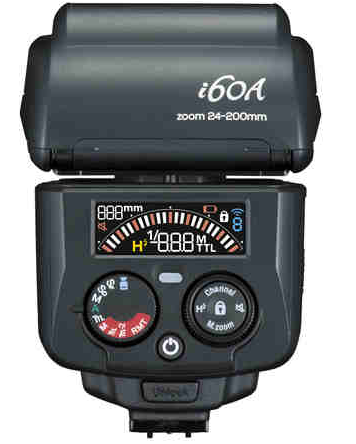 Nissin officially announced the Nissin i60A flash. Specs summary via flashhavoc.
"Although the i60A will be available in Canon, Nikon, Sony, Micro 4/3rds, and Fujifilm, mount versions for on-camera TTL use, all versions will cleverly include Canon, Nikon, and Sony, TTL radio slave modes for off camera use (with corresponding Air 1 Commander units).
A higher guide number – 60m (ISO 100 / 200mm) 24 – 200MM Zoom Color LCD Display HV Battey Port Built-in 2.4GHz NAS Radio Receiver
All into a package that's not much larger than the original Nissin i40, and should still appeal to many mirrorless and compact camera owners"
Google Translated from the original Japanese press release:
FULL SPECS
i60A SPECIFICATIONS
Type
For Canon, Nikon, Sony, M 4/3, Fujifilm
Guide number
60m (ISO100 / 200 mm)
Focal length
24 – 200mm (16mm when using build-in wide panel)
Power supply
AA – four (sold separately)
LED Light
continuous emission – 3.5 hours (at full power)
Recycle Time
0.1 seconds to 5.5 seconds
Number of Flashes
220 to 1,500 times (when using internal battery)
Flash Duration
1/800 to 1/20,000
Color temperature
About 5,600K
Mode
[Full auto / TTL] i-TTL (for Nikon) / E-TTL II / E-TTL (for Canon)
ADI / P-TTL (for Sony), TTL (for M Four Thirds), TTL (for Fujifilm)
[Manual] 1/256 ~ 1/1, in 1/3 EV steps
Wireless
2.4GHz Wireless TTL Slave: radio transmission (NAS specifications).
Optical Wireless TTL Slave (only corresponding to brand of camera systems) (*1)
Optical slave mode (*2) (SD / SF mode)
Flash exposure comp.
-2 to +2 EV in increments of 1/3 EV
Bounce position
Tilt upward 90 ° · left 180 ° · right 180 °
Flash exposure control
FE / FV lock, rear curtain sync, high-speed sync (All mounts)
red-eye reduction mode, slow synchro mode corresponding (for Nikon mount only)
AF-assist range
0.7 – 5m
Operation panel
LED Color panel, select dial
External ports
External power source socket
Radio specification
2.4GHz ISM band (Obtaining technical standards conformity certification)
Accessories
Soft case, stand with tripod screw hole
Size
About 98 (H) x 73 (W) x 112 (D) mm
Mass
About 300g (excluding batteries)
(*1) Not correspond to the wireless optical TTL master. Can be set as A/B/C group
(*2) SD: Pre-flash, SF:Flash Signal by Air 1
– See more at: http://flashhavoc.com/nissin-i60a-speedlight-announced/#sthash.7sGeksRL.dpuf