New Fuji X Secrets Starter Workshop in Germany
March 19 marks the date of the first Fuji X Secrets Starter workshop. The full-day seminar is hosted by Rico Pfirstinger and targets new users and DSLR converts who want to make the most out of their new X-series camera.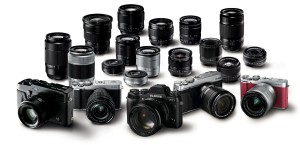 Did you know that factory settings only unleash a small portion of your X camera's potential? Rico Pfirstinger's new Fuji X Secrets Starter workshop offers you a better alternative and tells you exactly what settings to change, and why.
The full-day seminar covers your camera's exposure modes and demonstrates how to use the live view and live histogram to perfectly expose each shot. It also explains Fuji's powerful (but little known) DR function that not only helps extending the dynamic range, but can also be used to create high-key images or enhance portraits.

What AF mode is best for different situations, which AF frame size are we supposed to pick, and how can we best track moving subjects? How do we shoot attractive portraits in bad light, and what are the pros and cons of using face detection or the optical image stabilizer? What can we do with the built-in RAW converter? Ricos's workshop provides solid and practical answers to these and many other issues, offering insights on everything you always wanted to know about X, but were afraid to ask.
Fuji X Secrets Starter is made available in cooperation with FUJIFILMSchool and will be held on March 19 from 10 a.m. till 6 p.m. at Fotohaus Brinke in 91301 Forchheim, Germany. The workshop costs 149 EUR (incl. VAT) and is held in German. There's a maximum of 10 participants. Please click here for more information.