"New bridge camera is on the horizon with a 1″ sensor" (source: Amythest2112 – dpreview)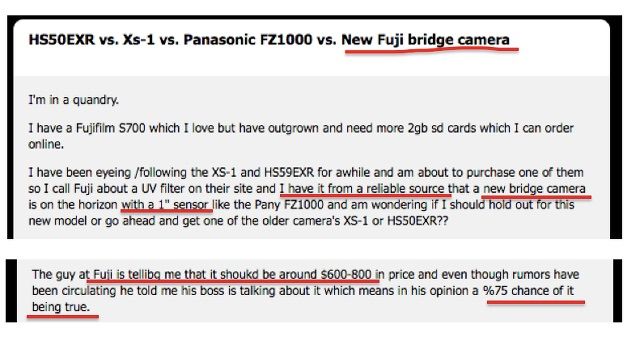 This summer I've spread a rumor about Fuji working on the first 1″sensor camer (possibly X-S2). It was a rumor from a 100% anonymous source (not even a nick-name).
So what about this rumor? Well, I haven't heard anything since than and I started to be very pessimistic about this rumor (and I am still very pessimistic). But maybe, just maybe, there is still hope for a 1″ replacement to the original Fujifilm X-S1.
dpr member Amythest2112 said he had a talk with some Fuji Guys, who told him:
"I have been eyeing/following the X-S1 and HS59EXR for a while and am about to purchase one of them so I call Fuji about a UV filter on their site and I have it from a reliable source that a new bridge camera is on the horizon with a 1″ sensor like the Pany FZ1000 […]
The guy at Fuji is telling me that it should be around $600-800 in price and even though rumors have been circulating he told me his boss is talking about it which means in his opinion a %75 chance of it being true."
I've received emails from fellow X-shooters, waiting for such a camera. I hope Fuji will fulfill their wishes. But if I were you, I'd still take… the grain of salt.
The topic can be found at dpreview