XF lens deals coming tomorrow: discount on some XF lenses : : XF 27mm will drop from $449 to $299!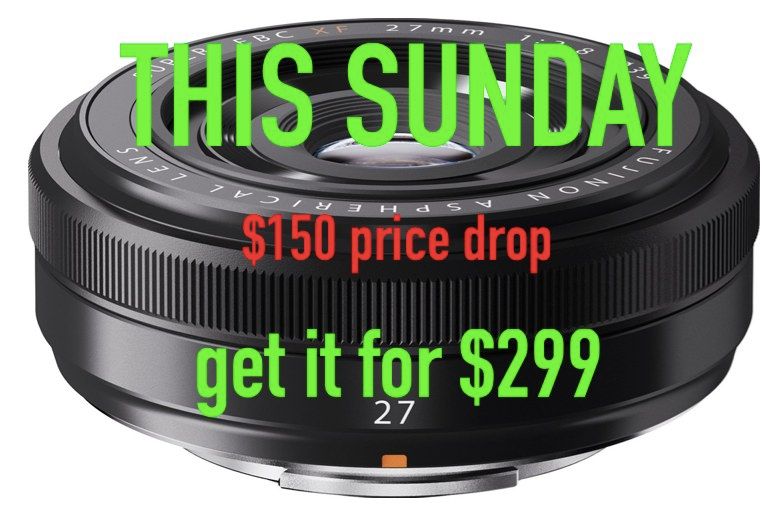 Ok, it's not the absolutely insane $250 price drop of last winter, when even EU-residents bought the 27 (and other XF lenses) in USA, payed taxes and shipping, and still saved a lot of money on it. But this one is a great deal too. In fact, according to information I've received, there will be a $150 price drop on the XF 27mm lens starting tomorrow (until September 6).
The 27mm won't be the only lens in offer. Also the 60mm will be $100 off. The XF 18-55 and 55-200 are already $100 off in stores like BHphoto and AmazonUS.
And if there are some EU-residents who order the XF 27mm again from the States, let me know how much you've payed for it.
Remember that, if you're interested to buy one of these lenses in offer, if you choose to do it using one of the shoplinks I'll share here on FR, you'll support this blog. Not a single penny extra costs for you, but a small comission is valued back to Fujirumors. That will help me to keep this site running. Thanks in advance to those who decide to support Fujirumors.
X- DEALS
BHPHOTO: Fuji X-T1 + vertical grip + spare battery – ($1299) – click here / Fuji X-T1 + XF 18-55 + vertical grip + spare battery  – ($1699) – click here
ADORAMA: Fuji X-T1 + vertical grip + spare battery – ($1288) – click here / Fuji X-T1 + XF 18-55 + vertical grip + spare battery  – ($1699) – click here / Fuji X-T1 + XF 18-135 WR + vertical grip + spare battery  – ($2188) – click here
PICTURELINE: Fuji X-T1 + vertical grip + spare battery – (save $200) – click here / Fuji X-T1 + XF 18-55 + vertical grip + spare battery – (save $200) – click here
AMAZON-US: Fuji X-T1 + vertical grip + spare battery – (save $160) – click here / Fuji X-T1 + XF 18-55 + vertical grip + spare battery – (save $170) – click here