miXed zone: X100T Reviews, From Canon to Fuji, X-shooter Norman Reedus (The Walking Dead Star)… and more!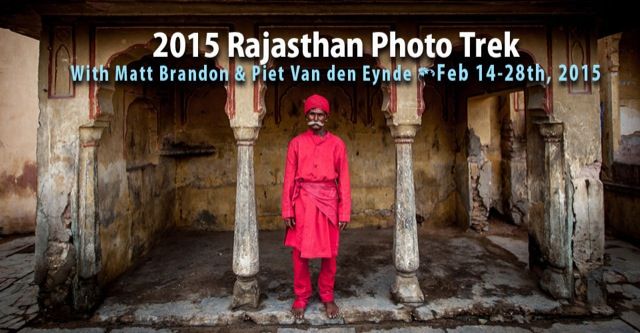 ONE TICKET LEFT for the Rajasthan Photo Workshop 2015
SAVE $200 + charity
There is only one spot left. So don't let it slide by if you are thinking about joining this Fuji-cyntric group at the Rajasthan (India) Photo Workshop in February 2015. The workshop is organized by X-photographers Matt Brandon and Piet Van den Eynde. As they are both X-shooters and love Fujirumors, they decided to offer a $200 discount, exclusively for Fujirumors readers. Futhermore, they decided to offer the last places with a $200 discount and additional $300 per sold ticket will be donated to Matt's charity initiative that supports NGO's, the OFMP. Check out the details of the workshop here.
Click here for a Podcast conversation on the Fujifilm X System with Piet Van den Eynde & Matt Brandon plus sample photos.
famous X-shooters
– Norman Reedus (The Walking Dead Star) is an X-shooter! There are 10 things he needs to survive a Zombie Apocalypse… and one of these is a Fuji camera. To see which one, check out this youtube video here.
X100T
USA: BHphoto / AmazonUS / Adorama / EUROPE: WexUK / WexDE / PCHstore / AUSTRALIA: CameraPro
MUST READ: Rico's "Using the Fujiflm X100T" here
– X100T hands on review at lbk.com.sg ( Flickr / unboxing video) / X100T Full Review at ephotozine / Yes, I would love some T please! at pavels / The Fuji X100T and the difference at bsmitty's youtube / X100T field test at the Spanish review site dslrmagazine (translation) / First Impressions of the New Fujifilm X100T at macleancomms /
Fujifilm X-T1

+

Graphite X-T1



[shopcountry 21553]
– Fuji XT1 graphite silver: first images and impressions at wimarys / X-T1 and the XF23mm1.4 R trip to Helsinki at tobiashenn / Holidaying with X-T1 + 4 lenses at ivanjoshualoh / All Fuji X-T1 at pablosartor / Hocking Hills, Logan, Ohio X-T1 and the 10-24mm at mjrussellphotography / Fujifilm X-T1 & a few lenses at alexlagarejos /
Fujifilm X30
USA: BHphoto / Adorama / AmazonUS / BestBuy / EUROPE: wexUK / wexDE / PCHstore
– X30: Bigger, Faster, Better at randallcipriano / samples at imaging-resource / Review at eyalg (youtube) /
XF 18-135mm
[shopcountry 26452]
– First impressions at thephoblographer / Fuji XF18-135 F3.5-5.6 R OIS WR lens review (Part 1) at macfilos
X100/S + Converters
[shopcountry 12883]
– Simon Ashmore's work with the Fujfilm X100S can be seen at simonashmore.com / The Gear that I Use- the Fujifilm TCL-X100 at henrysmithscottage / The X100s is a bit like Brian Clough at daveyoungfotografia / A week in San Francisco with the Fuji X100s at ianmacdonaldphotography / The 'Lookaleica' Fuji X100s Compared To The Leica That Doesn't Look Like A Leica The T (Typ) 701 at soundimageplus / Fuji X100-S-T Travel Kit ianmacdonaldphotography /
other X-series cameras
– 12 Months With My Fuji X-Pro1 at daveyoungfotografia / A Day In The City at ucphoto / X-E1 & 14, 23 and 56mm: Beauty in Cuba at tjeerd.me / I love my Fuji X-E2 for my everyday camera with family at stanleyleary + Fuji X-E2 helped me to capture memories in Hawaii at stanleyleary /
lenses
– Spanish 55-200 review at quesabesde (translation) / Fuji 56mm V. Panasonic Leica Nocticron 42.5mm at joshmcleodphotography / Left to rot and desintegrate… at am-fotografie / Six Months with the Fujinon XF10-24mm f4R OIS at macleancomms / My 4 Favorite Lenses for The Fuji X Cameras at danbaileyphoto / Why the Fuji 55-200 is still a good choice at martincastein / Minimalism – A macro afternoon with the Zeiss Touit 50mm (X mount) at mirrorlessons / the Fuji 56mmf/1.2 and the city at gaborimages / Just one of those nights… [Elton John in Concert] with the 56mm at jonasjacobsson /
RAW-conversion
– AccuRaw supports the Fuji X100T, read more here /
Switch to the X… or mirrorless

– Why I Went Mirrorless and Switched from Canon to Fuji: A Detailed Exploration at petapixel /
a little bit of everything
– There is no final answer about the "best" custom settings for your Fuji. There are just suggestions. And here are some of them in Spanish at fuji-xperience (translation) / THE 'IMAGE-FEEL' OF X-TRANS at petebridgwood / How to buy kit that fills you with confidence and the art of packing a camera bag at inmybag / X-Signature | The Fuji camera people are asking me about at ideasandimages / Fujifilm X-Signature Cameras at photomadd /