miXed zone: "the best camera is…?", X-reviews and Iridient
image courtesy: Dave Kai Piper (X-PRO gallery)
– the best camera is…? Dave Kai Piper has the answer. Read it here! (Dave also updated the X-PRO Gallery here)
X-M1
X-M1 (body only or with 16-50mm) – USA: AmazonUS / BHphoto / Adorama / DigitalRev / Pictureline EUROPE: DigitalRev / WexUK / PCHstore
XF 27mm – USA: AmazonUS / BHphoto / Adorama / DigitalRev / Pictureline EUROPE: DigitalRev / WexUK / PCHstore XC 16-50: WexUK / PCHstore
– Techradar hands-on review can be read here: "Its build quality is still high, but it's a considerably smaller and more portable camera. It also has a mode dial instead of traditional controls, which may be more attractive to relative newcomers to photography as well as those looking for an alternative to a DSLR. However, those who want to use the camera with a lens with an aperture ring can do so."
X100S
[shopcountry 12883]
– Steve's digicame X100S review here: "The Fujifilm X100S is a great update of the X100 they released in 2011. With increased performance and image quality, a fantastic camera has been greatly improved. This is one of the leading cameras when it comes to Fuji's innovation and quality.  It's still a rangefinder style camera with a fixed 35mm equivalent lens, designed specifically for enthusiasts who want a rangefinder-type model. With a MSRP of US $1,299.99, the limited versatility and huge price tag take this camera out the running for most people, but if a rangefinder model with excellent image quality is what you are after, this is a must see."
– X100S video review at shuttertastic here… how good can it capture some crazy skaters? He states that DR and RAW can compete with high end DSLRs.
–expertreviews posted his X100s test here: "It might seem like a predictable conclusion that this is the best compact camera we've ever reviewed. After all, it's also the most expensive. For once, though, the law of diminishing returns doesn't apply – it's vastly better than anything else we've seen. While the beautiful design and retro exposure controls make it easy to love, its ingenious viewfinder and stunning low-light image quality mean it has the goods to back it up."
image courtesy: expertreviews (ISO 12800)
 X20
[shopcountry 12884]
X20 vs [shoplink 13127]Sony RX100[/shoplink] at pixelogist here: "When testing it [X20], I wanted to like it, I wanted to keep this camera, this camera that handles that much better than the Sony RX100, that looked better, and all that – and wanting it so much, I didn't completely realize its faults: the slow AF at night, the poor high ISO performance when compared to the Sony, and so on. Now that I have, I've 're-decided' on the Sony RX100, and that's what I'm keeping."
ZEISS
Zeiss Touit 12mm [shopcountry 13645] Zeiss Touit 32mm [shopcountry 13646]

– The Phoblographer used the Zeiss lenses at a wedding (on a beach) with the Fuji X-PRO1. (click here): "Overall, these lenses performed great and even though the 32mm f1.8 suffered from a jamming issue, it wasn't a big loss to my shooting capabilities. But it's surely something to consider as the last thing you need to be worrying about at a wedding is your gear."
FUJINON
Fuji XF 55-200mm [shopcountry 12892] Fuji XF14mm [shopcountry 12888]
– 8.8 out of 10. That's the rating of the XF 55-200 over at photoreview here: "On the X-E1 body the review lens provided fast, quiet and smooth autofocusing. Manual focusing was also smooth and it was relatively easy to focus accurately in manual mode with either the viewfinder or monitor. Autofocusing speed was similar to the 18-55mm lens's and reasonably fast in bright conditions and with contrasty subjects. Some hunting occurred in very low light levels and, occasionally, with subjects where the contrast range was relatively small. […] Lateral chromatic aberration was negligible throughout the aperture and focal length range […] Distortion was low enough to be negligible throughout the zoom range. Vignetting was also negligible. No in-camera corrections for either aberration are provided by the camera but, it seems, none are necessary."
– What a nice place to think about the 14mm lens… Trinidad & Tobago! See Karim's shots and read his thoughts here. From the conclusions: "This is a great lens, although I'm still not sure that I wouldn't have been better off with the 18mm. I'm all about the image quality, and it seems the 14mm might lag slightly behind in that regard. But the extra width and other features make up for the slight difference in sharpness between the two lenses. The images shot with the 14mm look great and they're virtually free of distortion. Manual focusing is very smooth, and the sliding ring that reveals a distance and depth-of-field indicator is a very useful feature."
X-PRO1
[shopcountry 12882]
– Yes, he did it! roughly365 shot a whole wedding with the X-PRO1. Read his experience here: "So in conclusion…. The Fuji X-Pro1 is an amazing camera… When I next do a wedding it will be in my hand for a very large portion of the day, such a great tool for this kind of job. Its size really helps you be less intrusive and capture some subtle moments. I would always have my DSLR over my shoulder too as there are times you really need one. But this is a real James Bond Walther PPK  of a camera, I love it."
Iridient
There is more (positiv) feedback about Iridient at this German website here  and at the Spanish site fotoactualidad (translation).
image courtesy: fotoactualidad (1-Iridient / 2-silkypix / 3-ACR)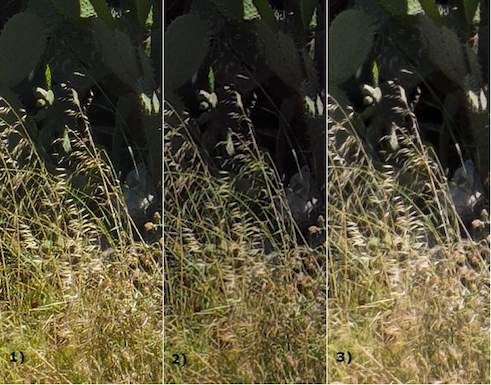 XF1
[shopcountry 12885]
– The XF1 is more than just beautiful. At least according to the imaging-resource review: "While the XF1 is not meant for everybody — there are better, more straightforward "vanilla" compacts that are easier to use and take more consistently good shots — it's an undoubtedly nifty and advanced tool for photo enthusiasts (and not just the Fuji fanboys!) who demand something special from their cameras. The XF1 should also score big with casual shooters who not only want to attract oohs and ahhs when they carry it around town, but also want a camera that, on auto pilot, will take well-exposed shots with high dynamic range. Add up the Fuji XF1's sexy appearance, fast and fun operation, immense customizablity, dynamic image quality and special shooting modes, and you have a solid, if unorthodox, enthusiast-level compact camera. It's one that definitively earns a Dave's Pick."
– "The Fujifilm XF1 is one of the nicest-looking point-and-shoots available and it performs well, too. But its photos and features might not please some enthusiasts." This is the bottom line of CNet. Read the whole review (with video) here.